Julian Stair introduces the abstract pottery of William Staite Murray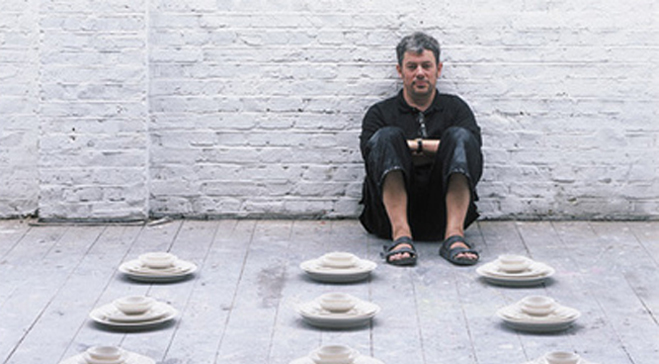 Potter and writer Julian Stair will join renowned figures from the art world at the forthcoming Art and Life symposium on 6th September, a lively day of debate and discussion around the current exhibition. Ahead of the event, at which Stair will discuss the work of William Staite Murray, we thought we'd share an excerpt from his exhibition catalogue entry 'Factive Plasticity: The Abstract Pottery of William Staite Murray'
"William Staite Murray emphatically positioned himself as an artist who made pots. He regarded pottery as a genre that offered possibilities for exploring three dimensional form and its graphic treatment, a new discipline, he argued, that was the interface between painting and sculpture. As he stated in a BBC interview in the 1930s with his friend and colleague John Piper, 'Pottery stands between Painting & Sculpture in the plastic arts, it inclines to either and includes both.'
Murray was part of a dynamic craft movement that emerged during the 1920s as a result of a developing modernist discourse in British art. This group of potters, weavers, letter cutters and others abandoned the iconography and style of John Ruskin and William Morris for an artistic agenda that valued expression, vitality and reductive form, adopting the same neo-vernacular modernism that had radicalised painting a decade earlier. Authorship became paramount; idea and execution were channelled through an individual sensibility instead of conforming to the division of labour between design and artisanship that marked most craft practice prior to this - 'The brain which conceives the pot controls the making of it also.' Murray saw no difference between his approach as a potter and that of his associates Ben and Winifred Nicholson and Christopher Wood who, as painters, were also exploring ideas of abstraction through a modernist interpretation of vernacular primitivism and truth to materials.
A defining feature of Murray's career was his immersion in London's artistic avant-garde and association with painters and sculptors from an early age. Born in Deptford, London in 1881, Murray grew up in a comfortable family of seed and bulb merchants. His childhood included some conventional schooling but at twelve he was sent to study with two cousins, traditional professional painters who had occasionally exhibited at the Royal Academy. He began his ceramic career by taking pottery evening classes at Camberwell School of Arts and Crafts in 1909 after which he also continued to paint. From 1915 to 1919 Murray worked with the Vorticist painter Cuthbert Hamilton at his Yeoman Pottery in Kensington and between them they produced a range of glazed earthenware pots decorated with colourful and schematised abstract designs. Murray then joined the Arts League of Service, an organisation of 'long haired men and short haired women' formed in 1919 to support young artists and actors and foster ties between contemporary art and the British public. The League included the leading Vorticists Frederick Etchells, Edward Wadsworth and Paul Nash who endorsed the group as a 'National Necessity'. Murray again took part in mixed exhibitions with painters such as Cedric Morris and the sculptor Frank Dobson. As he later recounted, 'Experiments of that time in abstract painting and sculpture interested me." 
If you want to continue reading you can purchase the full Art and Life catalogue from our online shop.
You can hear Julian Stair's views on William Staite Murray at the Art and Life symposium. Find out more and book tickets.