Vernet's 'Italian Landscape' returns to the Gallery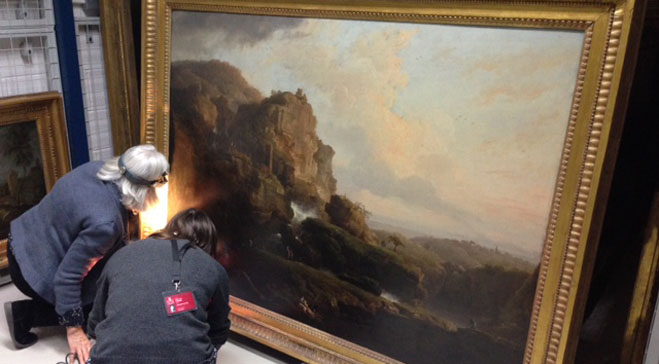 Frequent visitors to Dulwich may have noticed a conspicuous absence on the gallery's wall during 2014.  One of the permanent collection's most atmospheric works, Italian Landscape (1738, DPG328) by Claude Joseph Vernet, has spent an eventful year starring in a major exhibition devoted to Richard Wilson (c.1714-1782).   One of few early works by Vernet still in existence, Italian Landscape had never been lent before, and was therefore barely known to the art world outside of the UK.  After showing at both the Yale Centre for British Art, Connecticut, and the National Museum of Wales, Cardiff, it has finally made its way back home to our gallery wall after almost a year of absence.
Wilson, a Welsh-born artist who is celebrated as the "father of British landscape painting", met Vernet on a trip to Italy during his formative years, and is said to have been much inspired by the Italian painter's landscape studies.  Vernet avoided the artifice and stylisation in the pastoral scenes of contemporaries such as François Boucher, anticipating instead the celebrated landscapes of John Constable and J.M.W Turner. Italian Landscape offers a particularly striking example of Vernet's evocative vision of nature in all its grandeur, which was to prove inspirational for Wilson.  
The curators of the Wilson exhibition were therefore determined that the painting should feature. But it very nearly did not make its voyage at all, on account of its crumbling backing canvas (which dated from the late 18th century).  The disintegration of this vital structural support put the paint surface in danger of buckling and flaking.  And so, before making the long journey to the US, Italian Landscape was sent to a conservation studio for major reconstruction work.  In recognition of the painting's importance to their exhibition, the Yale Centre for British Art generously provided for a new canvas lining, the removal of the old yellow varnish, and for the restoration of damaged areas.  Italian Landscape has now been reinstated – in far better condition than when it left - on the East Wall of Gallery 4.