Art and Life: The chance encounter that changed everything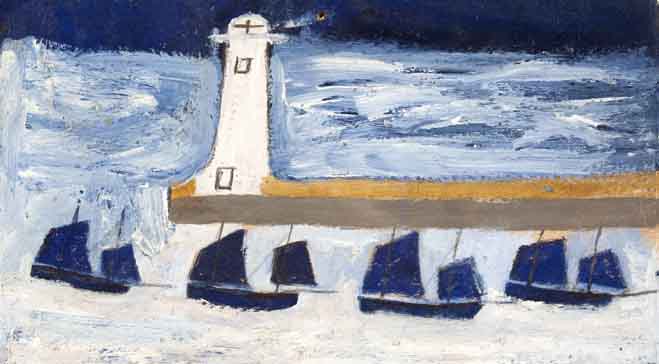 It was a moment that proved pivotal for the careers of Ben Nicholson and Alfred Wallis. In August 1928, on a day trip to St. Ives, Ben Nicholson and Christopher Wood chanced upon Wallis when they passed by his house full of paintings on scraps of paper and cardboard. Working alongside Wallis and observing his unique use of perspective and movement sparked a period of intense experimentation for Ben and Wood as well as for Winifred Nicholson.
Dulwich's current show Art and Life: Ben Nicholson, Winifred Nicholson, Christopher Wood, Alfred Wallis, William Staite Murray is the perfect opportunity to see this momentous period told through over 20 works depicting Feock and St Ives. A room dedicated to Ben, Winifred and Wood's time spent in Cornwall introduces work by Wallis and shows how the other artists' work changes as they adopt his unique style.
Wallis was born in 1855 and received a modest education. His real schooling was in the hard life of the mariner, and his artistic eye developed at sea watching the wind, waves and sails. He was entirely self-taught and used the simplest materials of ship paint and old card. The show includes work such as Three Sailing Boats and Seven Ships at Sail in Harbour, which, seen alongside paintings by Ben, Winifred and Wood, reveal how the trio incorporated his use of material and proportion into their own work.
Unaware of linear perspective, Wallis arranged his objects depicted in terms of relative importance, determining their sizes accordingly. The main subject of a painting would be the largest object depicted, regardless of where it stood in relation to others.  You see Ben and Winifred experimenting with this idea of proportion and with Wallis's use of movement in the show. Viewing Ben's 1928 (Porthmeor Beach no.2) next to Wallis's ship and Lighthouse, you see how Wallis clearly appealed to Ben's romantic valuation of the primitive and childlike, as Jovan Nicholson, curator of the exhibition, explains "The most important idea Ben learned from Wallis was how alive and direct his art was, free from self-consciousness and innocently maintaining an intense vision"
'Art and Life' runs until 21 September 2014
Click here to find out more about the exhibition and related events