Channelling Hockney in 'Perceptions and Reflections' animation project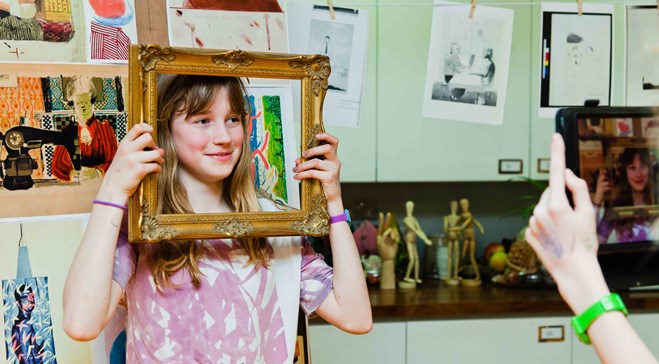 Dulwich Picture Gallery is proud to present Perceptions & Reflections; a multi-media exhibition created by The Redthread Youth Club in workshops devised and delivered by Salmagundi Films.
Earlier this year, young people aged 11-15 explored David Hockney's iconic prints in our exhibition Hockney, Printmaker in a five week project. Inspired by the artist's use of the digital in his work, the group used photo and animation iPad applications in workshops facilitated by Salmagundi Filmsto find new ways to reinterpret Hockney's printmaking techniques.
Work from the project was projected and displayed on iPads in a three day exhibition in the gallery's Linbury Room. It was easy to sense the excitement amongst the young people when they gathered at an informal celebration in the exhibition on Saturday 26 April. The display of digital sketches, short animations, video loops and photographs showed just how much the group had learned. The digital focus of the workshops encouraged the young people to bring their own expertise and experience using iPads to help shape the project and exhibition. 
 The first step in the project was to take 'selfies'; which gave the young people a relevant way to access Hockney's work and relate it back to their own lives. Using the stop motion technique where live actors or objects are digitally captured frame-by-frame and turned into a continuous animation, Hockney's portraits imaginatively came to life as the young people explored themes of self-identity and self-expression.
Our Youth Engagement Programme focuses on cultivating the positive impact young Londoners can have on their environment and demonstrates how they are able to enhance their communities.  Salmagudi Films enabled this programme to reach a new level of creativity with technology.  Find out more