Venus and Adonis's frame to be restored to former glory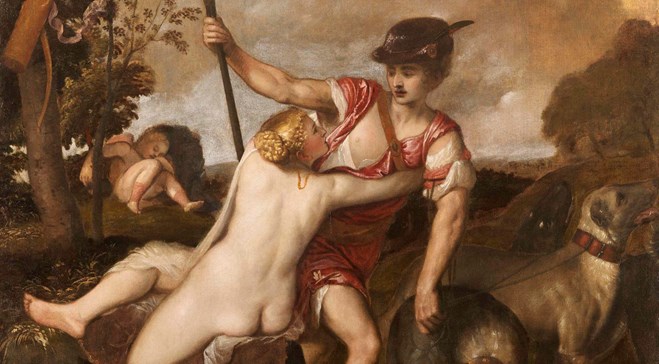 Tom Proctor, the Gallery's frame conservator is currently restoring the frame of a recently rediscovered early version of Titian's Venus and Adonis. Venus and Adonis was recovered in 2009, having been in storage since the late 19th century. It was originally acquired as a work by Titian but was subsequently demoted as a late 17th-century copy and removed from display. Thanks to extensive scientific analysis, we have been able to identify the painting as an authentic 16th-century work executed in Titian's studio. 
A painting's frame forms part of its history and can have a significant impact upon how we interpret the work. When Venus and Adonis was finally rediscovered it was in desperate need of restoration. The frame was damp and battered, and most of the gold leaf had flaked off the surface of the frame to reveal crumbly, knocked about timber. Although the exact origin of the frame is unknown, we do know that it was purchased with the painting in the 1790s and it is likely to have been created especially for the work in the mid-18th century. The carving is elaborate and the frame is made from solid oak, a wood traditionally used by French carvers, known for being one of the toughest to work. Many of the details in the carving echo references in the painting; the positions of the two birds in the central section of the top panel for example, mirror those of the ill-fated lovers, Venus and Adonis. Both design and technique suggest a highly skilled craftsman and it is now Tom's task to restore the frame to its former beauty.
The Gallery is incredibly grateful to Mr and Mrs Dennis and Lesley Robbins for 'adopting' the frame and enabling it to be restored.
Find out more about our adoption scheme.
Click here to read the full article