Dulwich meets Conrad Shawcross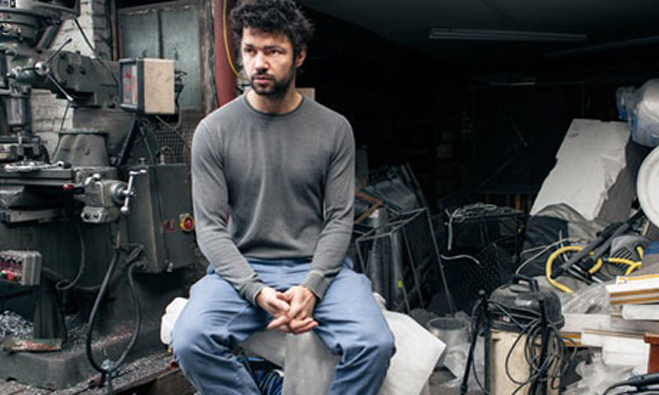 Sculptures by British artist Conrad Shawcross are currently transforming the space in the Gallery's mausoleum and enfilade. We spent a spring afternoon chatting to the artist about his journey from workshop to studio, his new sculptures in Dulwich Park, Three Perpetual Chords, and Dulwich as a new setting for his modern sculptures.
Dulwich: We're currently looking at a study of one of your new sculptures across the road in Dulwich park- it actually doesn't look out of place in front of Van Dyck's The Madonna and Child! How do you feel about the juxtapositions with your work and the Old Masters?
CR: Well, I like doing something out of my comfort zone. Placing contemporary work amongst old paintings can give people a new perspective on art. Suspension of disbelief and wonder can be recreated when old and new art are placed together in a thoughtful and sensitive way.
Dulwich: Is there a relation between counterpoint and your studies for Three Perpetual Chords?  
CR: The maquettes are very relevant to the sculpture in the mausoleum. If you take a photograph of Counterpoint whilst it is in motion, you end up with an image of a loop of light. These maquettes have exactly the same geometry as the light patterns made in the mausoleum. That's why it's so nice to have them together in the same space- they've never been displayed together before so it's pretty special.
Dulwich: Your studies on display here and the sculptures in the park are made out of metal – is this a difficult medium to work with?  
CR: It's definitely time consuming. I worked with a pattern maker who made the moulds – we melt the cast iron and pour it in. I call the different sections of the sculpture 'chipolatas' because of their shape- they are each cast from unique moulds and nickel welded. Thankfully I have a workshop of assistants to help me now, though it still took me roughly two and a half years two make the new sculptures in Dulwich park-  longer than expected but the process was complex. I've actually noticed the colours of the frames seem to match the cast-iron I've used.
Dulwich: Your earlier work Counterpoint is a whole other structure - it must have been quite a challenge to construct it!
CR: This was made when it was just me alone in my workshop, working 15 hour days. I did all the carpentry, all the welding, all the engineering- it was very much machine built by man in shed. But the days of me sawing every piece of wood have passed!
Dulwich: And finally, we have to ask about the choice to display Counterpoint in the mausoleum! What are your thoughts on the space?
CR: The suggestion of using the mausoleum as a space for Counterpoint was an incredible idea – too good to be true! It's dark, in the round, and only just bigger than the work, which I think works as a new context.
Counterpoint is on display at Dulwich Picture Gallery until 14 June. Click here to find out more and explore the making of Three Perpetual Chords.