People living with dementia take the lead in composing opera inspired by Gallery
"It is easy to forget that a lot of people fear dementia as the end of your life and that you can't do or learn anything new once you have a diagnosis. Visual to Vocal isn't about reminiscence or memory, but about 'in the moment' experiences where everybody's creative ideas are equal."
Rosie Cooper, Community Coordinator
The idea of writing and composing an opera inspired by an art gallery sounds like quite a challenge to undertake. But that's exactly what a group of people living with dementia and their carers are currently doing at Dulwich Picture Gallery for this year's Visual to Vocal project.
Now in its third year Visual to Vocal, in partnership with English Touring Opera, is a series of ten workshops enabling people in the early to mid-stage of dementia to enjoy valuable new experiences. Rather than focusing on memory loss, the project concentrates on what can be gained through looking at paintings; interpreting them through creative writing and music. This year participants are contributing to a more dramatic and theatrical production, and together with young people from Dulwich College are helping to write and compose an opera inspired by the Gallery that brings to life the paintings in the collection.
For the first time you can see the group perform their finished piece at a pop up in the Gallery on Tuesday 23rd June at 3.30pm – trust us, it's not to be missed!
Thoughts from the Visual to Vocal group:
"It's an enjoyable, fun experience and so very expressive. I've always known how good it is to sing and I always feel so good at the rehearsals."
Carol, Nightingale House care home
"It has been an inspiring and invigorating experience for both of us. It's relaxing and full of fun. Truly participatory and creative."
William and Mildred Utting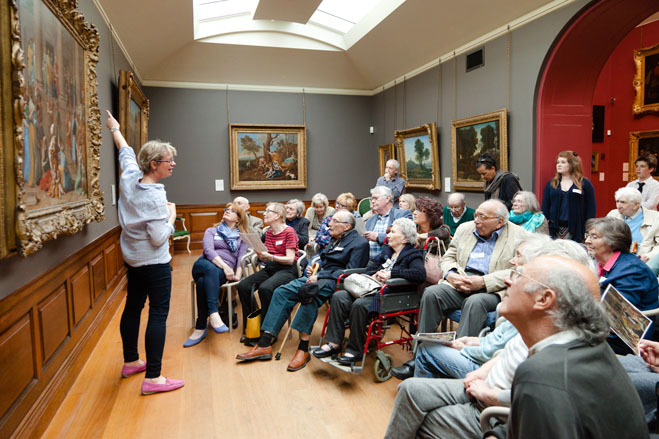 Visual to Vocal is part of Dulwich's Good Times programme which works with day centres, community centres and care homes to challenge negative perceptions about ageing and dementia. Find out more about the programme here.