Meet the designer
Wallace Sewell have been wowing the world of textiles with their trademark combination of high-quality materials and innovative designs since 1990. The brains behind the operation are Harriet Wallace-Jones and Emma Sewell. Known for their woven textiles that use colour and yarn in striking geometric formats, they are frequently inspired by paintings.
To celebrate the first ever exhibition of Adraien van de Velde, Dulwich Picture Gallery commissioned the duo to create a bespoke scarf inspired by his works. We caught up with Emma Sewell to find out about how she works, what inspires her and how one goes about translating a seventeenth century landscape painting into a luxury lambswool scarf...
Emma you met Harriet while you were both studying textiles at Central School of Art (now Central St Martins). As students, did you have similar ideas about the kind of textiles and products you wanted to make?
We both studied textiles made up of three disciplines – print, knit and weave. I had always thought I would end up specialising in printed textiles but actually carried on doing both print and weave till my third year. Harriet chose weave earlier. What swung it for me between the two disciplines was my investigation into 'performance yarns' over the course of my MA. Harriet did the same course. I was making lots of fabrics in 'overspun' and elastic yarns that move or shrink and distort the cloth after being woven, giving a three dimensional surface. In contrast, Harriet's interest was the visual patterning that could be created through weaving.
During  your MA in Woven Textiles at the Royal College of Art, you completed internship placements in very different environments – tell me about this experience and how it affected you.
My internship was for a fabric producer in the tiny town of Langholm. The size of the town meant that everything was in walking distance, which enabled me to see so much of the whole production process - it was a very hands-on experience. My main role was to support the design team in creating a new collection of tweed and suiting designs to be taken to the twice-yearly Paris show. I learnt valuable skills through the process, a key one being how to cut things very neatly and in straight lines - which is more complicated than you'd think as it was all done by hand!
While you were in Scotland, Harriet was working in a rather different environment - New York's garment district. How did she find that?
Harriet had a great time in New York and worked for a design studio. It pushed her to think more globally and showed her a different side of the textile industry -  not one that she would have chosen.
Her role there was to set up and weave a short design sampling-warp each and every day.  This was a very fast pace of work. Usually a student would spend one or two weeks doing what Harriet was achieving daily!
Your designs tend to be very geometric, making use of striking colour combinations. What draws you to this aesthetic?
We are drawn to the geometric shapes purely due to the fact that we are 'dobby' weavers: we use checks and stripes, as opposed to jacquard weavers who focus on pattern and motifs. As a design duo we actually enjoy the restrictions that come from dobby weaving - you have to be creative within set parameters, trying to push them as far as you can to create interesting styles and designs.
You've talked before about how strongly you and Harriet have been influenced by the Bauhaus aesthetic. How does this affect the designs you produce and the way you work?
We are greatly influenced by the Bauhaus aesthetic which stems back to our time studying colour theory at Central. When you look at Bauhaus design it is beautiful but also thought out in an economical way – thinking about process first and then how the design can be worked into the process. For me the Bauhaus offered complete contrast to what I saw in fashion fabrics.
What inspired me to be a textile designer were the dull fashion fabrics I would see in my local shops when I was younger. There were lots of florals and chintz and nothing different across the spectrum. I was fascinated by interesting fabrics and this is what Bauhaus brought to my learning and design.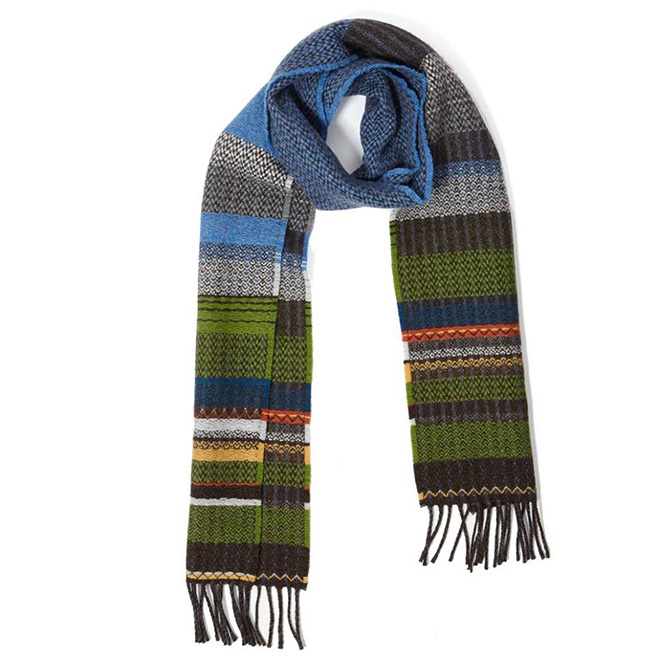 Your work is often inspired by paintings and you've worked with the Tate and Guggenheim as well as DPG. What is it about the way you work that makes this type of creative partnership possible?
As dobby weavers, abstract pattern and composition inspire us. Working in this abstract way means we can make product that has a real connection to a piece of art, without directly representing it. We capture the essence of a piece of art through colour, composition and colouring, allowing us to create new pieces that fit alongside an art show. 
Your most recent commission for DPG took the paintings of Adriaen van de Velde as its creative starting point. How did you go about translating the style and aesthetic of his works into a textile design?
This was a total joy, as we loved the colour palette he uses. The cobalt blue was the standout for us. To translate the style and aesthetics of his works we started by looking at the overall composition in his paintings. As they are landscapes, they are about the sky, horizon, land and people in the countryside. We would then work on pulling out the key colours and the textures involved in the brush strokes made by the artist - but always bearing in mind that we're designing a scarf that has to be worn.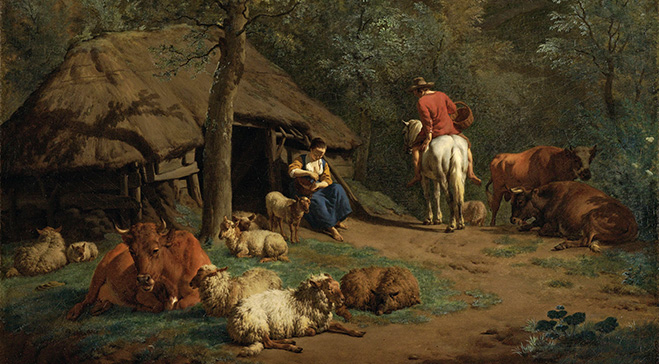 Did any of van de Velde's paintings particularly strike you during the design process? 
Yes, we were especially inspired by three of his pieces: The Hut, A Hawking Party Setting Out and The Migration of Jacob. 
You've now worked with DPG to create bespoke scarves for three of our exhibitions – Emily Carr, M. C. Escher and Adriaen van de Velde. Do any of these stand out as having been especially fun or challenging to work on?  
M.C. Escher was more of a challenge than the others as his art is very different from anything we'd done previously. It was fun because Escher's works have a lot of gradient and his paintings blend together, so we had to figure out how to make our weave blend together and have one pattern fade into the next. The challenge was to trying to figure out a pattern that would metamorphose.
You can purchase Wallace Sewell's limited edition van de Velde scarf now from our onsite or online shops. Visit the Wallace Sewell website to find out more about their products.