The Top 5 Female Photographers as Picked by staff at the Gallery
It's just been announced that this February the Gallery will present the first ever display bringing together the photographs of Vanessa Bell and Patti Smith. Coinciding with the Gallery's major Bell retrospective, Legacy: Photographs by Vanessa Bell and Patti Smith brings together two female artists from very different times who are both known for their unique creative drive and defiance of convention. 
To celebrate this upcoming display, we asked the Gallery staff to choose their favourite female and non-binary photographers. These are some pioneering artists you should definitely know more about... 
1. Julia Margaret Cameron (1815-1879)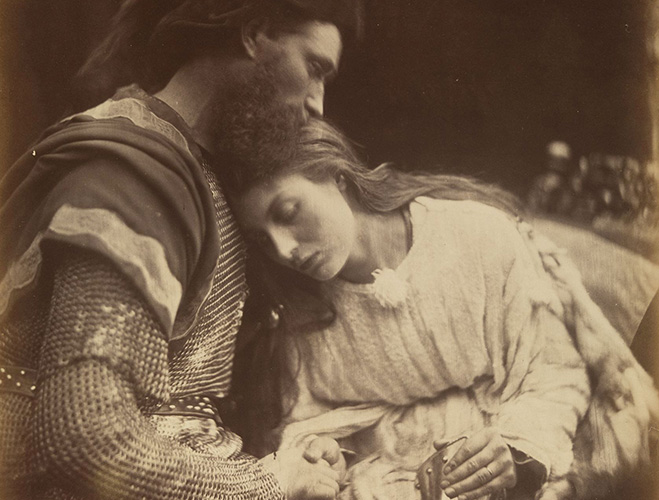 Perhaps the earliest female photographer of note, Cameron was 48 years old when her daughter launched her interest in photography by giving her a camera as a birthday present. The establishment weren't so keen on her distinctive style – treating photography as an art as well as a science was not yet the done thing, and her use of soft focus was viewed as slovenly rather than creative. She became known for her portraits of contemporary celebrities and, influenced by the Pre-Raphaelite movement, her photographs with Arthurian and other legendary or heroic themes.
2. Claude Cahun (1894-1954)
Cahun was an agender French artist, photographer and writer whose work was both political and personal. Born in 1894, Cahun's art challenged conventional notions of gender in a society where these were strictly enforced. She is best known for her highly stylised self-portraits that explore the complexity and multiplicity of identity through the visual aesthetics of Surrealism. In What Do You Want From Me? Cahun uses double exposure to play on these ideas. 
3. Cindy Sherman (1954- )
Best known for her conceptual portraits, Sherman was heavily influenced by Cahun. Usually working in series, Sherman photographed herself in a range of costumes and personas, shooting alone in her studio by assuming the roles of director, make-up artist, wardrobe mistress and model, as well as author. She questions the seductive influence of mass-media over our individual and collective consciousness. In turning the camera on herself and transforming into a variety of archetypal characters – in #92 she's the classic horror movie damsel-in-distress – Sherman explores how these are culturally constructed and inherited. 
4. Lorna Simpson (1960-)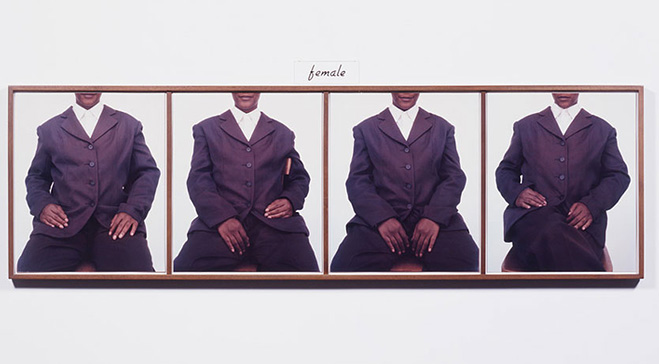 Simpson became well-known in the mid-80s for her large-scale works that combine photographs with text in order to confront and challenge narrow, conventional views of gender, identity, culture, history and memory. Usually taking unidentified and enigmatic figures as a visual starting point, Simpson uses that figure to examine the way our preconceptions of gender, culture and race shape the interactions and experiences of life in contemporary America. 
6. Lisa Barnard (1967-)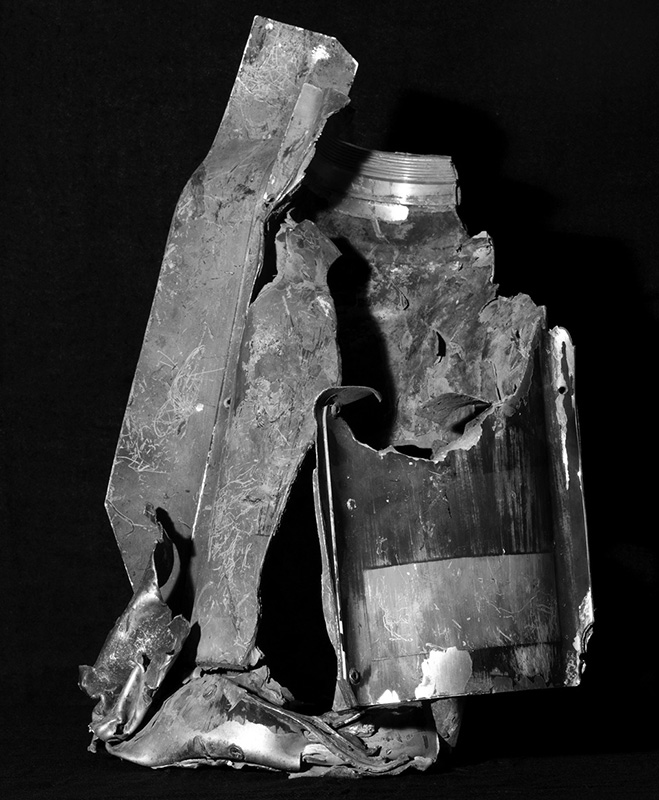 Barnard is a documentary photographer, political artist and lecturer at University of South Wales. Her work examines real-life events through both traditional documentary techniques and more contemporary forms of representation and is usually firmly tied to current political climates. Her interest in the military and its new forms of technology is evident in a lot of her work. In her book Hyenas of the Battlefield, Machines in the Garden, Barnard explores the psychological implications of the 'unholy alliance' between the military, entertainment and technology sectors as they converge around modern-day warfare.
Images: Julia Margaret Cameron, The Parting of Lancelot and Guinevere, 1874, 
Musée

D'Orsee, Paris. Claude Cahun, What Do You Want From Me?, 1928.  Cindy Sherman, Untitled #92 from 'Disasters and Fairytales' Series, 1985, The Museum of Modern Art, New York. Lorna Simpson, She, 1992, Museum of Fine Arts, Boston. Lisa Barnard, Primitive Pieces from Hyenas of the Battlefield, Machines in the Garden, 2015.