Whatever happened to the Sleeping Venus?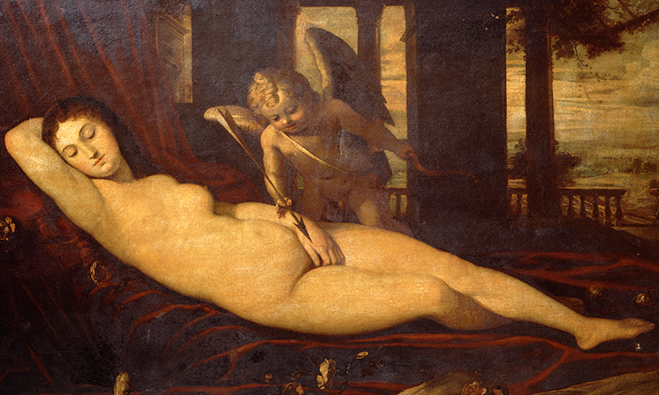 Hazel Vidler, our Curatorial Intern, explains the significance of the mysterious provenance and history behind one of our founders' favourite paintings, Sleeping Venus...
Dulwich's Sleeping Venus is shrouded in mystery. This marvellous painting, believed to be by Titian when originally acquired, was once clearly one of Noel Desenfans' and Francois Bourgeois' most highly prized possessions. She hung in pride of place in the small parlour at Charlotte Street, which formed the entrance room where they received guests and showcased their most prestigious paintings. An 1813 inventory records her taking centre stage, surrounded by Veronese's St Catherine above, with Rubens's Cupids Reaping and Murillo's Madonna of the Rosary below. An 1804 insurance list of the paintings in their Charlotte Street residence also reveals that of 93 works, only six were valued higher than Sleeping Venus, which was insured for £800, a colossal figure for the time.
Many illustrious guests to the Desenfans household viewed Sleeping Venus here. The painter and diarist Joseph Farington records a conversation he had with Bourgeois in May, 1809, in which Bourgeois relayed what he considered to be the rather inappropriate remarks of the former Lord Chancellor, Lord Erskine, when he set eyes on the naked beauty before him:
Sir F. Bourgeois… told me Lord Erskine had just left Him & remarked on the contrast which He exhibited to what we should expect in respect of gravity & conversation from one who had been Lord Chancellor of England. He said that when Lord Erskine looked at the naked figure of Venus by Titian, He cried out "That is just such a woman from the top of Her Head to the end of Her Toe as I once kept, a charming creature, & I had a child by Her. 
The critic, essayist and sometime painter William Hazlitt also mentions seeing the painting at Charlotte Street in his Sketches of the Principal Public Galleries of England in 1824, in which he says:
We used to like the Sleeping Nymph, by Titian, when we saw it formerly, in the little entrance-room at Desenfans', but we cannot say much in its praise here.
Hazlitt was clearly impressed by the work when he saw it at Charlotte Street but, for reasons that he doesn't explain, it  appears that his enthusiasm had waned somewhat on viewing it at the Gallery. By the 1840s, the painting's attribution to Titian had begun to be doubted. In her Handbook to the Public Galleries of Art in and near London, published in 1842, Anna Jameson noted exhibit 304, Venus, extended on a couch, covered with red drapery: a Cupid behind, about which she said:
It seems to be a settled thing that every undressed lady lying on a couch is a Venus, and by Titian. I cannot think this a genuine picture; it is in no respect a good one.
By the time the second edition of Hazlitt's Sketches appeared in 1856, edited by his son, a note had been added to Hazlitt's remark about Sleeping Venus which stated, "the editor is not aware of any such picture by Titian in the Dulwich Gallery at present", indicating that the painting was no longer on display.
So, what are we to make of the Sleeping Venus' quiet disappearance from public view? Was her withdrawal the result of her gradual loss of credentials, or did Victorian sensibilities recoil from the rather too suggestive angle of Cupid's arrow? We may never know. What is undeniable, however, is that the Sleeping Venus, while not from the hand of Titian, is an exceptionally important work in Dulwich's collection, and not just from a historical point of view. Followers of the school of Bassano or Tintoretto have been suggested as her possible authors, and the fact that she may even be a late eighteenth century copy has not been discounted. However, the clues to her true identity are contained in the brushwork and the pigments, which currently lay hidden under more than two hundred years' worth of dirt and grime. What the Gallery needs to do is to raise the funds for a full restoration and technical analysis of Sleeping Venus. She plays an undeniably important part in the canon of copies after the original Sleeping Venus by Giorgione possibly with the assistance of the young Titian in the Gemäldegalerie Alte Meister in Dresden, and may even hold vital clues to what a lost original by Titian may have looked like. But most importantly, it would be wonderful to see this beautiful work back on public view, rather than sequestered away dirty and forgotten in the Gallery stores.