Painter Profile: Canaletto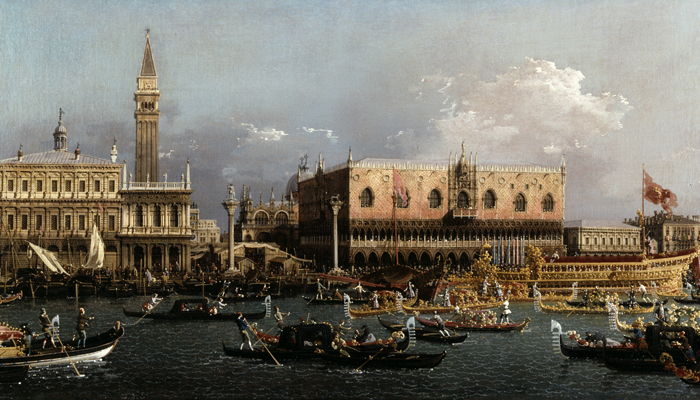 Who is this guy?
Giovanni Antonio Canal was an 18th century Italian landscape painter. His father, Bernard Canal, was a theatrical scene painter so when he was old enough he joined the family business. To make things easier he got called 'little Canal' or Canaletto – and the nickname has stuck ever since.  
What's he known for?
Urban landscapes of Venice mostly. He's famous for how precisely he painted his city scenes, which are usually packed with detail. Canaletto also liked working outside so he could paint from nature, bucking the contemporary trend for painting in the studio.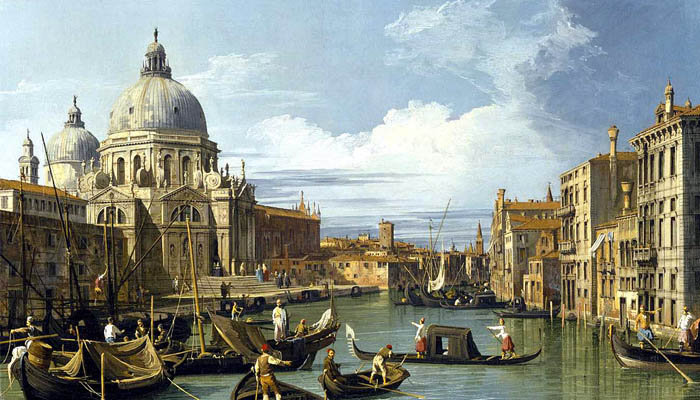 Was he popular?
At the beginning of his career, very. He became well-known for his views of Venice and made a decent amount of money selling them to rich tourists – mostly British aristocrats visiting the city on their Grand Tours.
So what happened?
Canaletto got so much business from the Brits that he eventually moved to England, setting up shop there in 1746. At the beginning it seemed like this was a great move – he got a decent number of commissions painting views of London and big country houses. But his style started to look a little mechanical. Rumours circulated that he was not in fact the real Canaletto but an imposter. It's said that he had to resort to painting in public to prove his identity and abilities. He moved back to Venice in 1755 but his popularity never really recovered.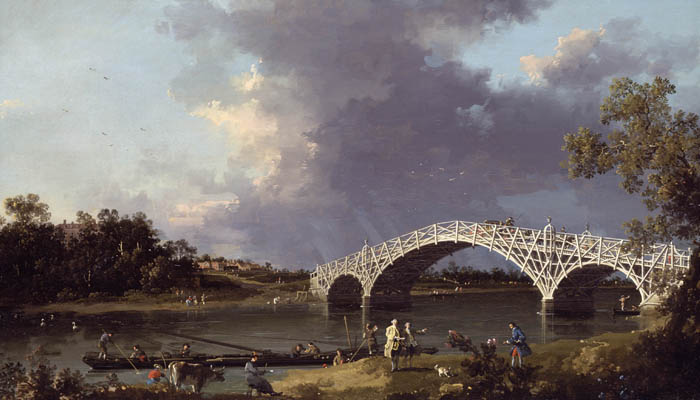 What about after he died?
Canaletto is now viewed as one of the key Italian old masters. He became more and more popular after his death in 1768, with Catherine the Great and other European monarchs all wanting to own a slice of his work. King George III of England had bought several of Canaletto's paintings from his agent, Joseph Smith, and these formed the basis of the large collection of Canalettos that the Royal Collection now has. His works also crop up in other British collections such as the Wallace Collection and, of course, yours truly.
How much do his paintings sell for now?
View of the Grand Canal from Palazzo Balbi to the Rialto was sold for £18.6 million in July 2005. Auctioned at Sotheby's, this was the record amount ever paid for a Canaletto.
Credit Lines: 
Bucintoro at the Molo on Ascension Day, 1760, 58.3 x 101.8 cm, Oil on canvas, Dulwich Picture Gallery, gift of Henry Yates Thompson, 1915
The Entrance to the Grand Canal, Venice, c.1730, 49.6 x 73.6 cm, Oil on canvas, The Museum of Fine Arts, Houston, The Robert Lee Blaffer Memorial Collection, gift of Sarah Campbell Blaffer
View of Walton Bridge, 1754, 48.7 x 76.4 cm, Oil on canvas, Dulwich Picture Gallery, presented by Miss E. Murray Smith, 1917