Meet the Maker: Georgina von Etzdorf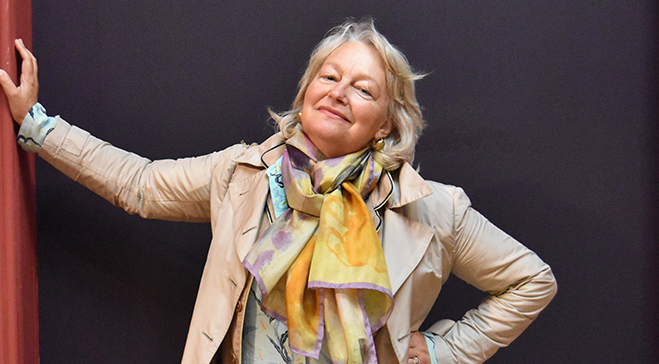 In celebration of our Bicentenary, we were honoured to collaborate with renowned British textile designer Georgina von Etzdorf to create a stunning silk scarf which features an original painting by Georgina. We caught up with her to learn more about how she became a designer and her inspirations behind her bicentenary creation. 
You studied at the Camberwell College of Arts, local to the Gallery – can you tell us more about your time there?
When I first went to Camberwell School of Art I was determined to concentrate my energies on painting, but at the very last moment opted to join the Textiles degree course. It had always intrigued me to see the Textiles students in the college canteen covered in dyes! The course was broad-minded and exciting in its approach, encouraging students to learn the nuts and bolts of the textile printing process, and to source their inspiration from all aspects of the creative world. It was an extremely good grounding for what was to come next for me. A little while after college, two friends and I formed 'Georgina von Etzdorf ' the company. We designed, printed, and marketed fabrics, accessories and clothing world-wide.
What would you say to any students who are yet to visit the Gallery?
Dulwich Picture Gallery has an enormous richness to offer students and visitors of all ages. There is so much to learn and love; just look at the extravagant frames on so many of the paintings. It's also the perfect size; a succulent mouthful of variety and substance - like the best meal!
What role do you think Old Master paintings can play in design inspiration?
We used to take the design team to galleries like Dulwich Picture Gallery to look at Old Masters, and at the many varied approaches to artistic expression. We'd do this in the company of an established artist, who would inspire us to really look at and explore the work - the composition, form, technique, light and shadow, colour, movement, form and so on. It was a tremendous 'wake-up' to what we were doing. 
Can you tell us a bit more about the scarf?
We focused on finding an image to celebrate this wonderfully inspiring space that has welcomed so many generations of visitors. 'Conversation' , a painting of mine depicting characters in a landscape, seemed right to illustrate the many forms of exchange that happen between ourselves and works of art, and was reproduced onto a floaty parachute silk. Alongside the scarf, we added a bespoke sketchbook, containing lovely blank sheets of watercolour paper, interspersed with images from my own sketchbooks.