How To... get the Bloomsbury look at home
By Sonia Kiourtzidis, Head of Retail at Dulwich Picture Gallery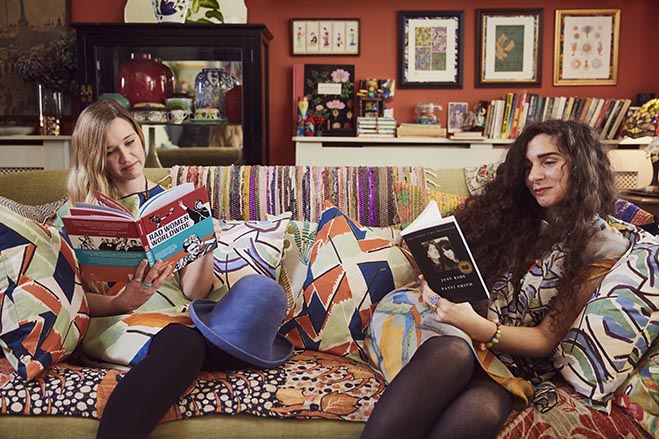 It is fascinating to see how current interior design trends like upcycling, homespun crafts, eclecticism and botanical décor can be traced back to what Bloomsbury artist, Vanessa Bell was doing more than a century ago. Her textile designs for the Omega Workshops - an avant-garde design collective founded in 1913 - are as bold and dynamic today as they were then. Hand-painted furniture, decorative murals and homemade ceramics transformed the domestic realm, blurring the boundary between art and life. Charleston farmhouse - Bell's rural home in East Sussex, which she shared with fellow artist Duncan Grant – could be considered the original Bohemian interior.
The notion of the home as an extension of its owner's personal creativity is now something of a modern obsession. Inspired by our current Vanessa Bell exhibition, we thought we'd share four ways to bring a bit of Bohemian spirit into your own home!
1. Love your layers

A hallmark of 'Bohemian' style is an artful mix-and-match of seemingly disparate elements. Layering different patterns, textures and colours through furnishings and accessories makes a space feel cosy and unique – just ensure you work within a specific colour palette to keep the look harmonious. This doesn't mean you have to be constrained by particular colours, but think about the colour 'vibe' – is it earthy, jewel-like, neon-bright?  It's fine to clash different eras and themes – the boho look is a 'well-travelled' one, through both time and place. Remember that books, artwork, lighting and plants are layers too – they bring life and soul to any room. The key is to tell the story of who we are and where we've been through the things that we own and love.

Why not try mixing and matching Omega Workshop cushions from our gift shop with your existing décor? Pamela, a painterly pattern in sage green and chalky blue, and Maud, an eye-popping blue and orange geometric, are both equally at home with antiques, contemporary pieces and global-inspired accessories…
2. Beautify with botanicals

As we said, plants bring life to a space – literally! Vanessa Bell clearly loved being surrounded by the abundance of nature at Charleston; the gardens are as wildly stunning as the interiors. Many of her still life paintings depict freshly picked flowers arranged in humble ceramic pots. With fresh flowers being something of a luxury for city folk, a more practical way to decorate with plants is to pick up potted foliage and succulents from your local market, as they will last longer and require less upkeep – and their vivid green presence will bring little pops of mindful bliss to your interior. Why not purchase a copy of Mary Norden's gorgeous new book Gathered from the Gallery gift shop, and be inspired by her drool-worthy photographs about the joy and beauty of flowers.
3.Celebrate ceramics

Ceramics can be both practical and decorative – the bohemian home proudly displays its ceramics collected on travels or from vintage markets and is not too fussy about function. A beautiful hand-painted bowl is as likely to contain fragrant pot pourri as breakfast cereal;  a patternful plate can be hung alongside artwork as part of an eclectic 'gallery wall'. Gather vessels of varying shapes and sizes and group together to create a table-scape on a sideboard or mantlepiece – prop a painting or mirror behind for a vibrant vignette. Fill rough-hewn vases and bottles with oversized dried flowers like hydrangeas or pussy willow for added impact. Pretty ceramic tiles dotted around the room are a practical alternative to coasters or a protective surface for your potted plants. You can pick up a range of Bloomsbury-inspired ceramics from the Gallery gift shop, including a reproduction of an original 1934 plate design by Vanessa Bell – oranges and lemons look rather zingy against its cobalt blue motif!
4. Cheer up your chairs

You can find affordable vintage wooden chairs at flea markets and car boot sales, or you may have inherited some from family. A lick of chalk paint is a quick and easy way to transform any lackluster chair – no prep is required and the effortlessly faded, chalky finish is an instant Bloomsbury touch! Accentuate with a patterned cushion, like the Omega Workshop designs available from the Gallery gift shop. The chair pictured above is painted with Annie Sloan chalk paints in multiple sherbet-dip hues and is inspired by an original hand-painted Bloomsbury chair. Happy decorating!
See anything you like?