Spotlight on the Architects: Tom Benton, Hayatsu Architects and M. J. Wells
Ahead of the final round of judging for the Gallery's first Pavilion competition, we're finding out a bit more about the four shortlisted practices. In the third of our 'spotlight on the architects' posts, we hear from the team comprised of Tom Benton architects, Hayatsu Architects and M. J. Wells.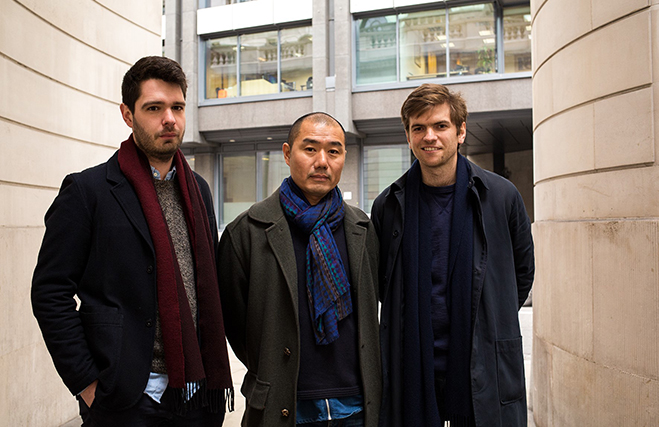 How would you describe the ethos of your practice?
As a group formed from three different architects, a collaborative attitude and way of working has been a key part of how we have approached the project. This has extended to both how our proposal has been designed and to how we have thought about the more practical aspects of construction and cost constraints.
Collectively we share an appreciation of the practical and communicative potential in the way buildings are made and how this relates to their place in the world. We also share an interest in the depth on knowledge contained within the history of architecture.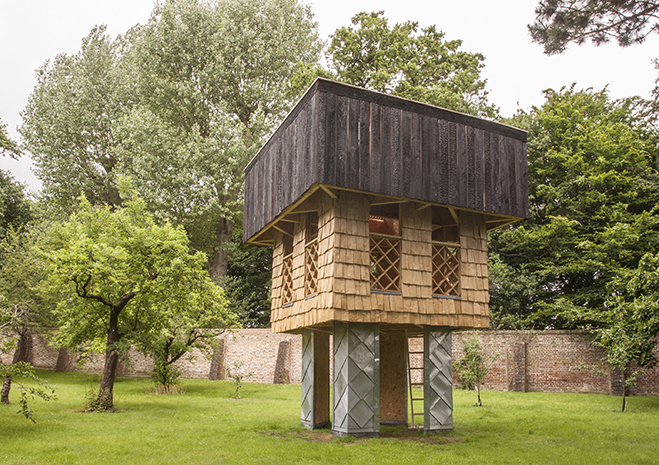 Can you tell us more about the individual architects involved with the competition? 
We're a group of three architects – two in practice and another in research – who have collaborated in a variety of guises previous to this competition.
Tom Benton architects
Tom Benton (BA, DipArch, ARB) worked for David Chipperfield Architects, Dow Jones Architects and 6a architects before forming Tom Benton architects in 2016. Working with a small and highly skilled team, Tom's studio aims to work on architecturally focused projects. Complementary to his work in practice, Tom runs an undergraduate design studio at Kingston University.
Hayatsu Architects
Takeshi Hayatsu (BA, AADipl, RIBA) worked at David Chipperfield Architects, Haworth Tompkins and 6a architects before founding his own practice Hayatsu Architects in 2016. At 6a he was a project director on many award-winning projects. His recent commissions include a pavilion for the Barbican's 2017 exhibition The Japanese House. Architecture and Life after 1945. Alongside his practice, Takeshi runs postgraduate units at Kingston University and Central Saint Martins. His research interest focuses on craft, material and traditional building techniques.
M. J. Wells
M. J. Wells (BA, DipArch, MA, ARB) is an architect and historian. Currently based in the V&A/RCA History of Design department and supported by an Arts and Humanities Research Council Collaborative Doctoral Award, his research looks at the way architects thought about and used models in the nineteenth century. Recently his writing has been published in a number of academic journals and within the architectural press. In addition to his research, Matthew teaches architecture at both postgraduate and undergraduate levels at Kingston University.
What attracted you to the pavilion competition at Dulwich Picture Gallery?
At present in London there are few opportunities for architects who are starting up new practices to work for prestigious cultural institutions. More exceptional is the opportunity to build within the grounds of a Soane building, especially one as important as Dulwich Picture Gallery. For all three of us, the work of Sir John Soane is hugely influential to our understanding of architecture and how we practice.
Are you able to share any of your initial thoughts for the design? E.g. where your inspiration may come from.
We have really enjoyed the opportunity to look closely at the Dulwich Picture Gallery's history. The Soane museum archive is an amazing resource for anyone raising the question 'what would Soane have done?'.
One of the ideas, for example, has come from a beautiful drawing of the Dulwich Picture Gallery under construction by Sir John Soane's pupils in the summer of 1812.
Our design has comes out of a back and forth between the emotive nature of this searching and the practical requirements of the brief.
You can find out more about the competition here. The winning practice will be announced at the end of January.
Picture captions (from the top):
Team photo from left: Matthew Wells, Takeshi Hayatsu, Tom Benton
Seminar House Pavilion at Dorich House Museum, Kingston, 2016