Winning design revealed for first Dulwich Pavilion
A new venture by Dulwich Picture Gallery and the London Festival of Architecture, in partnership with Almacantar.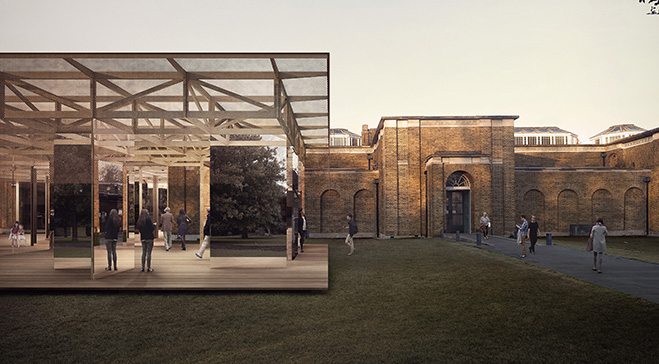 London-based practice, IF_DO, will design the very first 'Dulwich Pavilion', a temporary events structure in the Gallery's historic grounds. The final design was chosen by a panel of judges including owner of the River Café, Ruth Rogers, architect Carl Turner and Mike Hussey, Chief Executive at Almacantar. The project has been made possible through a partnership with Almacantar, the property development company that showcases exceptional design as the basis of its high-quality schemes.
The pavilion will host a vibrant programme of public events celebrating the Gallery's bicentenary year and will open to the public at the beginning of the London Festival of Architecture on 1 June 2017.
The winning design
After Image CGI render, © Forbes Massie

After Image model, photograph © Simon Webb

After Image CGI render, © Forbes Massie

After Image CGI render, © Forbes Massie
IF_DO are a young architecture practice based in nearby Camberwell, south London. The practice was established in 2014 by Al Scott, Sarah Castle and Thomas Bryans. Their design, 'After Image' responds to the solidity and monolithic nature of Sir John Soane's gallery building, and the porous, ever-changing nature of the landscape. A series of translucent mirrored screens – some fixed, some moveable – reflect and disrupt the context. Working in close collaboration with creative engineers StructureMode, IF_DO have designed a lightweight structure featuring a timber truss roof overlaid with a mesh veil to create a canopy-like environment that enhances the layering of images and the interplay of space, perception and memory. 

Al Scott, Director at IF_DO said:
"Being selected for the Dulwich Pavilion gives us a really exciting opportunity to create an inspirational structure for the London Festival of Architecture. Blurring the boundary between gallery and landscape, the pavilion creates a heightened sensory experience through a series of unfolding, translucent mirrored screens, inspired by the work of Sir John Soane."
The competition
The partnership between Dulwich Picture Gallery and the London Festival of Architecture gave emerging architects an opportunity to create a response to the original Gallery building – an innovative design by Sir John Soane and extended by Rick Mather – and its beautiful garden setting.

IF_DO overcame competition from a field of 75 entries, and at the final selection stage were shortlisted alongside Feilden Clegg Bradley Studios, Pernilla Ohrstedt and a collaboration between Tom Benton Architects, Hayatsu Architects and MJ Wells.

The judging panel
The competition was judged by a panel of leading architectural, cultural and business figures including:
Ian A C Dejardin (Sackler Director, Dulwich Picture Gallery)
Kirsten Dunne (Senior Cultural Strategy Officer, Greater London Authority)
Nancy Durrant (Arts Commissioning Editor, The Times)
Ruth Rogers (Chef and founder, River Café)
Tamsie Thomson (Director, London Festival of Architecture)
Carl Turner (Founder and Director, Carl Turner Architects)
Mike Hussey (Chief Executive, Almacantar)

"Simple but sophisticated, edgy but engaging, IF_DO's pavilion has many layers, but most importantly is conceived as an attractor for a new audience, designed to reach out to a wider public helped all the more that the practice are based in neighbouring Camberwell.'
Carl Turner
"I am delighted to be able to report that emerging talent in architecture is flourishing – this was no easy choice. IF_DO dazzled, however, with their thoughtful, thought-provoking concept, harmonizing in subtle ways with Sir John Soane and his great building, playing games with image and reflection, evoking the loveliness of the garden and its trees. Children will want to play in it; adults will want to stop and think; performers will revel in it. I congratulate them and the other young architects who entered the competition with such enthusiasm, dedication and hard work."
Ian A C Dejardin, Sackler Director of Dulwich Picture Gallery
"Almacantar is proud to partner with Dulwich Picture Gallery and the London Festival of Architecture for the first Dulwich Pavilion, which will complement the existing architecture, transform the setting, inspire visitors and accommodate an ambitious programme of exhibitions and events. We share IF_DO, LFA and Dulwich Picture Gallery's desire to change the way people engage with the prominent location and celebrate the connection between art and architecture."
Mike Hussey, Chief Executive at Almacantar