Poet Sabrina Mahfouz interprets Backhuysen's Boats in a Storm
Art UK recently challenged four poets to write and perform their creative response to four paintings in selected museums and galleries across the country. Rising to the challenge, fellow South Londoner poet and playwright Sabrina Mahfouz took inspiration from Ludolf Backhuysen's Boats in a Storm (1696) in our Collection and wrote a moving spoken word piece about the UK's response to the migrant crisis. You can watch Sabrina's response below:
About the painting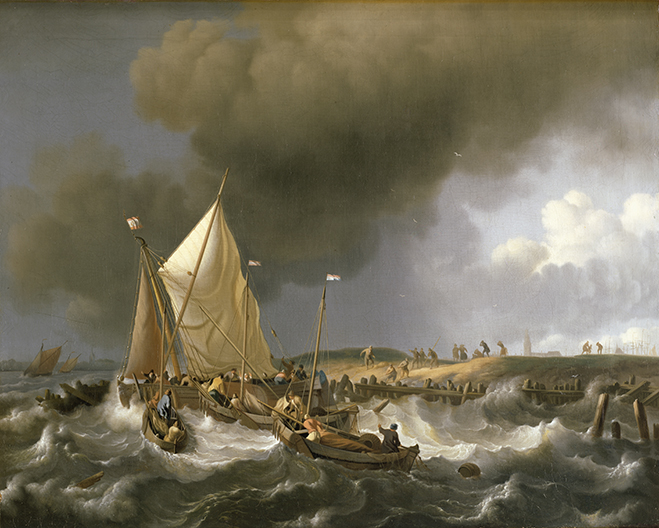 In this painting, Backhuysen depicts an emergency. The 'wijdschip', a large sailing vessel, has been sailing into an estuary in order to gain the harbour, whose presence is signalled by the masts to the extreme right. The strong wind has driven it against the line of stakes: men on shore are pulling on a rope to steady her stern; other boats are coming to the assistance of the distressed passengers. The church and burst of blue sky to the right suggests that the scene may have an allegorical meaning concerning a struggle towards salvation.
Sabrina's piece reflects the drama of the painting by drawing a connection to contemporary theme of dislocation and the turmoil felt by those forced to make hazardous journeys. Her powerful poem demonstrates how a 16th century painting can still be relevant and pertinent today. Find out more about her inspiration in an interview with Art UK here.
About Sabrina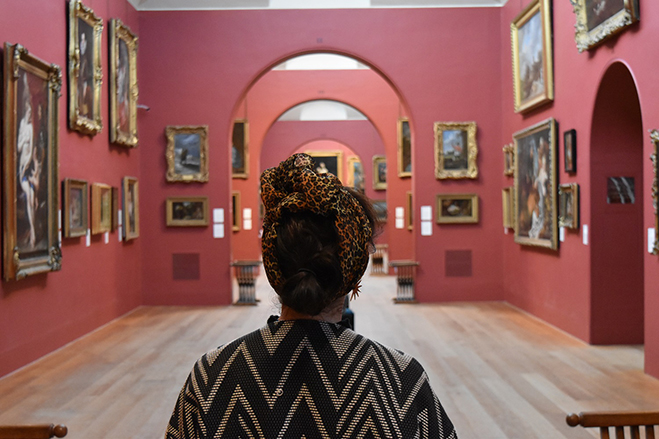 Sabrina Mahfouz was raised in London and Cairo. Her work includes the plays Chef, With a Little Bit of Luck, Clean, Battleface and the love i feel is red; the poetry collection How You Might Know Me; the literary anthology The Things I Would Tell You: British Muslim Women Write and the BBC shows Breaking the Code, Railway Nation: A Journey In Verse and We Are Here. She received a Fringe First Award for Chef and won a Sky Arts Academy Poetry Award.
Feeling inspired?
Art UK and National Poetry Day have joined forces to hunt for the next young poetry star to create a new Art Speaks film. The competition is open to any 13 to 24 year olds living in the UK, with a passion for art and poetry. Learn more about the competition and how to apply here.