Living with Dementia: the power of art and music
Watch the full performance:
Our ground-breaking Visual to Vocal project recently returned for a fifth year, uniting people living with dementia, their carers, and young people from two local schools—Harris Girls' Academy East Dulwich and Dulwich College. With help from English Touring Opera, they worked together over ten weeks to write song lyrics and compose melodies in response to visiting the Gallery's Permanent Collection, which, with the addition of dialogue and dramatic effect, culminated in a performance of an extraordinary mini-opera.

This intergenerational project challenges the perceptions of what people living with dementia can achieve, celebrating creativity in the present moment. Following the group's phenomenal final performance in the Gallery on Sunday 25 June we asked two of the students taking part, Abi (age 12) and Josheela (age 13), for their impressions of working creatively with people with dementia.

Abi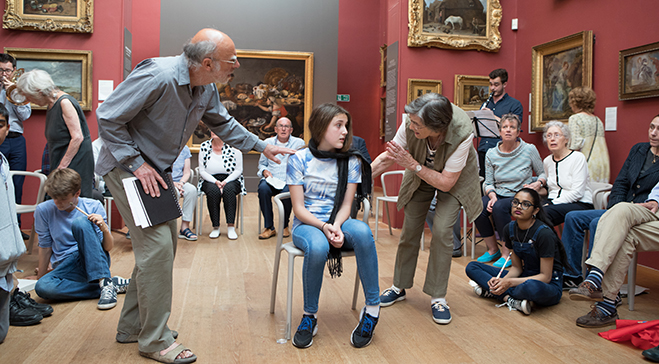 This project has helped me understand and find things out about people with dementia, one thing I noticed is that I couldn't really tell who had dementia and who didn't. I think music and art work so well together because there is always a story behind the art and the making of the art. The story behind it can easily be expressed by music. Creating the songs with new people has been the highlight of the project because I thought making songs was hard but with the different ideas of all the people it is really easy.
It is important to work with groups with all different ages as we can learn and try new things which we may not have done before. Most of the time we are with the same age group so it is good to try different things.

Josheela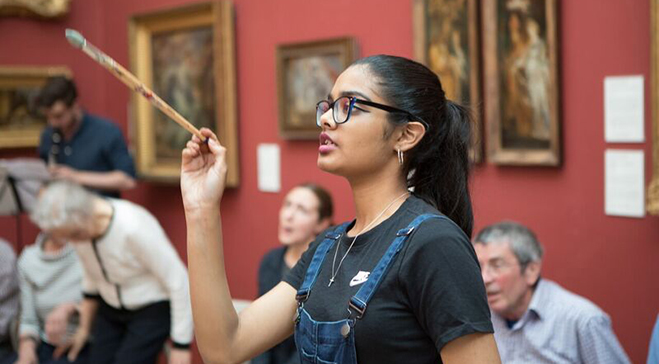 The project so far has been a really rewarding experience, and it wasn't what I was expecting in the sense that the art would play such a big part in the music. I think music and art work well together because they are both forms of art, and despite being quite different, they can marry together very nicely. My highlight of the project so far has been having conversations with different people in the sessions, as I always learn something new about dementia from the different individuals.
I think intergenerational projects are important because there is a massive opportunity to learn from one another. It introduces new skills to the youth and it allows older people to compare the world today from when they were our age, which I find really interesting.
Visual to Vocal is supported by City Bridge Trust, the City of London Corporation's charitable funder