48 hours in Finland: on the trail of Tove Jansson
48 hours in Finland: on the trail of Tove Jansson
During a recent trip accompanying journalists to Finland, Louisa Bee, Press and Communications Manager at the Gallery spent two days exploring Tove Jansson's homeland – learning more about the artist and indulging in the Finnish way of life.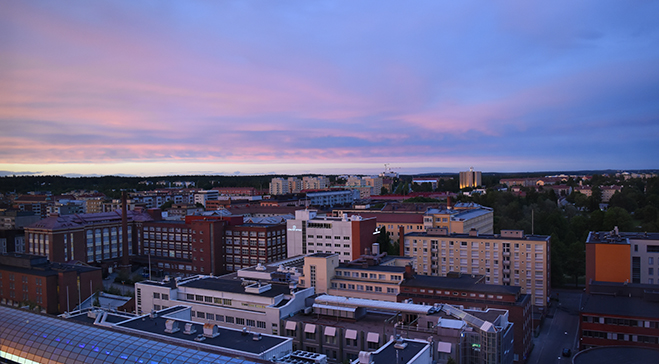 Art and Culture
Visiting a museum in Finland is a very pleasant experience indeed –I suspect, in part, due to the fact that the Finnish really respect personal space – apparently the comfortable personal distance between strangers in Nordic countries is about 1.5 meters.
Fresh off the plane, we went straight to Helsinki Art Museum (HAM) which you enter via a shopping centre and cinema complex – very bewildering for a group of bleary-eyed journalists who had been up since 4am… HAM is home to four of Tove's murals – well worth a visit - as well as temporary exhibitions that shine a spotlight on Finland and its artists past and present.
The Design Museum, formerly Tove's school, takes you back to the roots of Finnish design. It's the perfect place to get a wider understanding of the country's cultural heritage and the surrounding design district is great if you just want to ogle at very expensive pieces of furniture and contemporary art.
100 miles north of Helsinki, and a two-hour train journey is quaint and up-and-coming Tampere, conveniently positioned on the popular tourist route to Lapland. Because of its location the city is going through a big regeneration project, which includes the very recently opened Moomin Museum located in the ultra-modern Tampere Hall. Two floors of Moomin heaven where you can see original sketches, models, animations and indulge your inner child with immersive installations. We were all pleasantly surprised at how sensitively a life's work had been displayed – it was a touching homage to Tove. I'm not sure how she would have felt about the Moomin-themed menu in the restaurant, but we were all very intrigued by Snufkin's Fish Plate…
Further afield: Moomins and beyond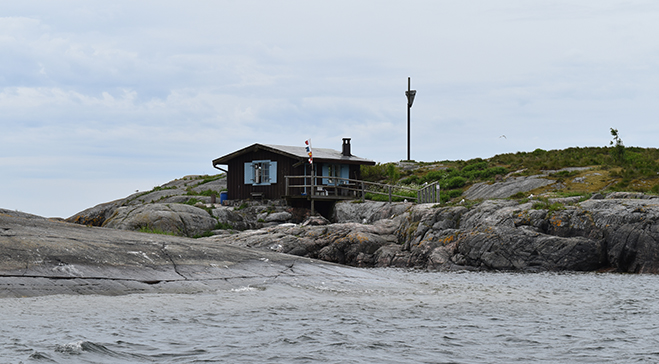 There are 5,400,000 people in Finland – apparently, that's an average of 17 inhabitants per square kilometre which is good news if you want to experience Finland's scenic offerings without having to fight for a view.
A two-hour coach and ferry journey from Helsinki takes you to the Pellinki islands, Tove's former stomping ground. It's the place to go if you want to learn more about young Tove and see the places that inspired her creatively.
We spent the day tracing Tove's footsteps, and attempted to explore Klovharun, a small, rocky island where Tove and her partner Tuulikki spent their summers for nearly 30 years. You'll need sea legs for this one. The island is only accessible for tourists for a short period of time every year due to weather conditions. We tried but failed to make it to shore for this exact reason but we managed to get a great view of the island and Tove's cabin from the boat.
We also managed to fit in a visit to Tove's local shop, 'Söderby-Boden'. This tiny, everything-you-could-ever-need kind of shop is nestled amongst some of the most quintessentially Finish scenery of dark red wooden houses and forest.
We rounded off the day with a forest walk on Storpellinge island, another spot regularly frequented by Tove and her family. It's probably the closest thing to the real Moominvalley, brimming with tree-stumps, caves and dense woodland.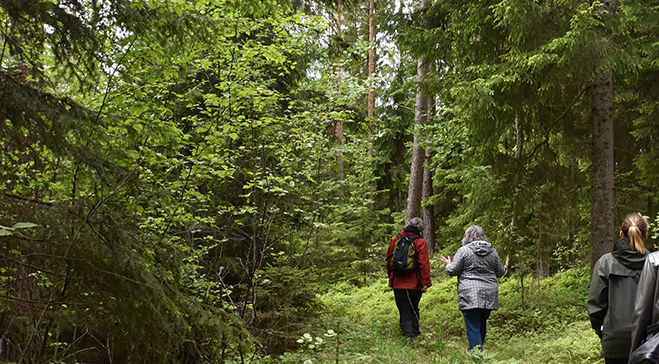 A forest walk on Storpellinge island.
Finnish cuisine
Martin Tillman's Fish restaurant - Located on the seafront in Pellinki, this is the ideal spot to stop for lunch, restore some inner peace, and, if you've just attempted a trip to Klovharun, cure seasickness…
Martin Tillman, a local fisherman who runs the restaurant from his home, knows his stuff. We had a delicious salmon soup with rye bread (a Finnish delicacy). Martin has bed and breakfast accommodation too along with a sauna and hot tub.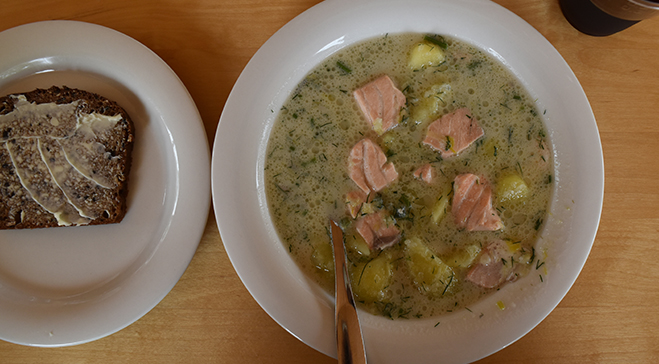 Elite - Dinner at Elite was quite an experience; the décor and ambience just as it was in 1932 (I imagine). It's a traditional Finnish restaurant, widely favoured by the country's artistic circles and also happens to be located next door to the Lallukka Artists' Home where the Jansson family lived from the early 1930s. 
Näsinneula - We were told before we arrived that revolving restaurant, Näsinneula, is considered one of the best in Finland and it didn't disappoint. This is literally as high as you can dine in Finland – and fine dine at that – with spectacular views of Tampere and Pyhäjärvi Lake. We went in June, a couple of days before midsummer so the sun didn't set – the view might not be so impressive in Winter…