Dulwich Pavilion: from gallery garden to school playground
The Dulwich Pavilion will find its new home with a local primary school in East Dulwich.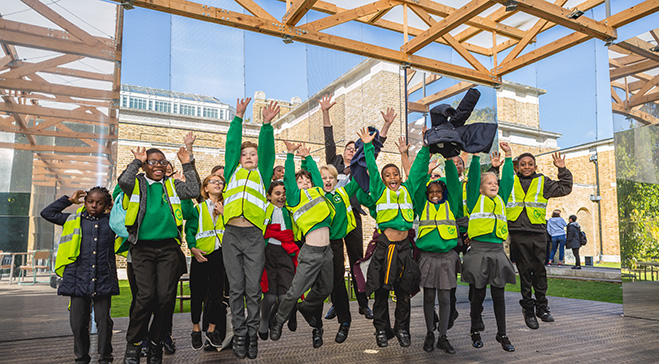 The first Dulwich Pavilion, an exciting temporary dwell and events space welcomed over 74,000 visitors throughout the summer. More than 40% of visitors to the Gallery's summer programme, which ranged from yoga and life drawing to live music and themed Late evenings, were new to the Gallery and its historic site.
Now receiving multiple award nominations for its design, the Pavilion's combination of beauty and practicality caught the imagination of many. The Gallery and partners, the London Festival of Architecture and Almacantar, have selected Goose Green Primary School as a candidate with a clear community use for the structure's re-appropriation. Currently lacking a safe and waterproof outdoor play area or learning space, the school will use the Pavilion as a permanent structure in their playground.
The Pavilion will be held in storage while the school and architects IF_DO, who will continue to act as design guardians, work together on its second life. Parents and children, who have already been in discussions with the school about ways of improving the playground area, will be encouraged to share their views on the outcome of this project. Due to the flexible design of the Pavilion, which has moveable panels under a fixed timber roof, the school will be able to create a bespoke space to suit their various needs.
Simon Wattam, Head of Goose Green School said:
"The pupils, my fellow staff and I are hugely excited about this project. It will give us a unique opportunity to involve the children in an exciting creative process and when it is in place the Pavilion will completely change the use of the playground when it rains. It will also provide an inspiring all-weather outdoor teaching space in which children can learn. We're thrilled to be working with the Gallery to carry on the legacy of such a wonderful, community minded project."
Jennifer Scott, The Sackler Director of Dulwich Picture Gallery said:
"The Dulwich Pavilion project served to give young emerging architects a platform and to provide the Gallery with much needed space for its events programme. To know that the Pavilion will have a legacy beyond this, meeting the needs of a school so local to us, is hugely exciting for the Gallery."
Designed by emerging architecture practice IF_DO, the Dulwich Pavilion was the result of a competition organised by the Gallery in partnership with the London Festival of Architecture and Almacantar. Goose Green School will now start raising funds for the reconstruction of the Pavilion, which is due for summer 2018.