Interview with Club des Femmes
We couldn't enter the final two weeks of our Tove Jansson exhibition without shining a light on the importance of film in her life and art. Ahead of our special Late, Tove Jansson: An Intimate Portrait, we caught up with Club des Femmes, who will be screening two home movies by Tove and her partner Tuulikki (Tooti) Pietilä on the night - Tove and Tooti in Europe and Haru: Island of the Solitary. They talk Super 8 film, feminist cinema, remote islands and the intensely tender moments between two trailblazing women...
Could you describe Club des Femmes in one sentence?
We are a queer feminist curatorial collective who curate film screenings and events; our mission is to offer a freed up space for the re-examination of ideas through art.
How did Club des Femmes get started?
Selina [Robertson] programmed Sarah [Wood]'s first experimental film, Manifesto of Love, at the London Lesbian and Gay Film Festival in 2003 (the same year Selina programmed Tove and Tooti in Europe and Haru: The Island of the Solitary at the festival). Sarah and Selina became friends over a shared love of Tove Jansson, feminism and avant-garde cinema.  
Selina and Sarah began Club des Femmes in 2007 where (unbeknownst to them) Sophie [Mayer] was in the audience. In 2009, Sophie wrote The Cinema of Sally Potter: A Politics of Love and Selina came to her book launch where they became friends and allies over a shared love of Sally Potter, feminist cinema and activism.
Do you think that watching a film in a Gallery space offers a different experience to being in a cinema?
We screen lots of installation-based moving image work so it's great to bring films into the gallery, the other way around, and to place the films amid the artwork. It frees up the literal space of the gallery for people to move and look differently – perhaps not to sit back as it's tempting to do in the cinema, or to walk fast and look at the texts as people sometimes do in galleries. We're hoping it will feel both contemplative and cosy, thought-provoking and welcoming, because it offers different ways to look and see, as Tove's lifelong practice did.
How does this screening at Dulwich Picture Gallery fit with Club des Femmes' objective 'to offer a freed up space for the re-examination of ideas through art'?
We love having the opportunity to screen in different spaces and contexts which lets us connect with different audiences. It's also important for us to note that women artists tend, more than men, to move between media and creative practices, of necessity – because systemic sexism still makes it harder for them to achieve their goals in a given field. Many of the filmmakers that we screen work in multiple fields, such as Sally Potter, Yvonne Rainer and Kathleen Collins.
Tove wanted to be recognised as a visual gallery artist – as she is being today – as well as a writer, comics artist and multimedia storyteller, and Tuulikki was a graphic designer and also a visual gallery artist. For us as queer feminists, coming up again and again against the claim that "There aren't any women who did X," it's important to think laterally, and see that sometimes because women work across multiple media and forms, their work slips from the canon and doesn't get seen. So it's really exciting to be positioning Tove and Tuulikki as filmmakers, amid Tove's paintings.
Did film feature in Tove and Tooti's creative work?
'The little red light came on. Fassbinder confronted them in all his exquisite, controlled violence. It was very late when he was done. Jonna switched on the lamp, slipped the cassette into its cover, and put it on the shelf labelled "Fassbinder".'
In "Changing Pictures," the opening short story in Jansson's collection Fair Play, the characters Mari and Jonna – both artists – end their day watching a film directed by Rainer Maria Fassbinder, instead of going out for dinner with friends. Mari (based on Tove), who is more freewheeling, worries that they should have gone out to dinner, and that their lives should be messier. She says, "these films of yours are fantastic, they're perfect. But when we get involved in them as totally as we do, isn't that dangerous?", but for Jonna (based on Tuulikki) films "make new thoughts thinkable."
It's particularly poignant and exciting for us, as queer feminist curators, that the filmmaker whose work is so perfect and involving that it's dangerous is Fassbinder, whose films showed lesbian, gay, bisexual, trans, and queer characters openly. Part of what film might make thinkable for Mari and Jonna is the way in which queer sexualities – for so long illegal and censored – might make their way into art, as they do in Fair Play.
How did film feature in Tove and Tooti's lives together?
Watching and making films together became an extension of their shared creativity and lesbian lives together. Collaboration is central to so much feminist art practice and Tove and Tuulikki's Super 8 films effortlessly and humorously articulate this shared practice. We often wonder when watching their films who is the muse for whom when life and work get mixed up? They made their "home movies" to articulate a tender intimacy and private dialogue that has now became public art.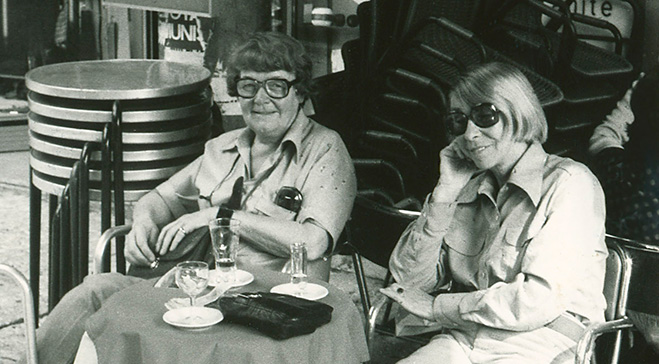 Do the films offer a different view of Tove's work than we might get from her art?
Tove drew on her life extensively for her art: painting portraits, transforming people she knew into Moomins, and writing about her relationships and her creative process in her fiction. The travel diaries cross-over with some of the stories in Fair Play and the aptly-titled Art and Life, so it's less about the difference, perhaps, and more about feeling like a skilled detective as you put the pieces together satisfyingly. The films have the lightness and happiness at being in the world that are often present in Tove's stories, and you can see the colours and light of the world that are so present in her painting as well.
To what extent do the films offer an insight into Tove and Tooti's personal lives?
There's something exciting about seeing Tove and Tuulikki together at work and play on the island, doing chores and pursuing pastimes that feel familiar from Moomin stories you might have read as a child. It's very piquant and charming to see them, especially because we don't have that many documents of lifelong lesbian partnerships, or even of active older women.
What do you think of Tove and Tooti's filmmaking skills?
Women's short films are often seen just as "home movies," but as Robin Blaetz argues in her book Women's Experimental Cinema, women artists often made diary films to work with what was around them. They are experimental because of their subjectivity and their perceptions, as well as because they take seriously what's often dismissed as frivolous or unimportant. As well as attending to a previously-unrecorded life – that of long-term lesbian partners who are also women artists – the films also glow with details that illuminate how the two women live and perceive.
Tove and Tooti both have an artist's eye for shapes, colours, animals and everyday details: they love colourful costumes, natural scenes, and architecture. There is a contrast between the familiarity of the world in the films shot on Klovharu, where time and space feels well-known and loved, and the sense of discovery and encounter in Tove and Tooti in Europe, but in both films there are often surprising details that pop from the frame, almost like they are sending postcards to each other saying: "Look at this! I saw it and thought of you." The films are edited meticulously so that the viewer feels included in these private stories: that's very generous and rare.
Do you have any favourite moments in the films?
Some of our favourite moments are during Tove and Tooti in Europe - where we watch Tooti filming herself and Tove in the reflection of clothes shop windows or noisy cafe mirrors. She does this three times over a time span of three decades - in Corsica 1975, London 1985 and Paris 1993. They are intensely tender moments of intimacy that tell us just a little more about the private life of these two trailblazing women as lovers, artists and lifelong collaborators.