Letting the Sunshine In: New Look for Gallery of Dutch Italianate Paintings
If you've walked around our Permanent Collection lately you'll have noticed a dramatic change in Gallery X. Displaying our collection of Dutch Italianate paintings, this previously pale grey-blue room has been repainted a bright yellow. Alongside a rehanging of the paintings, new texts on the wall and a family activity, this repaint is the first stage in our new Unlocking Paintings project, which aims to rethink the way we tell the stories behind our collection, unlocking new meanings for visitors of all ages.
To find out more we spoke to Helen Hillyard, Assistant Curator, about Dutch paintings, art galleries and yellow paint…
Why did you start with Gallery X?
Dutch and Flemish paintings count for nearly a third of Dulwich's collection, including star works of international significance, but it's usually our paintings by Rembrandt and Rubens that get all the attention. We wanted to focus on our landscapes; taking a closer look at what makes them so important.
   While Gallery X is home to some of our most beautiful landscape paintings there were several areas that needed improvement. For example, many of the works were displayed too high for visitors to see easily, and many of the labels were confusingly placed, so it was difficult to match them to the correct artworks. It also wasn't clear what the 'story' of the Gallery was: what linked these paintings, other than the fact that they show landscapes. The new rehang aims to add some context, telling the story of the Dutch Italianates and their importance within Art History.
How was the new shade of yellow chosen for the walls?
We chose the new colour [Mylands' Haymarket yellow] to reflect the Gallery's theme 'Let the Sunshine In'. The Dutch Italianates aspired to bring the warm glow of the Mediterranean into the homes of the Dutch middle-classes, so we've tried to do the same for the visitors to Dulwich.
What else is new in Gallery X?
We wanted to give people room to concentrate on individual works, so there are fewer paintings on display. Most of the works are displayed at eye level, so you can really immerse yourself in these landscapes. For this Gallery, we also wanted the focus to be on our paintings, so we made the decision to remove the furniture.
   The new wall labels for the paintings are also clearer and more concise, communicating the most important pieces of information about a particular picture or artist. They also try to create a personal connection with the works of art, encouraging visitors to imagine what life would have been like as a painter in the 17th century.
Were there any galleries or museums you looked to for inspiration in transforming Gallery X?
Inspiration came from a variety of sources but, personally, I found the display of the Rijksmuseum in Amsterdam especially compelling. The museum was refurbished and reopened in 2013, and their design and interpretation is fantastic. They've created handbooks and educational resources that are clever, funny, and well-designed. Their displays are creative but clear, and bring you closer to understanding what life was like in 17th-century Holland.
Did you discover anything new or unexpected in this process?
Planning the display really reminded us what a fantastic collection we have at Dulwich. This made narrowing-down our selection of paintings an incredibly tough decision. The final hang aims to highlight the diversity of our collection, including paintings by a range of artists working in subtly different ways.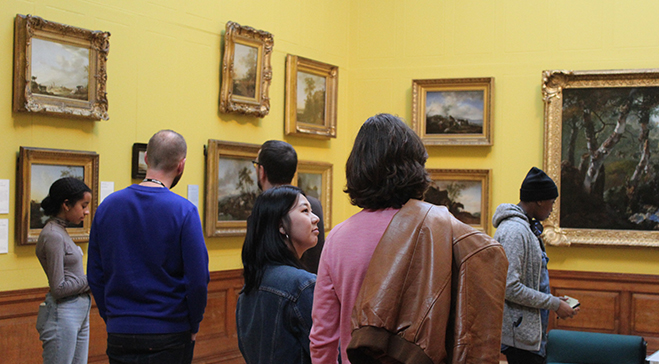 How does all of this work help to unlock new meanings for the paintings in Gallery X, especially for younger audiences?
We think that there's a story in these paintings for everyone regardless of age, however, we know that there's more we can be doing for our younger audiences. This will be the first time that we have a family activity specifically for one of our permanent collection Galleries - although we'd love it if adults try it too!
[Jane Findlay, Head of Learning] We're also involving young people throughout the Unlocking Paintings project with our new Volunteer Interpretation Programme (VIPs), which enables young people to build their skills and confidence, and gives them a voice to tell their stories. Through activities such as developing and delivering tours, handling sessions and youth events linked to the permanent collection, these volunteers will also help us to ensure that young people feel empowered to engage with, and even shape, Gallery interpretation and programming, and will enable us to find the best ways to tell stories for all audiences.
What's next?
Our display on Tiepolo's painting Joseph Receiving Pharaoh's Ring in Gallery XI means that we will rehang Gallery X again at the end of March. We also have big plans in the works for Galleries III and IV, so watch this space...

Official Paint Partner