Spotlight Talks: Kim Dorland
For David Milne, Mother Nature was his muse. In our new 'Spotlight Talks' series, we talk to contemporary artists who share the same fascination with nature. Today, we hear from Kim Dorland, a Canadian artist, to discover more about his practice and how the natural world inspires him.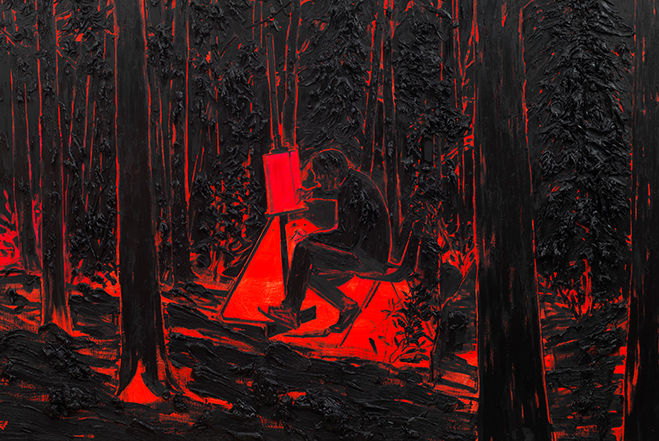 How did you start out as an artist?
It was kind of a snap decision in my late teens. I just decided one day that this was what I wanted to do and because I came from a pretty impoverished background it wasn't crazier than deciding to be anything else. My great-grandmother was a "Sunday painter" so it was something in my periphery but I had no knowledge of the idea of art as a profession.
As a Canadian, what resonates with you about Milne's way of depicting the country's landscapes?
For me, my love of Milne's landscapes comes from his sense of poise and economy which separates him from other Canadian artists working with the landscape, for example, the Group of Seven who were a lot more bombastic with their material and style. With Milne it almost feels like he's communing with nature.
You've spoken about your love of the woods (particularly with your recent show title, Nemophilia), what do they represent to you?
In Canada, we are never very far from the woods, so it informs much of what we do from our taste in art to our holiday choices. For me, the woods represents so many things including nostalgia, identity and place and that has informed a lot of my work. More recently, I have found myself drawn to the woods because they seem so "now" in terms of our political/social/environmental condition. For me, the woods also function as a stand-in for contemporary anxiety and dislocation. The Nemophilia show that you mentioned was all about the power of the woods - physically and aesthetically- to keep going - whether we're here or not. My next show, Same Old Future, is more about the allegory of being "lost in the woods" - woods as a nightmare, woods as an escape.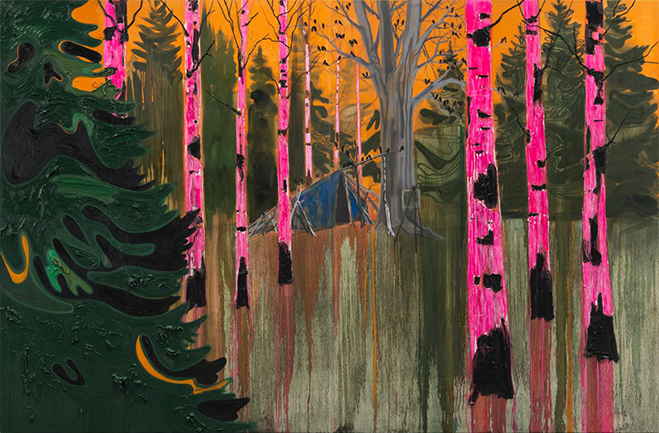 Like Milne you often highlight the painterly quality of your works, with visible brushstrokes and thick paint, what do you think a landscape painting can do, apart from showing a place in the world?
I think landscape painting is much bigger that depicting a place. It's psychological, it's political, it's allegorical, it's historical but it's also contemporary.
What artists do you look to for inspiration in depicting the natural world?
I am a bit of a polymath when it comes to my approach to my practice, including influence. I look to music, literature, art, film and try not to exclude anything. My list of influences is long and diverse. When it comes to the landscape I'm interested in historical artists like Milne, Tom Thomson, Emily Carr, Kirchner, Charles Burchfield and many more. I also love Hockney, Doig, Daniel Richter, Laura Owens, writers like Margaret Atwood and Jeff VanderMeer, bands like Sonic Youth, and the list goes on...
Landscape painting has a long history in art, but do you think its meaning is changing in the context of global warming and environmental damage?
I don't think you can take on the landscape today and turn a blind eye to the realities of the social/political/environmental issues inherent in the subject. My paintings often depict what's been left behind from our interactions with nature because there is so little of it today that remains untouched by us.
What would a typical working day be like for you (if there is one!)
I'm a Dad with two young kids so it's very pragmatic (aka unsexy!). I have to take them to school so I work around that schedule. I'd love to say I live a bohemian life in the studio coming in and out as the mood/muse strikes me, but in reality, I more or less keep bankers' hours!
Are there any particular landscapes in Canada or the wider world that you'd like to visit, or paint?
Canada is such a vast and diverse country. I recently moved to the West Coast and had to learn a whole new landscape aesthetic. I liked that discomfort and also that juxtaposition between the landscape I know intimately and the one that's completely wild to me. More recently, I've become interested in hybrid or imagined landscapes where I'm not necessarily depending on or depicting a specific place but using the landscapes I've got stored in my memory to express psychology or mood or narrative.

Image credits: Kim Dorland, Dripping Dream, 2013, oil and acrylic on jute, 72 x 96 in. Courtesy of the artist; Kim Dorland, Shelter, 2018, oil on linen, 
96 x 146 in. Courtest of the artist.