Under the Skin: meet the artists behind this month's Late
In our next Gallery Late: Under the Skin on Friday 23 November, you can discover the drama of Ribera: Art of Violence after-hours. We caught up with two artists involved in the Late – electronic composer Benjamin Tassie of _REMIX and visual artist Hybrid Desire to find out about their inspirations, influences and more. _REMIX will be performing their new work After Violence, with music composed by Tassie, at intervals throughout the evening, whilst you can drop in to a workshop with Hybrid Desire to create your own 'Exquisite Corpse' portrait. Benjamin, what attracted _REMIX to the After Violence project?
We wanted to make new work that - as a group of queer artists - allowed us to express ourselves and our experiences really openly and authentically. We come from different but related backgrounds (music, opera, electronics, dance) and so there's a really rich melting pot of perspectives in the work. We each found something to respond to in Ribera's paintings and in Dowland's music, and were able to shape that to explore our own identities in a way that's open, generous and that allows us to have fun.

What was your reaction when you first saw Ribera's artworks?
What struck me most was how visceral and affecting the paintings are. Unlike other Baroque and Renaissance art, there's a real sense of the blood and sinew; the painting Apollo and Marsyas is hugely impactful. I was captivated by Marsyas' pose and his contorted face. Rhys was particularly drawn to the movement that's captured in all of Ribera's paintings – these moments of contortion and twisting male bodies, which is something his dance brings to After Violence.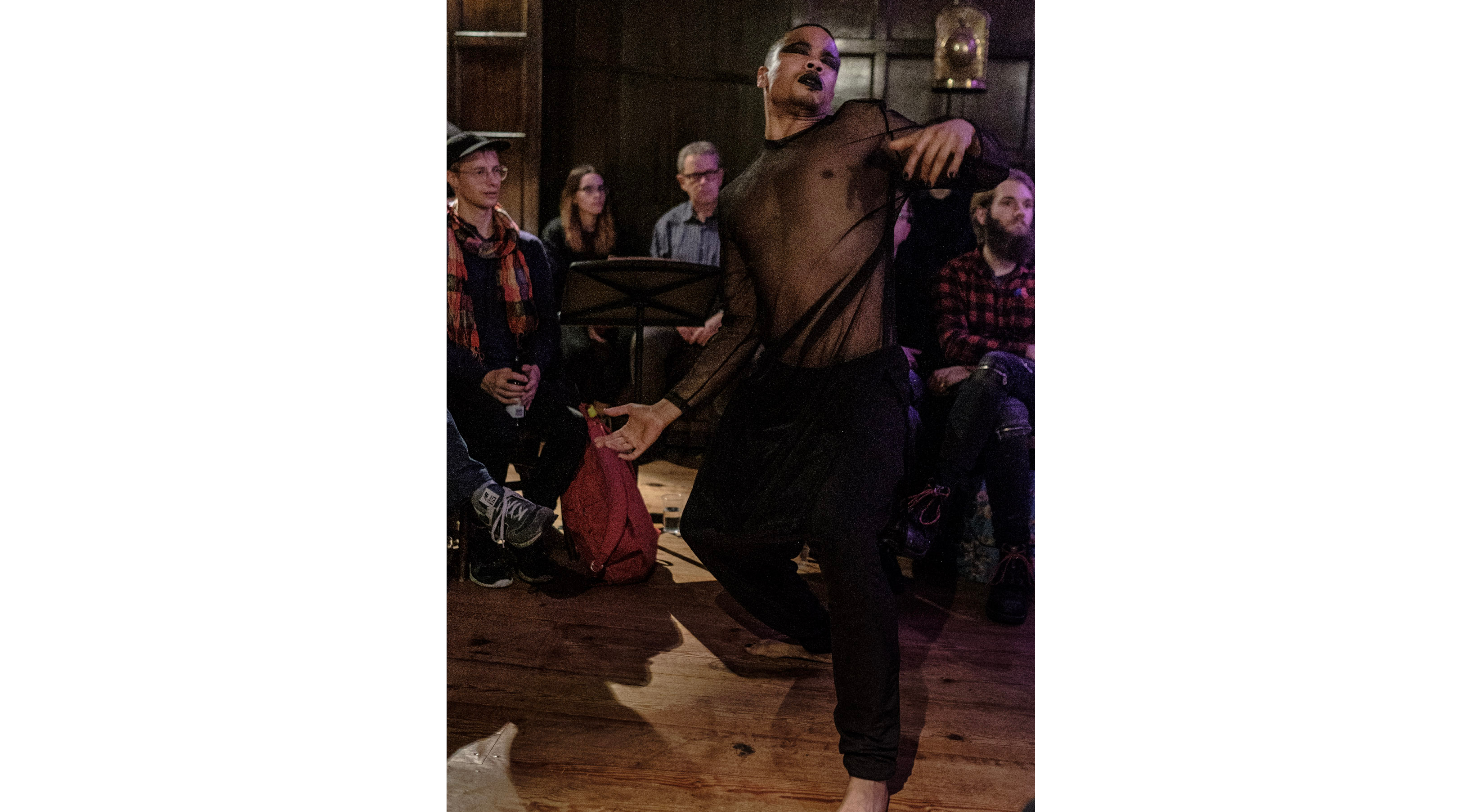 Drag Performer Rhys's Pieces in After Violence

You're reimagining 15th Century music by John Dowland – what's the relationship between the Baroque and the cutting edge in After Violence?
Dowland was sort of the pop star of his day. He wrote accompaniment (either for lute or other voices) that's quite sparse and so there's a lot of space for re-composing the music. I was careful not to get in the way of Dowland, the songs are so beautiful, but rather to extend them and rework them. I sampled Ella's voice a lot and multiplied their vocal line. This gives room for transforming the feeling of the music - layering mournful tunes until they become darkly powerful. Some of the arrangements are quite experimental - live processed vocals and synth textures - and others morph into something more rhythmic and dance like.

How does the piece explore gender?
Music can do different, often contradictory things, at the same time. In the arrangements of Dowland songs, delicate 'femme' melodies are combined with industrial 'masc.' electronic textures. Music allows us to occupy the space between traditional categories of gender. We're four queer people, also, and so we've imbued the work with our own experiences. Masculinity is interesting in the Ribera paintings - it's toxic and violent - and that's what queer people often experience. But we wanted the work to be positive - to celebrate non-binary and plural perspectives on gender and masculinity. I wrote new text, and the arc of the performance as a whole is a coming together to celebrate and stand tall, proud of our identities. "Flowers have more life than brick, and roots with the strength to crack stone."

What else are you looking forward to at Under the Skin?
I love Dulwich Picture Gallery Lates - there's always so much to do. I'm really interested to see Dane Hurst's dance work Animalis in the intimate setting of the Mausoleum. And I'm hoping to grab a moment to make a corpse portrait with Hybrid Desire and, of course, some tapas!
Artwork by Hybrid Desire
Hybrid Desire, as an artist what inspires your work?  
I take inspiration from the things around me that I find ugly. I take a really sincere pleasure in finding the beauty in the grotesque, and dragging it out kicking and screaming. Whether it's a tangible "thing" that is ugly in a visual aesthetic, or whether it's more abstract; an injustice, a feeling, a government policy. In a very selfish way, my practice tends to be focused around things that affect me for the most part. Given the current climate I have to admit that a lot of my work is political. I used to be afraid of approaching politics as a subject, but I don't feel we have a choice anymore. There's a clip from Nina Simone that I saw when I was a young teenager that I think sat with me, and then permeated down to my bones. "I don't think you have a choice, how can you be an artist and not reflect the times? That, to me, is the very definition of an artist"
You're leading an 'Exquisite Corpse' workshop as part of Under the Skin – what can people expect from it?
A chance to take a look at the human face and the human body, and really change the way in which we are used to depicting and describing it. Taking elements of colour, texture and line and playing with those to create something exquisitely and beautifully grotesque. We will be drawing on examples from two artists, Wangechi Mutu and Annegret Soltau, who I adore for their daring presentations of the human form, whilst also exploring patternwork and collage. There will be a mix of different medias to experiment with - it should be a really expressive, messy, and creative few hours.

What are you most looking forward to at the Late?
Encouraging and participating with attendees to come up with some really wonderfully weird and grotesque pieces of work. The sewing needles and prit-sticks are waiting...

You can see more from Benjamin Tassie and Hybrid Desire at our Gallery Late: Under the Skin on Friday 23 November.