Cutting Edge: The Australian Artists
Dorrit Black, Eveline Syme and Ethel Spowers - three female artists who transformed Australian Modernism
Though it was only founded in 1925, the reputation of the Grosvenor School of Modern Art was such that it rapidly became known as an international centre of printmaking during the late 1920s and 1930s. Among the foreign artists who studied there were three individuals who were to play a major role in the development of Australian modernism. These women – Dorrit Black, Ethel Spowers and Eveline Syme – all had the financial security and freedom to travel overseas and explore beyond the confines of the Australian art scene. Already well-trained, established artists before they studied under the influential lecturer and linocut pioneer Claude Flight, the trio were drawn to the School by his reputation for forward-thinking, egalitarian teachings.
Unusually, all three artists came from families that worked in newspapers, suggesting they might have had a greater appreciation for the printing process. While each of them were dramatically influenced by Flight's geometric rhythms, their linocuts departed from those of their European peers, frequently focusing on pastoral scenes using relaxed, organic lines, as opposed to the more mechanised, compressed patterns found in Flight's linocuts and those of his pupils like Lill Tschudi. While Dorrit Black became the most significant of the three, each of these artists played an important role in the wider acceptance of modernist art in Australia, through their championing of the linocut.
Dorrit Black
Dorrit Black arrived in London in September 1927 and began taking classes at the Grosvenor School shortly after, continuing her formal studies there until December. Immediately developing a rapport with Flight, she fondly noted that 'one feels instantly at one's ease with him'. Black's flair for absorbing new ideas and techniques can be seen in the contrast between the more traditional pictorial prints she was creating prior to her arrival and the exhilarating abstraction of Music (pictured below). 
Inspired by a visit to London's newly opened Dominion Jazz Club in 1927, its pared down elements and bold colours emphasise the joyful abandon of four dancers losing themselves in the music. Vibrating with the energy of the times, this was one of the artworks selected to be shown at the first Linocut exhibition in 1929 and reflects its creator's excitement at being right at the start of a new artistic journey.
Black subsequently went on to study in Paris with André Lhote, but she remained firm friends with Flight: he acted as Black's unofficial art dealer in London, while she did much to popularise his favoured medium in her home country. In 1931 she became the first woman in Australia to run a gallery after opening the Modern Art Centre in Sydney. In many ways resembling the Grosvenor School, it was the country's first teaching and exhibiting space for modernism. Until her untimely death in 1951, Black continued to push the boundaries of printmaking, achieving broader success despite the scorn which she often faced from a conservative art establishment.
Eveline Syme
The Melbourne artist Eveline Syme discovered Claude Flight's innovative work by chance after finding a copy of his ground-breaking book, Lino-Cuts. She later declared: 'I had seen nothing more vital and essentially modern in the best sense of the word than the reproductions in this book.' Studying at the Grosvenor School in 1929, she also went on to learn from Lhote – blending Flight's methods with the latter's preference for classical geometric formula in elegant landscapes like Outskirts of Siena (pictured below).
Like Dorrit Black, Syme was committed to furthering the role of women and art in society, using progressive ideas and methods learned from Flight and Lhote to break through the conservative barriers of the art establishment in Australia. She founded a women's residential college at the University of Melbourne and produced distinctive colour linocuts into the late 1950s.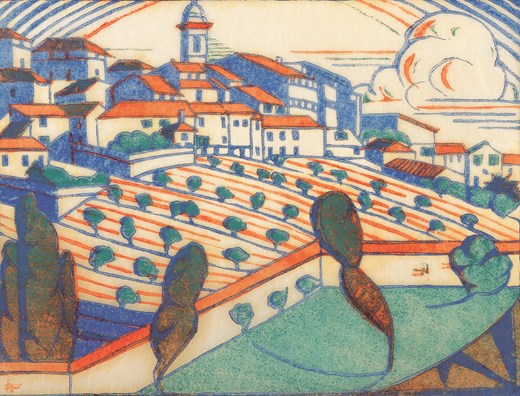 Ethel Spowers
A close friend of Eveline Syme, Ethel Spowers produced colour woodcuts and later turned to Japanese woodblock printing before studying with Flight in 1928 and again in 1931. She experienced artistic success in her lifetime – her linocuts were purchased by institutions including the British Museum, the Victoria and Albert Museum and the National Gallery of Victoria.
The urban scene depicted in Wet Afternoon is typical of the Grosvenor School – a faceless London crowd sheltering under umbrellas, evoked through the signature rhythmic patterns which Flight instilled in his students. However, in contrast to the sense of alienation evident in the linocuts of artists like Cyril Power, Spowers' subject matter is consistently affirming, expressing the joy that she experienced through observing everyday physical activities such as children at play. In this way her art provided a welcome counterweight to the themes of estrangement and panic present in so many other depictions of urban life in the interwar years.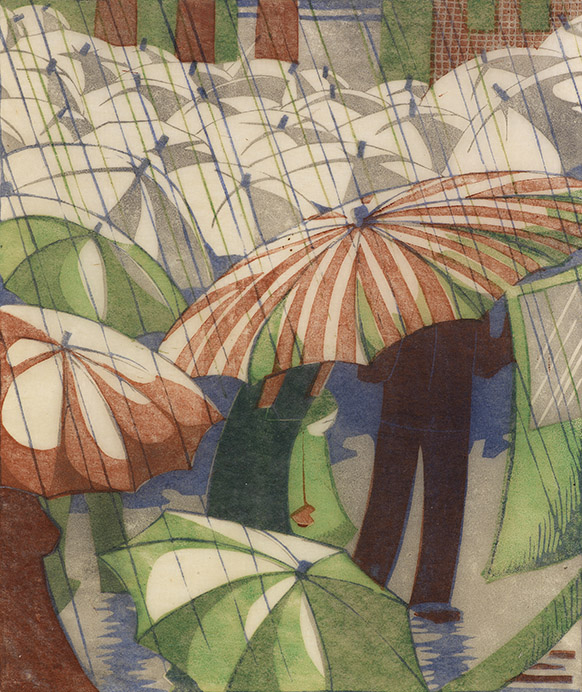 Tom Short, Marketing Officer
You can see many more prints by Dorrit Black, Eveline Syme and Ethel Spowers in our current exhibition Cutting Edge: Modernist British Printmaking. Now entering its final weeks, it closes 8 September 2019.
Dorrit Black, Music, 1927-28, Elder Bequest Fund 1976, Art Gallery of South Australia, Adelaide Eveline Syme, Outskirts of Siena, 1930-1, Art Gallery of South Australia, Adelaide, Ethel Spowers, Wet Afternoon, 1929-30, Photo Osborne Samuel, London/ ©The Estate of Ethel Spowers