The Soul of Sohlberg
Harald Sohlberg's landscapes are a journey beyond nature. The painter suffered both physically and emotionally for his Symbolist, Neo-Romantic art, living in solitude in shepherds' huts and mountain farms, and separated from his fiancée, friends and family for long periods of time in order to find the right motifs for his pieces. He worked outdoors, night and day, during the harshness of the Norwegian winter to be close to – or maybe even become part of – his main subject: the sublimity of the natural world.
"I have felt [nature's] enigmatic and incomprehensible side and I have instinctively sought to know and understand it." 
Born in Kristiania, now Oslo, in 1869, Sohlberg was the eighth of eleven children in a family of farmers and craftsmen. His father's fur business made it possible for the family to move into a huge flat in the city's wealthiest neighbourhood when Harald was a young man. He was very close to his three sisters and had a loving relationship with his parents, especially his mother. An excellent draughtsman, he knew from an early age that he wanted to become an artist, and his many caricatures, often accompanying his letters, reveal a great sense of humour, laced with irony.

At the beginning of his career, Sohlberg was influenced by his teacher, the naturalistic artist Erik Werenskiold, famous for his illustrations of Norwegian folktales. This can especially be seen in his early work, which often contains people. Later, human beings became absent from his paintings, while his landscapes became metaphors for human emotions. The sense of mystery in Sohlberg's work springs from his use of strong colours in his interpretation of the twilight of Norwegian summer nights and the country's unworldly winter light. His romantic idea of the unity between heart and nature could be a reason for the dark and sometimes sensual undertones in his work. "It has never occurred to me to regard nature as a painting," he wrote in a notebook from 1898-99. "I have felt its enigmatic and incomprehensible side and I have instinctively sought to know and understand it."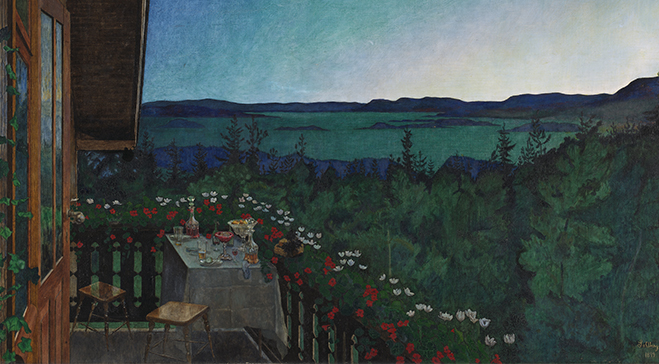 Sohlberg considered his painting Summer Night, 1899, a celebration of the intoxication of the senses in the presence of nature. To him it commemorated a moment of sublime happiness and richness, one of those rare moments where the heart is enchanted, aroused and made ardent. In a letter he wrote to his benefactor Olaf Schou in 1900, Sohlberg described it as "one of the moments where angst does not exist, only joy", and indeed the painting commemorates Sohlberg's happy engagement to Lilli Hennum, known for her humour, positive energy and beauty. Summer Night looks out from Sohlberg's veranda with a view towards the Oslofjord. The painting's close and intimate perspective places the viewer directly in the scene, hinting at a consummated love and a new beginning. The accoutrements are Victorian – a discarded glove and hat – but the landscape and composition are modern, disordered and open. Darkness and light combine to create something mystical and curious; cultivated life and a more romantic, mystical and enigmatic landscape meet on the canvas. The two parts of the landscape are joined by the flowers, which construct a bridge, but also a kind of barrier.
"It was as if I had suddenly awakened in a new, unimagined and inexplicable world." 
Sohlberg had a physical relationship with nature; he was an excellent skier, hiker and swimmer. It was on an Easter skiing trip with a group of male friends that he saw the landscape of Rondane for the first time. Apparently he had been working on sketches of an imaginary mountain landscape since childhood. Almost a year later he returned to Rondane to start painting. Sohlberg worked on several versions over a period of 10 years before he started on the final work. He spent two years in Rondane, painting and searching for the right view. He wrote that he knew he had started a life project that he could only partly fulfil. "When I first met with this motif, […], I was almost overcome by a rush of emotions greater than I had ever experienced before," he wrote. "The longer I stood gazing at the scene the more I seemed to feel what a solitary, pitiful atom I was in the endless universe. I grew uneasy. […] It was as if I had suddenly awakened in a new, unimagined and inexplicable world. […] Above the white contours of a northern winter stretched the endless vault of heaven, twinkling with myriads of stars. It was like a service in some vast cathedral."
The Norwegian art historian Øivind Storm Bjerke writes that Winter Night in the Mountains, 1914, is one of the most precise formulations of what is often perceived as a Nordic temperament in art: "Here is angst, melancholy, drama and longing for eternity. Sohlberg is using all of his talent to merge his thoughts about humanity and the universe in one symbolic expression." The painting does not have a Christian message, as Sohlberg himself was not religious. The fact that the two crosses, one on the highest mountain peak and one made of two dead branches in the foreground, are so small, indicates that here a larger mystery and scepticism has taken hold. The landscape begs to be read figuratively; it is almost hyper-real. Still, it is not trying to imitate nature. It is the landscape of dreams.

In all the Nordic countries and especially in Norway, spending time in nature is seen as the best way to obtain a happy and healthy body and mind. This love of nature can be described as the religion of the people, and reflects back to the Nordic landscape paintings created in the middle of 19th century which can be seen as the search for a national identity. The wild, heroic and romantic nature paintings of that time moved into dreamy, mystical and emotional landscapes at the turn of the century, with Sohlberg and his contemporary Edvard Munch at the forefront.

By Marianne Wie
Marianne is a Norwegian freelance writer, photographer and artist and co-author of the book Nature Journal, Seasonal Creative Projects. She holds nature-inspired art workshops in Norway, Greece and England through Gaia Art Workshops.
You can read the full version of this article in our February-June edition of In View – free with a Friends membership, or £4 when sold.
For further background to Sohlberg's life and work, buy the exhibition catalogue, complete with histories, essays and prints.
Images from top: Harald Sohlberg; Winter Night in the Mountains (detail) 1914, The National Museum of Art, Architecture and Design, Norway. Summer Night (detail), 1899, The National Museum of Art, Architecture and Design, Norway. Archive photo of the Rondane mountains taken by Harald Sohlberg, courtesy of The National Museum of Art, Architecture and Design, Norway.