Unearthed At Home: Photography Competition
Enter our photography competition and win a fantastic prize bundle including an Aesthetica magazine subscription and prints from our shop.
Artists throughout history have turned to still life to find magic in the mundane. Unearthed: Photography's Roots is full of artists who favoured this genre, from Van Huysum's impossible flower bouquets to Richard Learoyd's modern camera obscura experiments. While the Gallery is temporarily closed, we're encouraging you to create your own still life photographs at home using whatever plants, flowers and objects you have to hand, and a camera. The one on your phone is fine, but you are welcome to use film, digital, or photographic printing to produce your entry.  
Here's some advice from Unearthed's curator, Alexander Moore on how you can create your own eye-catching still life photos: 
When taking still life pictures at home, think carefully about your light source, and how you are going to use it. Will it be daylight? If so will there be bold, stirring shadows caused by direct sunlight – or would you prefer the more subtle, pastel light of an overcast day? Think about how your choice of light will influence the energy and emotion of the photograph. 
I would also think carefully about form. Going beyond what the object is, into what it could be when studied closely enough. Think about the muscularity of Edward Weston's Pepper No. 30 or the alien tendrils of Karl Blossfeldt's Maidenhair Fern (Adiantum pedatum). Can you use the camera to transform your subject?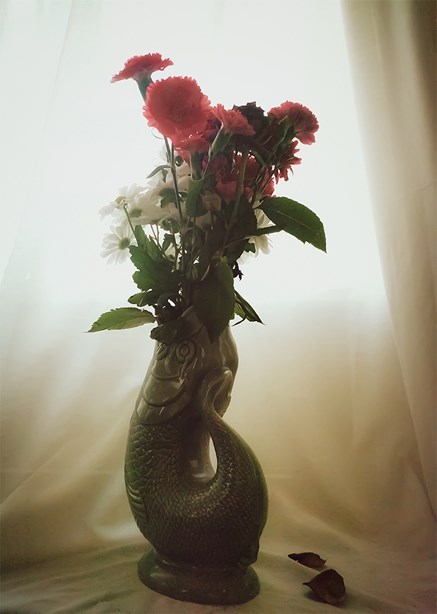 An example of a still life using a phone camera
How to enter
Simply take a still life photo and upload it to Instagram using the hashtag #Unearthedathome, and tag @dulwichgallery and @aestheticamag. You have until 11.59pm on 31 March to enter. 
The winning entry will be shared on our instagram account after the competition has closed, and will receive a bundle of prizes including a pair of tickets to Unearthed: Photography's Roots, a year's subscription to Aesthetica magazine courtesy of our Media Partner, a dried bouquet from Yolly Florist in Forest Hill, and a selection of stunning photography books and prints from our Unearthed shop range. 
Entries will be judged by curator Alexander Moore, Eleanor Sutherland from Aesthetica Magazine and a special guest to be announced. Get snapping and good luck! 
With thanks to our Media Partner


Terms and Conditions 
By entering you agree to Dulwich Picture Gallery and its partners sharing your entry on their social media channels, website and emails. Only one entry will be counted per person. Entries shared after the competition closing deadline will not be counted. The judging panel will select a winner (or winners). Runners up may be chosen if the judging panel decide. Winner(s) will be contacted in April 2021 via social media. If you have not been contacted, unfortunately on this occasion you were not successful.
Header images: T. Enami, Chrysanthemums in a Vase, 1898-1929, Karl Blossfeldt, Adiantum Pedatum, 1928, Photo Copyright Rijksmuseum, Amsterdam, Edward Weston, Pepper No.30, 1937, National Science and Media Museum, Bradford