Dulwich to host spooky children's sleepover this Halloween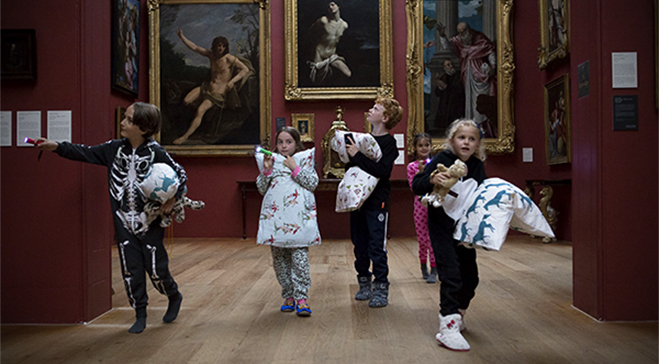 Following the success of Dulwich Picture Gallery's first children's sleepover in 2015,Pillows and Paintbrushes returns this Halloween weekend with an eerie night-time adventure for 7-13 year olds. An exciting line-up of creative activities with a spooky twist will be followed by a sleep like no other in the company of the Gallery's Old Master paintings.

During the evening children can pay a visit to the Gallery's very own haunted house and meet a magical sorceress with stories to tell, watch as the Gallery's 300 year-old paintings are brought to life by mysterious guests and create their own weird and wonderful vintage-style prints. At 11pm it's time to settle down to sleep in the iconic main gallery. 

The following morning includes a healthy breakfast and a screening of a classic family film before the Gallery opens to the public. Children are encouraged to come in fancy dress costume, with a prize for the best-dressed.

- Ends
Media Enquiries:
Louisa Bee
Press and Communications Manager
+44 (0) 208 299 8710
l.bee@dulwichpicturegallery.org.uk 
Notes to eds

Event details:
Age: 7 – 13 years.* Please note all children must be accompanied by an adult.**
Date: Saturday 29 - 30 October
Time: 6.45pm – 8.30am
Price: £50 per person*
* If a sibling is slightly outside of this age range then exceptions will be made. 
** All children must be accompanied by an adult as follows:
1 - 3 children / 1 adult
4 - 6 children / 2 adults
7 - 10 children / 3 adults