You're never too young to experience the delights of the Gallery! Come and discover the possibilities of art with your little creative in our sensory sessions for mums and babies, Mini Masterpieces, or our exclusive family-friendly viewings of our temporary exhibitions, Early Introductions.
10–11am & 11.30am–12.30pm, £12 per adult & child, Suggested age: Sitting – 24 months
Experience the delights of the Gallery with your little one. Explore themes within our Permanent Collection and then create your very own masterpiece in a practical, hands-on session. Our focus changes monthly to keep your little ones engaged. 
Windows and Light: Exploring Architecture
Tuesday 5 September
Thursday 21 September
You and Me: Family Portraits in the Gallery
Tuesday 3 October
Thursday 19 October
Tove Jansson and the world of the Moomins
Tuesday 7 November
Thursday 23 November
Insects, Animals and Landscapes
Tuesday 5 December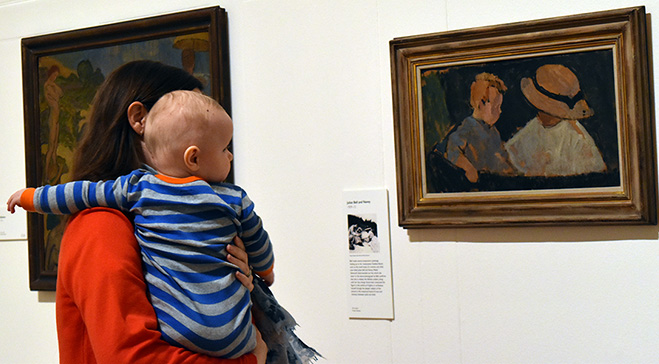 Friday 17 November & 8 December, 8.30–10am, Adults standard exhibition entry charge; children FREE, All ages welcome
Gain exclusive access to our temporary exhibition, Tove Jansson (1914–2001) with your little ones! Buggies, roaming toddlers and excited squeals encouraged. Enjoy a flower garland-making activity and a Moomin playhouse in this relaxed, family-friendly viewing.
Related events