Dulwich Picture Gallery and Tessa Jowell Health Centre announce health-led art commissions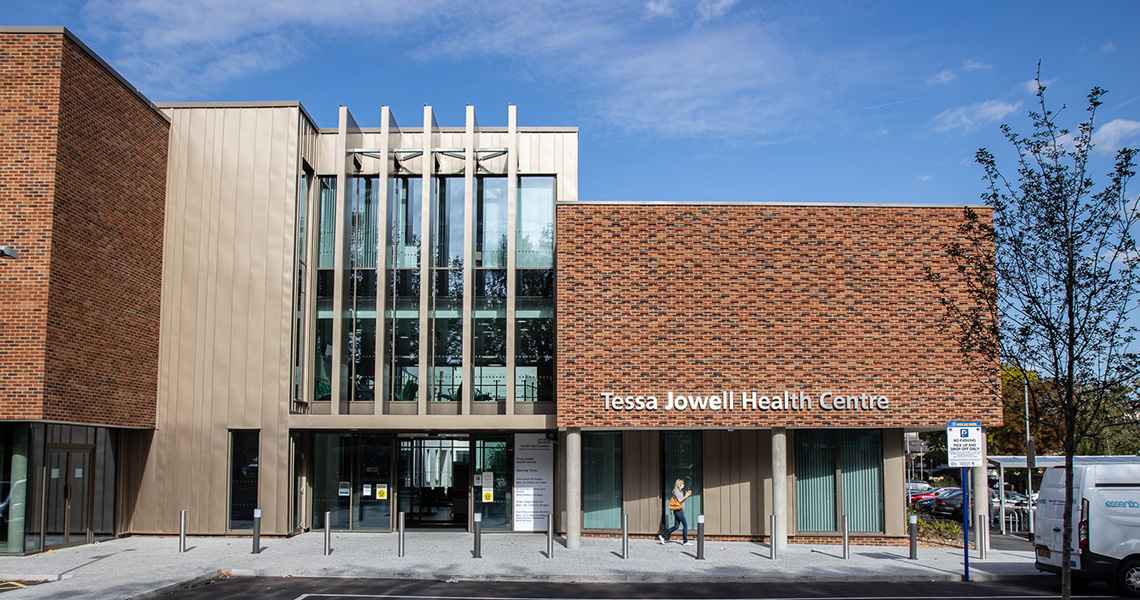 Dulwich Picture Gallery and Tessa Jowell Health Centre (TJHC) have announced an ambitious new series of commissions which will invite artists to create and develop site-specific work for the new NHS health centre in East Dulwich.
The Gallery will commission four new artworks over the next two years for different spaces within Tessa Jowell Health Centre, with the aim of enhancing the healing environment. Each round will begin with an open call where submissions of interest will be reviewed by a diverse panel of judges. Following the initial competition stage, the winning artist will work with the Gallery and TJHC to develop and deliver their design.
Launched today, the first commission invites expressions of interest from 2D designers and illustrators, for artwork which will adorn TJHC's glass balustrade at the heart of the reception area. Subsequent commissions will explore the potential for performance, sculpture and digital art to transform other key areas at the Centre.
Artists will be encouraged to take inspiration from Dulwich Picture Gallery's collection and history as well as the principles which drive its community-led work. A socially engaged approach to the commissions will see the successful artists participating in creative workshops to shape ideas with staff and service users to inform their design.
Jane Findlay, Head of Programme and Engagement at Dulwich Picture Gallery, said:
"This is a chance for artists to participate in a vital community project, work closely with the Gallery's collection, stories, and ideas, and consider the vital role of art in promoting wellbeing. We hope that this new and inclusive model will go on to inform other health settings across the capital"
This series of commission is part of a pioneering new partnership between Dulwich Picture Gallery and NHS South East London Clinical Commissioning Group, who are working together to promote a community-based, holistic approach to health care and to position TJHC as a leading model of good practice in the national arts and health policy arena. While physical artwork will seek to enhance the healing environment, the Gallery is also instigating a free cross-arts creative programme at the Centre as well as informing a new social prescribing model.
Click here for the first commission brief and how to apply
- Ends
Notes to editors 
Contact
For Press Enquiries
Caitlin Collinson, PR Manager, c.collinson@dulwichpicturegallery.org.uk
For queries related to the commission series: tjhcenquire@dulwichpicturegallery.org.uk
High resolution images can be downloaded here
Sponsorship
NHS South East London CCG
Healthy London Partnerships
League of Friends of Dulwich Community Hospital
About Tessa Jowell Health Centre
The new Centre has been created to improve access to GP and community-based care for the residents of south Southwark and surrounding area, delivering a range of health and wellbeing services at one site. It provides a number of primary care services, children's services, diagnostics, physiotherapy unit, community mental health services, renal dialysis unit and services for patients with long term conditions. The Centre also accommodates non-clinical community-based services and a health hub for voluntary sector activities.
About Dulwich Picture Gallery
Dulwich Picture Gallery, founded in 1811, is the world's first purpose-built public art gallery. It cares for and displays an outstanding collection of Old Master paintings within Sir John Soane's pioneering architecture. As an independent gallery, which receives no regular public funding, it pursues its founders' purpose of presenting art 'for the inspection of the publick' while engaging as many people as possible, of all ages and backgrounds, through a creative programme. Entering the gallery space visitors discover a surprising and contemplative experience that encourages the discovery of personal connections with historic works of art – a place to Find Yourself in Art.
Dulwich Picture Gallery+
Embedding art and health in the local community Dulwich Picture Gallery+ is our arts and health programme dedicated to reducing health inequality and embedding the arts in our community's health care. We work with clinical partners, local organisations and arts partners to deliver high quality activities that positively impact a person's health and wellbeing. Our work with Tessa Jowell Health Centre is our flagship project, bringing together art commissions, programming, training and community participation. Designed in collaboration with staff and service users it supports the key needs of South Southwark communities including mental health, living with long-term health conditions and social isolation.
Image credit: Tessa Jowell Health Centre © Benedict Luxmoore