Corporate Partnerships
Our select group of Partners give vital support to the world's first purpose built public art gallery. As an independent and agile gallery, we offer exciting opportunities to align your brand and corporate values with our trailblazing exhibitions, public events, conservation projects, scholarly curatorial research, and our award-winning learning and community programmes. 
We offer a bespoke package of benefits which can include special gallery and curatorial access for staff, unique events, and opportunities through advertising and publicity. To discuss how we can work together, please contact us on 020 8299 8728 or via email development@dulwichpicturegallery.org.uk
For a full list of all our supporters please click here.
How we are currently working with great brands:
In Kind Support
Mylands Official Paint Partners

Mylands' range of beautiful paints have been transformational for the Gallery with their stunning colour palette and bespoke 'Dulwich Red'. Our newly curated collection and exhibition spaces sparkle at their best setting the tone for a calm yet creative visitor experience. We are proud to have this long-standing partnership sharing this story through bespoke articles in our magazine and via press events and having a range of their paints on sale in the Gallery shop and online.
_______________________________________
Sponsorships
Bennett Welch Official Legacy Partners

Through Bennett Welch's vital support, we raise awareness of the importance of legacy giving and Gifts in Wills. The partnership promotes this trustworthy local firm to our large support base through tailored advertising and events. We are delighted to provide special access to the Gallery for this firm which shares our values of professional expertise and personal care.
_______________________________________
Digital Audioguide Sponsor
Bloomberg Connects Mobile App

Bloomberg Philanthropies support digital innovation and enrich visits to the Gallery through a new audio-visual guide. The free Bloomberg Connects Mobile App features Bloomberg Connects magnifying glasses around the Collection. The App provides expert information, stories, and films on artworks alongside an interactive map. This partnership enhances the visitor experience, reaching new audiences through a digital platform and aligns with our commitment to give everyone the opportunity to experience great art. 
Our Development team will work with you to ensure your partnership with Dulwich Picture Gallery is distinctive and rewarding. Corporate Partnerships  allow you and your clients to enjoy special access to our unique programme of exhibitions, stunning Collection, private view packages and event spaces.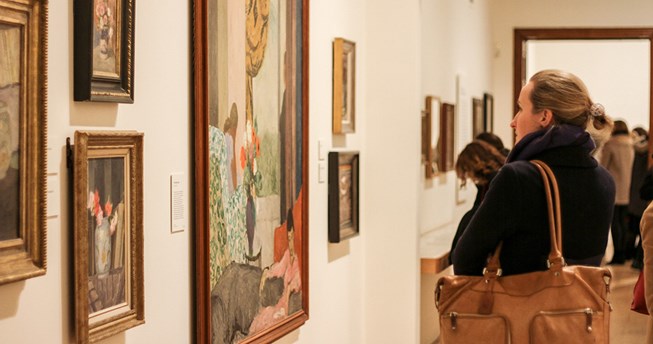 For more information or to discuss Corporate Partnership opportunities call us 020 8299 8729 or email development@dulwichpicturegallery.org.uk