Philips Wouwerman and Anthony Daley lead the way in new series of displays at Dulwich Picture Gallery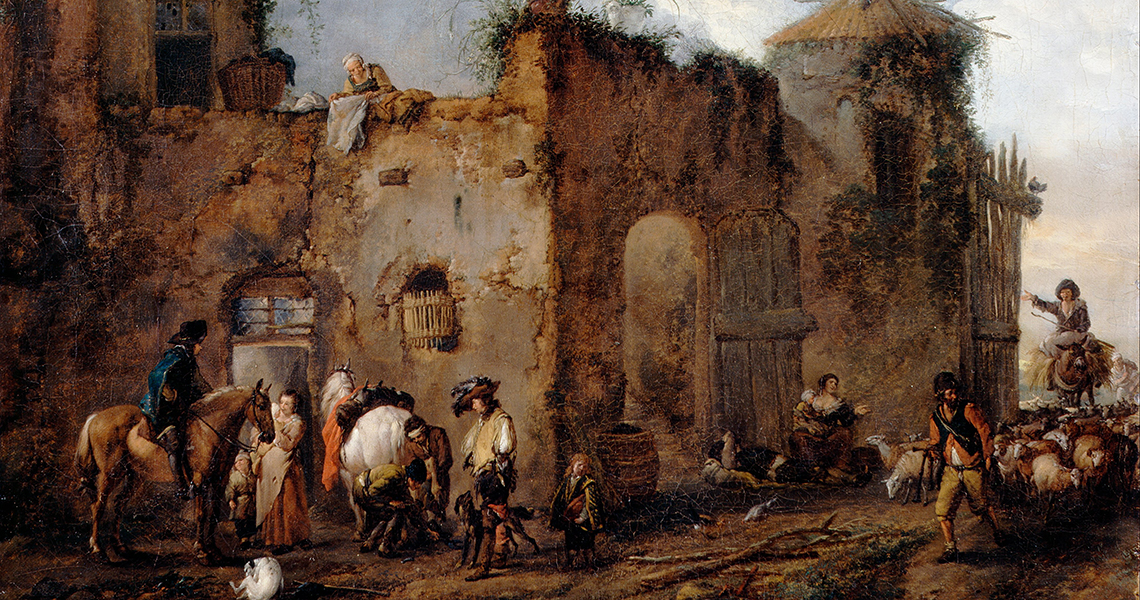 Dulwich Picture Gallery today announces Unlocking Paintings, an ambitious series of displays that will present new perspectives on the Gallery's collection, inviting artists and thinkers to interpret historic themes for contemporary audiences.
Devised by the Gallery's recently appointed curator, Helen Hillyard, the series starts with a bold interrogation of the 17th century artist (and potential plagiarist), Philips Wouwerman, and invites visitors to cast their own judgement. It follows with a display in the autumn of new work by London-based artist Anthony Daley.
True Crime: The Case of Philips Wouwerman
23 April – 21 August 2022
True Crime: The Case of Philips Wouwerman will explore the meeting of true crime and art history.
According to 18th century gossip, the Dutch painter Philips Wouwerman (1619–68) was a plagiarist. It was said that the painter stole the drawings of the dead artist Pieter van Laer and subsequently used them for his own works. Wouwerman went on to become one of the most successful artists of his generation creating over 600 paintings.
Featuring works by Wouwerman and Van Laer, as well as expert testimony from the past and present, True Crime: The Case of Philips Wouwerman will present the evidence and ask the visitor to decide: what is the line between imitation and appropriation, inspiration and crime? Is Philips Wouwerman guilty or not guilty?
Anthony Daley: Son of Rubens
27 August 2022 – 19 March 2023
Abstract Expressionist painter Anthony Daley will present a new body of work, which explores his career-long fascination with the work of 17th century Flemish artist Peter Paul Rubens. Rubens was famed for his mastery of colour and texture through the medium of paint. Inspired by the Gallery's collection, Daley will reveal how the art of the past continues to offer fresh source material.
Daley moved to the UK from Jamaica in 1972, studying at Wimbledon College of Arts in 1982 and Chelsea College of Arts in 1983. Daley was awarded the Pollock-Krasner Painting Fellowship in 1984 and has been the subject of more than 25 solo exhibitions internationally, including exhibitions in London, New York, Los Angeles and Zurich. His work is held by major public institutions including Tate and National Portrait Gallery.
Mary Beale
25 March – 3 September 2023
Mary Beale was among the most prolific painters in 17th century London. The fact that she was one of the few professional female artists active in this period, only serves to put her remarkable career in context. Beale was successful enough to become the primary breadwinner for her family, supporting both her children and husband, who acted as her manager.
This display explores Beale's productive career, her status as a working mother, and her relationships with fellow artists working in England's capital. It presents new research and technical investigation into Beale's paintings from the Gallery's collection, revealing important insights into her technique and a fresh perspective on her artistic process.
Sara Shamma
9 September 2023 – 28 January 2024
This display imagines the lives and stories of Dulwich Picture Gallery's female sitters through the eyes of contemporary painter, Sara Shamma. Beyond the role of model and muse, it considers the multiplicitous identities of these women as mothers, sisters, companions, lovers, heroines and villains.
Shamma was born in Damascus, Syria in 1975 and graduated from the Painting Department of the Faculty of Fine Arts, University of Damascus in 1998. She moved to London in 2016 under the auspices of an Exceptional Talent Visa where she currently lives and works.
-Ends
Notes to editors
Contact
Caitlin Collinson, PR Manager
c.collinson@dulwichpicturegallery.org.uk
Images
Publicity images can be downloaded from dpg.art/presspics
Unlocking Paintings
Unlocking Paintings is a series of displays that enables people to make personal connections with the paintings at Dulwich Picture Gallery. The series explores new ways to tell the stories of the collection, which are responsive and relevant to contemporary experience. Displays are centred around three key themes: pioneering new research, championing diverse contemporary painters and amplifying local voices within the collection.
Dulwich Picture Gallery
Dulwich Picture Gallery, founded in 1811, is the world's first purpose-built public art gallery. It cares for and displays an outstanding collection of Old Master paintings within Sir John Soane's pioneering architecture. As an independent gallery, which receives no regular public funding, it pursues its founders' purpose of presenting art 'for the inspection of the publick' while engaging as many people as possible, of all ages and backgrounds, through a creative programme. Entering the gallery space visitors discover a surprising and contemplative experience that encourages the discovery of personal connections with historic works of art – a place to Find Yourself in Art.
Official Paint Partner: Mylands
Image credits: Philips Wouwerman, Courtyard with a Farrier Shoeing a Horse, c.1655, Courtesy Dulwich Picture Gallery