Dou in Harmony
Update: please note that 'Dou in Harmony' will be inaccessible between the following dates:
Monday 19th – Wednesday 21st September. To re–open on Thursday 22nd September.
Monday 3rd – Wednesday 5th October. To re–open on Thursday 6th October.
In 2016, Dulwich Picture Gallery will launch a series of displays that delve deeper into four major artists in the Gallery's collection: Van Dyck, Dou, Rubens and Rembrandt. Examining the lives and techniques of each artist, the series will celebrate the creative processes of these Dutch and Flemish masters. Each display will also draw connections with guest works from other institutions and private collections that have never been seen together before.
In Dou in Harmony, two of Gerrit Dou's finest musical-themed paintings - Woman playing a Clavichord and A Young Lady Playing a Virginal - are now hanging together for the first time since 1665. Comparing these works reveals Dou's varied approaches to the same subject, and his clever use of architectural space.
Making Discoveries is curated by Dulwich Picture Gallery's Arturo and Holly Melosi Chief Curator Dr Xavier Bray, with support from Assistant Curator Helen Hillyard. Lenders include the National Portrait Gallery, Hauser & Wirth, the National Trust as well as a number of private lenders.                           
'The research for 'Making Discoveries' has been achieved through the new catalogue for the Dutch and Flemish collection at Dulwich Picture Gallery. This is the first comprehensive catalogue covering this part of the collection and will include over 220 paintings, detailing their provenance and historical significance.
Click here to read A Harmonious Composition, an essay by Helen Hillyard.
In Harmony with Dou
A sound installation by Liam Byrne
Picture Dou's images in your mind's eye as you enter the Mausoleum to contemplate a soundscape response. Listen, and look again...
Drawing inspiration from Dou's depictions of music-making, this sound installation by Liam Byrne uses the Mausoleum as a reflective and transportive space evoking the sensual, sonic, and physical world of the paintings. The piece is based on a long, slow series of eight chords played on a clavichord, as if by the young woman in the painting. Their harmonic resonances are sustained, enhanced, and transformed by the viola da gamba, an instrument which sits silently in the foreground and background of Dou's works.
The short track above is an excerpt - one full round of eight chords is approximately 15 minutes long.
Explore our Google Exhibit of the exhibition: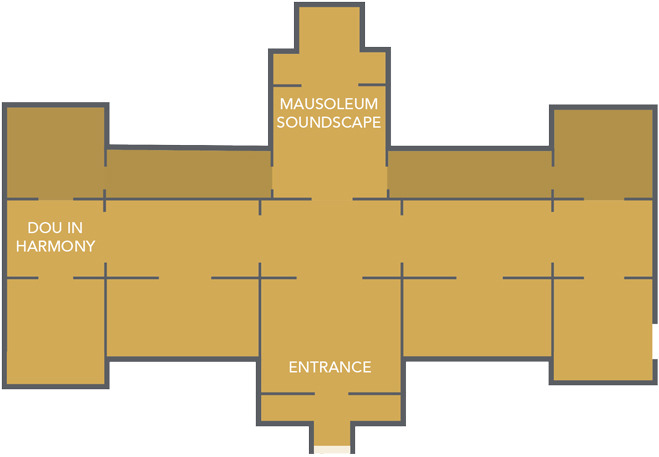 Making Discoveries is supported by The Elizabeth Cayzer Charitable Trust and the Samuel H. Kress Foundation