Artist in Residence
About the exhibition
With support from the National Portrait Gallery and a generous donation from the Heritage Lottery Fund, Dulwich Picture Gallery engaged two working artists in a special Artist - in - Residence project. The artists, Emily Girkins and Joni Hirata Duarte, in collaboration with the Gallery's newly formed department of Public Engagement, spent four months working from the Collection and engaging with public audiences. As part of their residency the artists had the opportunity to work with Gallery staff to develop workshops, demonstrations and a video series on the creative process of the artist. Emily Girkins helped run a three - day intensive Masterclass for teenagers aged 15 and 16; this course introduced students to van Dyck's work and explored portrait painting. Joni Hirata Duarte, along with Ann Witheridge, led the painting demonstration, 'Painting an Old Master', in the Gallery's Sackler Centre; this event was open to the public. A special thank you to London Fine Art Studios for their support and involvement.
Artists:
Joni Hirata Duarte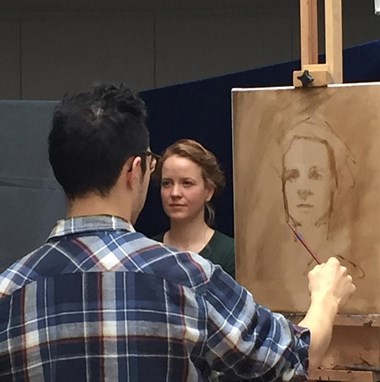 Joni Hirata Duarte, began his studies at Lisbon Art University (BA), and subsequently moved to London to further pursue his passion for art. Joni completed his MA at City & Guilds London Art School in 2012 and continued to develop his career as an artist at London Fine Art Studios, where he is now a senior tutor.
He has painted nationally renowned poet David Constantine as part of the Poetry Portraits Project and recently completed a residency at the Central School of Ballet.
Emily Girkins
Emily Girkins was born in 1991. Following a (BA) in the History of Art at Oxford University, she turned her attention to its practical study - commencing training at London Fine Art Studios in 2013.
Emily has recently contributed to an exhibition at Leighton House Museum, and works on a range of projects and private commissions from her studio in South London.
London Fine Art Studios
London Fine Art Studios was founded by Ann Witheridge with the aim of teaching the craft of drawing and painting to an ever-growing community of dedicated artists. The Studios are based in Battersea and welcome students of all levels, providing a sincere, supportive and atmospheric environment in which to acquire new skills and a deeper understanding of the Figurative Tradition.