In February 2018 Dulwich Picture Gallery will present the first major UK exhibition of work by the Canadian painter, David Milne (1882-1953).
'David Milne: Modern Painting' will document an artistic career that spanned the first half of the 20th century, bringing together more than ninety works in oil and watercolour, never-before-exhibited photographs and drawings by the artist, and memorabilia collected by Milne during his time in Europe as an official war artist.
Arranged chronologically and topographically, the exhibition will follow Milne's artistic development as he moved from the bustling sidewalks of New York to the war-torn landscapes of northern France and back again to the woods, fields and skies of the northeastern US and Canada. It will document the change in Milne's approach as he moved from the Post-Impressionist style of his New York years, with its vivid colours and dynamic brushstrokes, to the more distilled visual language of his later work.
"This is a modern artist for the ages, and one of Canada's best kept secrets." - Sarah Milroy, co-curator of the exhibition.

Principal Sponsor


Presenting Sponsor

Generously supported by The Elizabeth Cayzer Charitable Trust, Carol Gray, The Horne Family Charitable Foundation, Rosamond Ivey, The McLean Foundation and Dasha Shenkman



A Canadian Friends of Dulwich Picture Gallery exhibition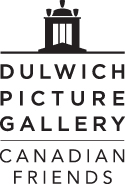 Official Paint Partner

An exhibition organised by Dulwich Picture Gallery and the McMichael Collection of Canadian Art in collaboration with Vancouver Art Gallery, with the exceptional support of the National Gallery of Canada.

Image credits: David Milne, Ripon: High Street, (detail), 1919, Art Gallery of Ontario. Bequest of Mrs. J.P. Barwick (from the Douglas M. Duncan Collection). © The Estate of David Milne; David B. Milne, Bishop's Pond (Reflections), (detail), 1916, Purchased 1955, National Gallery of Canada, Ottawa. Photo: NGC. © The Estate of David Milne; David Milne, Blue Lake, (detail), 1935, Art Gallery of Ontario. Gift from the J.S. McLean Collection, by Canada Packers Inc., Toronto, 1990. © The Estate of David Milne.

Related events