6 unmissable things to do at The Colour Palace
Summer is finally coming to London, bringing with it long days and nights and the chance to enjoy the great outdoors. Here at Dulwich Picture Gallery, our second ever Pavilion – The Colour Palace – has landed, offering a whole host of events and activities to help you do summer right!
Here's our round-up of 6 things not to be missed…
Venture after-hours
Our monthly Pavilion Lates are totally free and offer the chance to explore The Colour Palace after hours, with exciting line-ups of music, talks, art-making sessions and more. June's Late is all about architecture, whilst The Art of Identity in July explores cultural heritage and identity. In August, The Age of Innovation unites the themes of our summer exhibition Cutting Edge: Modernist British Printmaking with the innovative 21st Century design of the Pavilion.
Tickle your tastebuds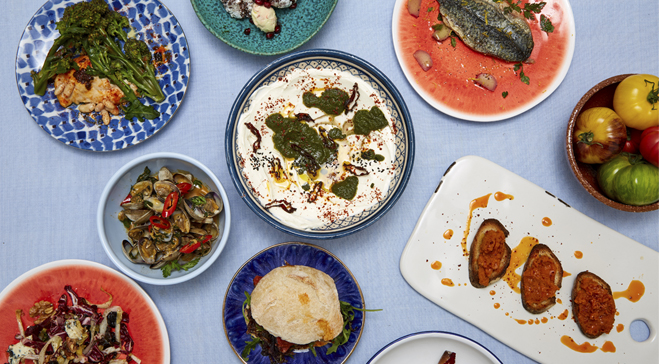 Our varied selection of Pavilion Supper Clubs range from a five-course tasting menu designed by Michelin-star chef Ollie Dabbous to a vegan dinner that uses food and storytelling to unite people across cultures from Stories on Our Plate. Join us at the Supper Club of your choice for a totally unique dining experience this summer.
Bring the whole family
If you're looking for something to do with your kids in the holidays, then look no further! The Colour Palace is a great place for families to enjoy arts and crafts (and have a delicious ice-cream). Let your children be inspired by the Pavilion's colours, shapes and patterns as they create sun catchers, sculptures and anything that the imagination allows. Sessions run throughout August, offering plenty of opportunity to get creative. Don't miss our free Family Festival on Sunday 4 August, where you can be the first to try our new family trail, as well as taking part in storytelling, printmaking, building and much more!
Stretch it out
Pavilion Yoga plus art makes for a dreamy combination. Say Namaste to the rainbow Colour Palace in these unforgettable yoga sessions, followed by a visit to Cutting Edge: Modernist British Printmaking. At the end, enjoy a free tea or coffee. Roll on relaxation! 
Try your hand at origami or architectural drawing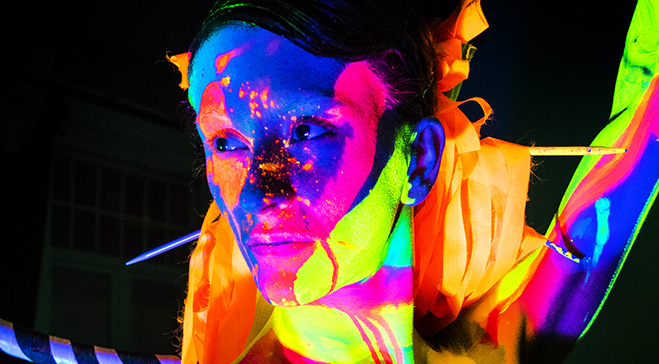 Let your creativity flow in the inspirational setting of the Pavilion in our Friday Art Tasters. These drop-in sessions will be delivered by a different artist each week, introducing you to origami, paper sculpting, architectural drawing and life drawing with a colourful twist from Neon Naked. It's the ideal way to get creative, socialise and surround yourself with nature in our beautiful grounds.
Join the debate
Pavilion Salons are a great opportunity to engage in thought-provoking artistic discussions with experts and practitioners. Challenge and enrich your vision of art, culture and design with panel discussions exploring culture, community and inclusivity as well as The Colour Contest - an open battle to determine the best colour of all.