7 stay at home activities to keep your family creative
1. Join us for #CreativeWednesdays 
Each week we're bringing you a new creative challenge on our social media channels. From automatic drawing to salt-dough sculptures, every activity is different and designed for children and adults alike to enjoy with materials that are easily found at home. Follow us on Instagram, Twitter or Facebook and share your creations with us @DulwichGallery using #CreativeWednesdays to be featured in our stories as a shout-out.
2. Make your own Easter Eggs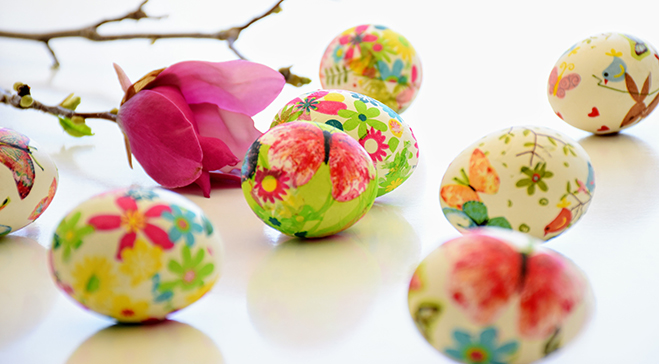 Chocolate may not last long, but papier mâché lives forever! A fun stay at home activity this Easter, why not make your own papier mâché eggs? If you've got a printer to hand, you could even use paintings from our collection to decorate your eggs-troardinary masterpieces.
You'll need:
- Blow-up balloons to shape your eggs around
- White glue or papier mâché paste
- Paintbrushes and acrylic paint
- Coloured paper or tissue paper
- Decorations - glitter, pom poms, ribbon (optional)
We love this step-by-step guide by First Palette. 
3. Recreate a painting from our collection as part of the #tussenkunstenquarantaine challenge 

All over the world, people are recreating classic artworks as part of the #tussenkunstenquarantaine challenge – meaning 'between art and quarantine'. Why not use works from our collection to inspire you and your family? Gainsborough's portraits of The Linley Sisters and Mrs Moody and her Sons or Murillo's Three Boys portray some intriguing family scenes. For more to choose from, explore the full collection.
4. Make your own Birdfeeder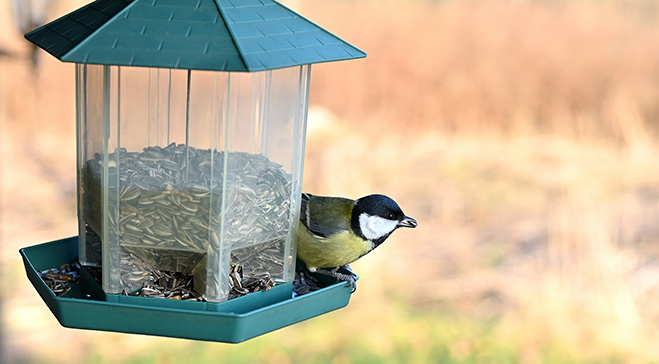 Spring is springing, and with plenty of young birds around, it's the perfect time to make your own birdfeeder and engage your kids with the natural world right on your doorstep.
We like this vegan recipe from Anne Kasvenska.
5. Create your own deck of cards
A staple for any household during isolation is a good pack of cards – why not get the youngsters involved and make your own extra special set? Depending on how many makers you have, you can split the pack and each design your own suite (clubs, spades, hearts and diamonds). If you're going for a collage, we recommend browsing our collection for majestic kings and queens, including a portrait of the Young Queen Victoria and the Tudor Henry VIII.

To make the cards you'll need:
- Seven sheets of durable white A4 card. Draw around an existing playing card to create 9 card shapes on each to cut out. (You might want to do this prep before passing on to children, depending on age. If you don't have a playing card, a bank card will do!)
- Scissors to cut out your 54 cards (52 plus two Jokers)
- Pencils, Felt tip pens or durable paint (oil or acrylic) to draw and colour your designs
- Accessories such as stickers, gems, ribbon
- Magazines and prit stick for collaging
Cue hours of fun – both in making the cards and playing with them for years to come!
6. Help your youngsters learn to code 
There are plenty of apps out there designed to help your children learn the 21st century language of coding. We like ScratchJr for its creative focus. Children aged 5–7 can program their own interactive stories and games and in the process learn to solve problems, design projects, and express themselves creatively. Available on all major software systems. Find out more at scratchjr.org/
7. Try an artful colouring book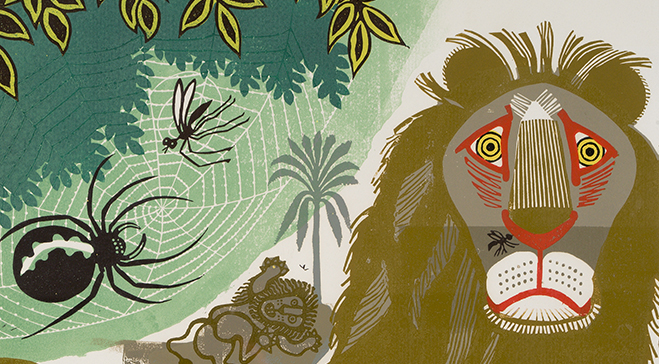 Introduce your children to a host of inspiring artists through the good-old-fashioned colouring book. We love Escape to Wonderland, featuring Lewis Carroll's cast of mischievous and surreal characters, the Edward Bawden Colouring Book – Bawden was the focus of Dulwich Picture Gallery's summer exhibition in 2018 and his intricate designs of majestic animals and quaint London locations feel wonderfully nostalgic! There's also Usborne's Famous Art to Colour, which allows your little artist to recreate a myriad of artworks from classic old master paintings to conceptual modern art.
Image credits: [Number 3] Dulwich Picture Gallery Assistant Curator Helen Hillyard recreates Gerrit Dou's A Woman playing a Clavichord from Dulwich Picture Gallery's Collection ; [Number 5] Edward Bawden, [Aesop's Fables] The Gnat and the Lion, 1970, Colour linocut on paper, Trustees of the Cecil Higgins Art Gallery (The Higgins Bedford), © Estate of Edward Bawden

Thank you for reading this article – we hope you enjoyed it!

Did you know Dulwich Picture Gallery is an independent charity that does not receive regular government or Arts Council funding? Our closure due to Coronavirus poses a critical financial risk. If you are able to spare a donation to support us at this challenging time, no matter how small, we would greatly appreciate it.