Refugee Week 2020: In Conversation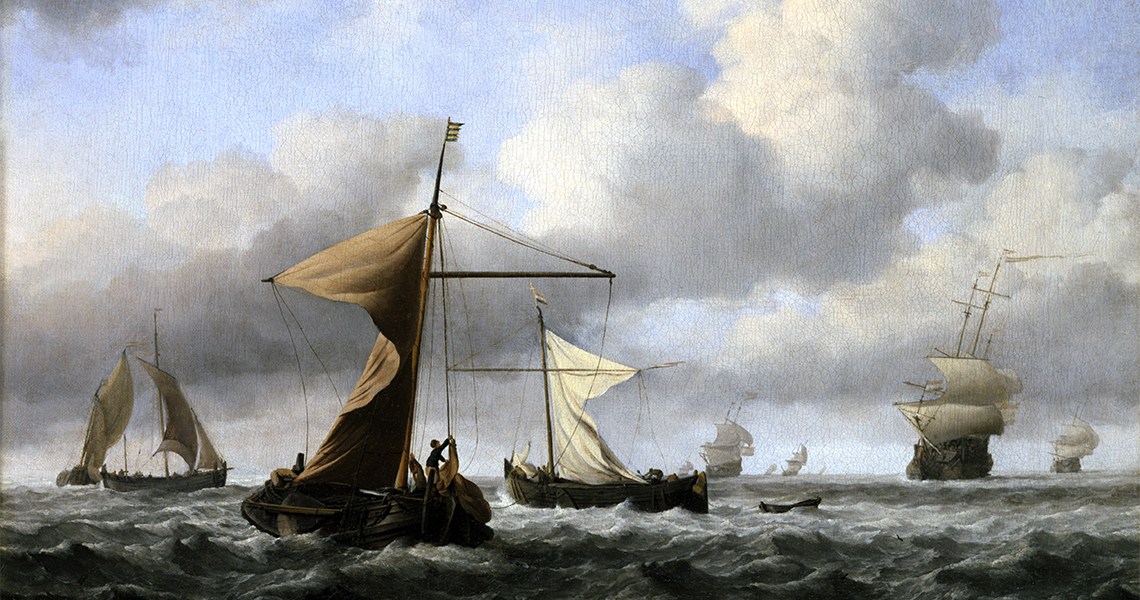 To mark Refugee Week 2020, Alison Culnane and Premila Trivedi, two of the curators behind the Gallery's Journeys exhibition, met remotely to discuss their experiences of coming to the UK, using one of the display's most powerful works, A Brisk Breeze, by Willem van de Velde the younger, as a starting point. Alison and Premila's families both made the same journey from India to the UK in the late 1940s in the aftermath of Indian Independence.
AC: We were surprised to discover that in 1948, before either of us were born, our families made identical journeys from Bombay to Tilbury following the end of British Rule in India. Van de Velde's painting and Ranmalie's description (below) remind us they left behind everything familiar and embarked on a journey into the unknown. "There is no land in sight" is very poignant.
"Ships navigate a tumultuous sea; a dark cloud encroaches overhead. A lone figure is cast into shadow as it hastens to lower a sail. There is no land in sight." - Ranmalie Jayawardana, Community Curator of Journeys, commenting on Willem van de Velde the younger's painting A Brisk Breeze.
PT: Mmm, that and the dark clouds feel quite scary to me. I wonder if that's how my mum and her six young children felt when they left their close-knit family and community to journey by sea for three weeks to a strange new land.
AC: Like yours, my "British" family had never seen England when they sailed from Bombay. My grandparents left a whole way of life and almost all their possessions, but they didn't have to leave family behind. They were a part of a general exodus by the British. What surprised me is that an Indian family chose to leave following Independence.
PT: My dad had gone to Britain two years earlier partly to escape the civil unrest that accompanied Independence, but also he was an anglophile and wanted to see if there might be any opportunities for him in post-war Britain. By 1948 he had settled and, like many immigrants at the time, called for his family to join him.
AC: And was he successful? Did he find those opportunities?
PT: Yes he did. After some initial challenges he made contacts in London and gradually built up a successful import export business similar to the one he had previously owned in India.       
AC: You said the move was your father's decision. How did your mum feel about it?
PT: She would have felt it her duty to join him but it must have been a big wrench, so she she took with her quite a lot of things that she thought would sustain her.
AC: What sort of things?
PT: Hindu religious artefacts, special cooking utensils, rices, pulses and spices and Indian clothes. Familiar things she never dreamed would later subject her to ridicule and discrimination. Also she took the precious prayers and blessings of her family and community, all played out in a range of religious rituals.
AC: It sounds in some ways a much more difficult departure perhaps than for my Grandma. She was to be reunited with her with her mother and siblings already here, although she did have to move in with her in-laws which she didn't enjoy.
Do you know anything about the sea voyage? I know my mum had quite a good memory of the trip. She was nine. She said she and my auntie enjoyed great freedom on the boat. In her words they "ran wild" only seeing the adults for meal times.
PT: I don't think my family had much fun on the journey. They were all very sea sick and rarely left their claustrophobic third class cabins. They spoke no English so weren't able to communicate with the crew who might have been able to provide some support, or make them more comfortable. I think they must have been very glad to finally land at Tilbury.
AC: Unlike my auntie. She was eleven. She told me it was a cold, wet, dreary day when they arrived in industrial east London. She took one look at the docks and asked my Grandma "when are we going home?"
PT: Mmm. I think colonisation made the concept of "home" complex for both families after Independence.
AC: Yes. Oddly, I think the British in India were encouraged to regard the UK as the "homeland" even if their families hadn't set foot here for generations.
PT: I guess colonisation impacted both families and has left a huge legacy that still affects subsequent generations. Many of us still seem to be searching for home, our roots, and where we really belong.
AC: I wonder if the "brisk breeze" is carrying the ships towards or away from home.
PT: Wherever that may be.
You can learn more about our Journeys display here. Although it remains closed for the time being, there are plenty of resources to discover remotely, including 'making of' film, an animation by Nicola Jane Francis and New Grounding, a spoken word piece produced by Akila M Richards.
Images
Willem van de Velde the younger, A Brisk Breeze, c.1665 from Dulwich Picture Gallery's Collection
A detail of the passenger list for when Alison's family sailed. They are the Bunyer family: Benjamin, Edward, Gwendoline, Joan and Joyce
Detail of the passenger list for Premila's mother's voyage