Bronze Oak Grove
This month Dulwich Picture Gallery welcomes  Bronze Oak Grove by Rob and Nick Carter. The husband-and-wife artistic duo have been collaborating for over twenty years and their work has been exhibited in museums and galleries worldwide, including the Frick collection in New York.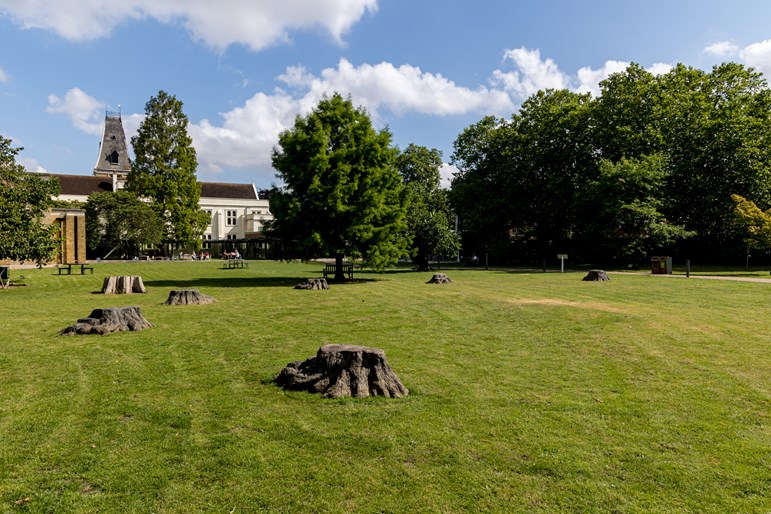 Bronze Oak Grove  is part of an ongoing series titled Transforming that sees the artists reinterpret historic Old Master works. Other examples in the series include a robotically painted  interpretation of  Vincent van Gogh's (1853-90) Sunflowers,  as well as photographic prints that reinterpret Dutch flower paintings from the early seventeenth century to late eighteenth century.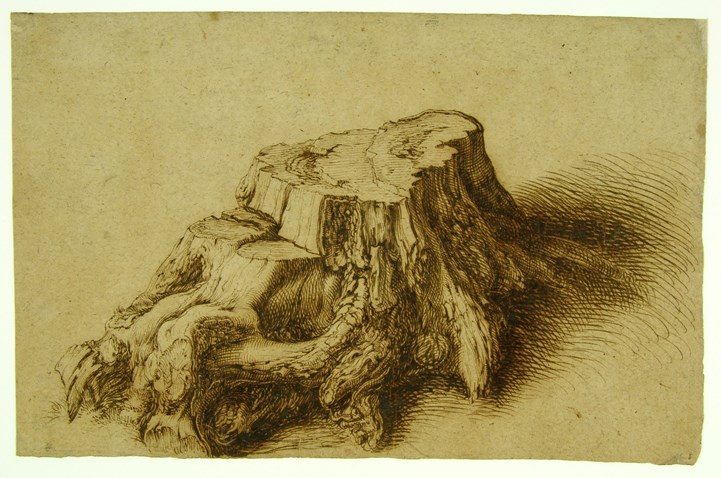 Bronze Oak Grove is inspired by The heavy trunk of an oak, sawn off horizontally above its roots, a drawing made in 1600 by Jacob de Gheyn II (c.1565-1629). Rob and Nick transformed Gheyn's  intricate  pen and ink  work into a realistic tree stump through a process of traditional 'lost wax' bronze casting techniques and advanced 3D scanning and printing.   
Throughout the history of art, oak trees have been associated with strength and stability, as well as revered for their distinctive shape. The collection at Dulwich Picture Gallery includes many works of art in which trees are a celebrated as a central theme.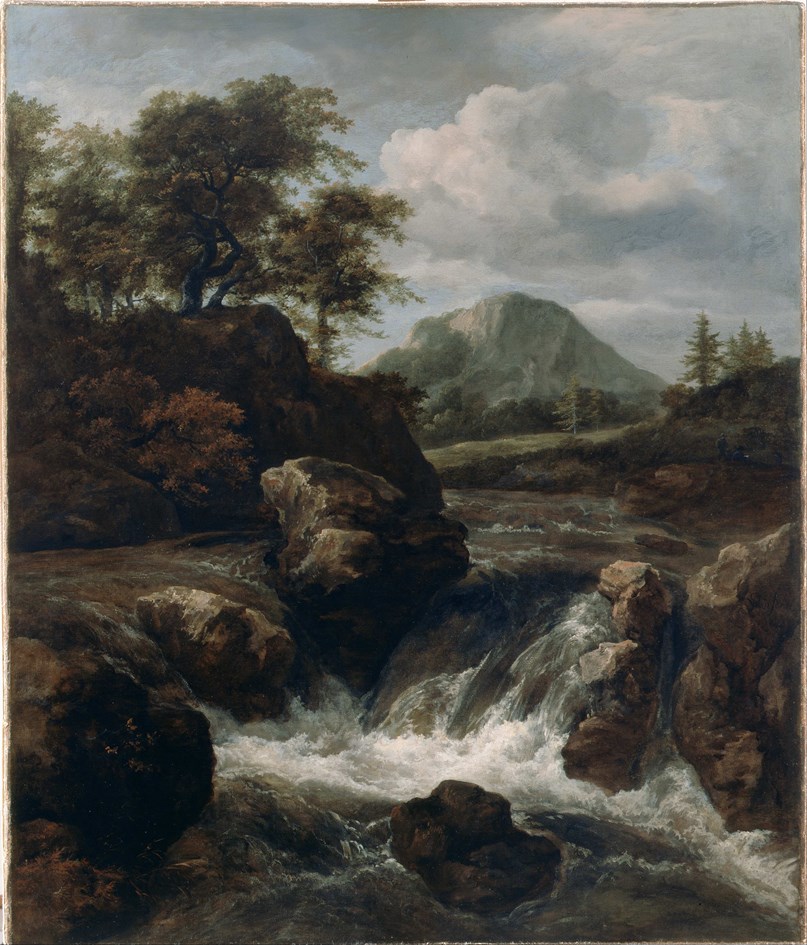 Jacob van Ruisdael  (1628-82) was one of the greatest Dutch landscape artists of the seventeenth century. A Waterfall  (1670-80) exemplifies a change in his style toward a more dramatic interpretation of mountainous landscapes and brooding weather. Rugged trees, rocks and crashing water create a fresh view of nature; it is not at all obvious that this painting is a work of the artist's imagination.   
A large oak tree provides the focal point of  Meindert  Hobbema's (1638-1709) Wooded Landscape with a Watermill (1660-70). The leaves and branches of the oak spread impressively across the painting to frame a watermill, Hobbema's favourite motif. The artist painted numerous woodland scenes and often exaggerated elements of the natural landscape to create drama. In this work, small, dabbing brushstrokes in varying tones of green and brown capture the density and course texture of the foliage.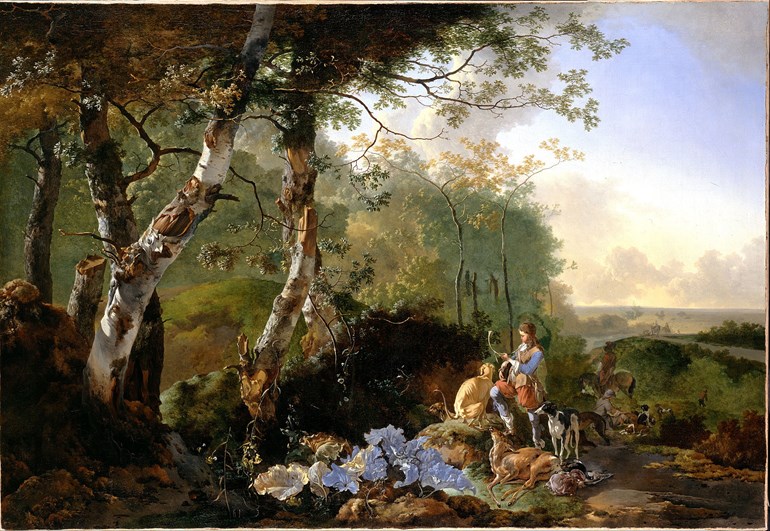 Adam Pynacker (1672-73) developed a subtle technique to depict the natural world. The painting  Landscape with Sportsmen and Game (c.1661-65) includes a group of silver-birch painted with hyper-realist attention to detail. Pynacker carefully manipulates light in this work. The intricately painted trees draw the eye of the viewer, their trunks and leaves highlighted against the cool tonality of the background.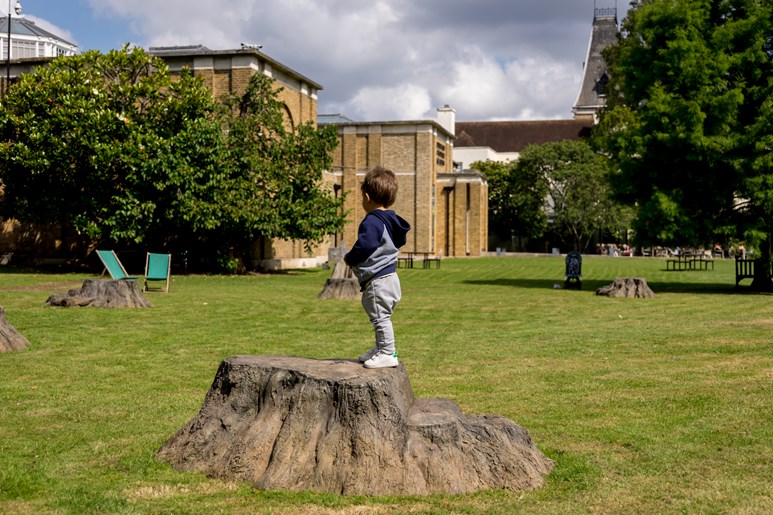 Set within the greenery of the Gallery's garden, Bronze Oak Grove is surrounded by many other interesting trees including Fulham, Red and English oaks. Arranged in a circle in front of the building, the sculpted trees create space for people to spend time sitting, standing, and relaxing day to day.  
Phoebe Alice Evans 
Curatorial Assistant  
Photography of Bronze Oak Grove by Graham Taylor. Jacob de Gheyn II (1565-1629), The heavy trunk of an oak, sawn off horizontally above its roots, 1600, brown ink on brown paper, 4 1/2 x 9 inches/ 11.5 x 23cm, Biblioteca Ambrosiana Collection, Milan