Stuart Semple chats to In View magazine

Exhibited widely around the world, Semple's art playfully explores the emotional and spiritual impact of mass culture. One of his most eye-catching and popular works was the public art project Happy Clouds, first produced outside Tate Modern in 2009 when he released thousands of smiley-faced clouds made from soap and helium. Our In View editors chatted to Stuart in advance of hosting his Festival of Happiness on 30 July 2022. 
Although you work in such a variety of media, painting retains a central position in your practice. How important is it to you?
Painting is a direct way of connecting your thoughts with the outside world. It has a direct emotionality that I can't find in other media and materials. Painting is also one of those horrible things that you can never really defeat. It may sound strange, but I have an ongoing challenge to get painting to work. I am always left wanting more from it than it could possibly provide, so it's like a personal challenge in a way.
Does the way that you approach painting influence how you approach working in other media?
It can. I'll be exploring something in painting and quite often hit a wall where it becomes futile. It can't do anything more. There's also a point where you bang on about the problems in society, and then actually want to do something about them. Something like Happy Clouds could come out of quite a depressive series of paintings, then you realise you want to activate the ideas in some way and perform them, so they become a sounding board.
Positive activism infuses your public art, from Emotional Baggage Drop in Denver to Hug Huddle by Tower Bridge. How important is it to ensure public space is somewhere where we can connect?
I fundamentally believe that art happens only when there's a viewer present. My work is driven by the collision between the viewer and the object or situation – without a public, it doesn't exist as far as I'm concerned.
Happy Clouds has been seen around the world, from London to Milan to Hong Kong. How different have reactions been to these smiling clouds?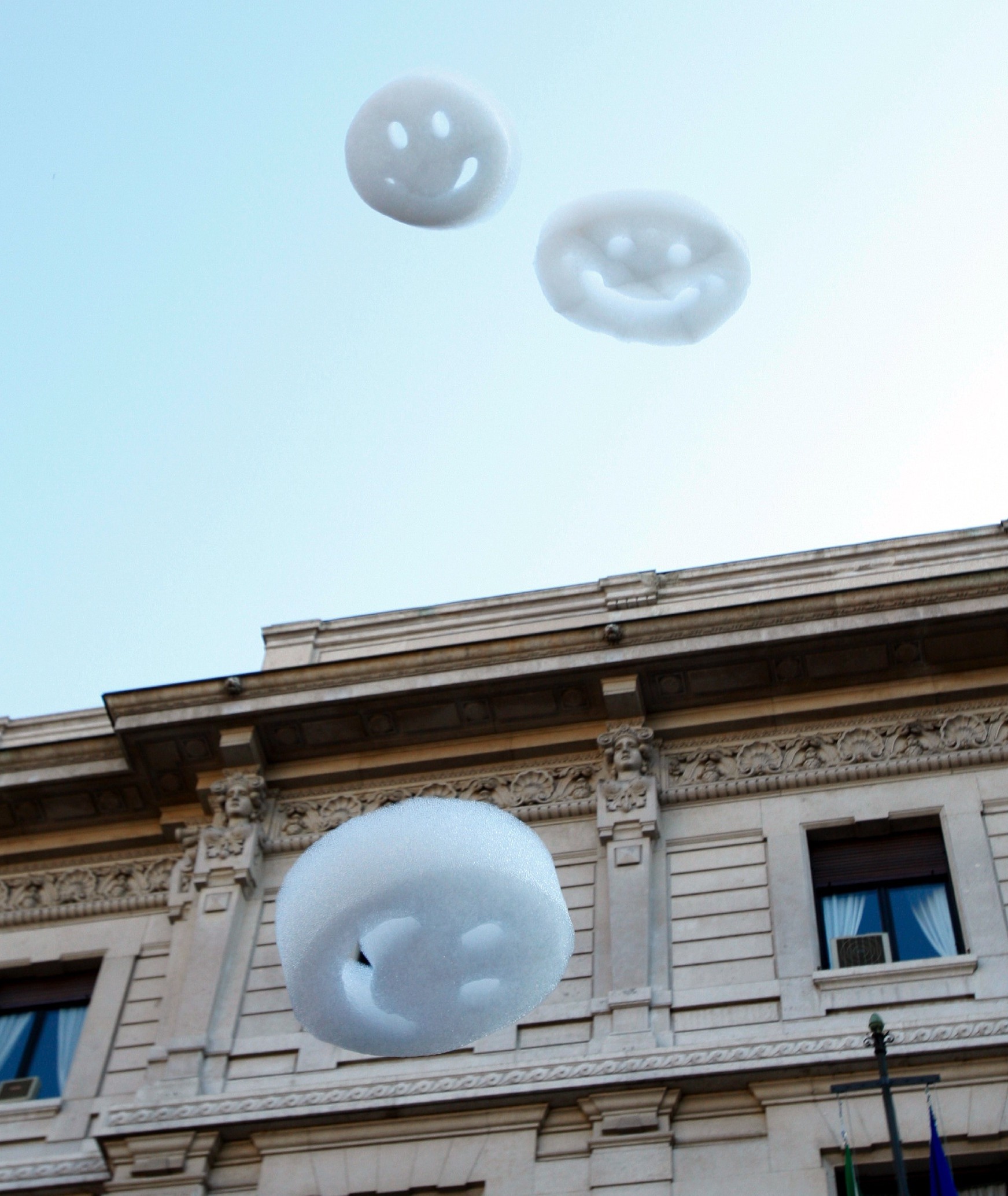 My work never plays the same twice – except for Happy Clouds. It's bizarre. You put a giant inflatable in the street for people to jump on and it gets a completely different reaction in Dublin or Denver or London. You put Happy Clouds anywhere and people get it. Although I stumbled across it by mistake, it's like a universally understood language.
You have a long association with the charity MIND. How important is art as a means of improving mental health?
What's been beautiful has been seeing so many people connect with art during the pandemic. I don't know how much that was driven by a mental health need, but I imagine some of it was. It is certainly reassuring that people have got the message that doing creative activity might be good for our well-being. When I started talking about this 10 years ago, people looked at me as if I were talking nonsense. I've seen a huge shift in people seeing art and the arts as something useful. It's my belief that there's a utility in art for us as humans.
You've spoken about how works by artists such as Millais, Van Gogh and Picasso had such a profound effect upon you. Is there an enduring importance in finding inspiration from the paintings of such masters?
It's vital, isn't it? These are the greats. They are wonderful artists who changed the world. I challenge anyone who comes into contact with works like that not to remember them for the rest of their life. Real art makes an impact. It changes us and we're never quite the same person again.
You first worked with Dulwich Picture Gallery in 2019 on the exhibition Rembrandt's Light, where the master's works were hung against your intense Black 3.0. How did the collaboration come about?
They just wrote to me and asked. I was blown away. What an honour to have something you've made next to a Rembrandt. His Girl at a Window is an amazing painting. Look at the play of light in it – what a dream.
Do you know the collection at Dulwich Picture Gallery?
I am obsessed with Guido Reni's Saint Sebastian. It's an amazing piece of work – I get shivers just thinking about. It does that thing you want paintings to do.
What is the idea behind this summer's Festival of Happiness?
We had an idea to do something for families this summer. I really want to do Happy Clouds in London again, as it's been over 10 years since I first did it. Dulwich feels like the right place to perform that work. I was also thinking about how we could make it more of an occasion. I really want to bring the Gallery and the grounds together and I'm working on a treasure hunt. There will be a complete piece of theatrical performance with actors. I don't want to spoil the surprise, but something will happen, and you'll be left with a piece of art at the end. We've also been able to make the Gallery free on the day, which is fantastic. I really want people who have perhaps never visited the Gallery before just to be able to come in off the street.
Book your FREE slot to experience the Festival of Happiness