Call for submissions: Dulwich Picture Gallery and Tessa Jowell Health Centre announce second health-led art commission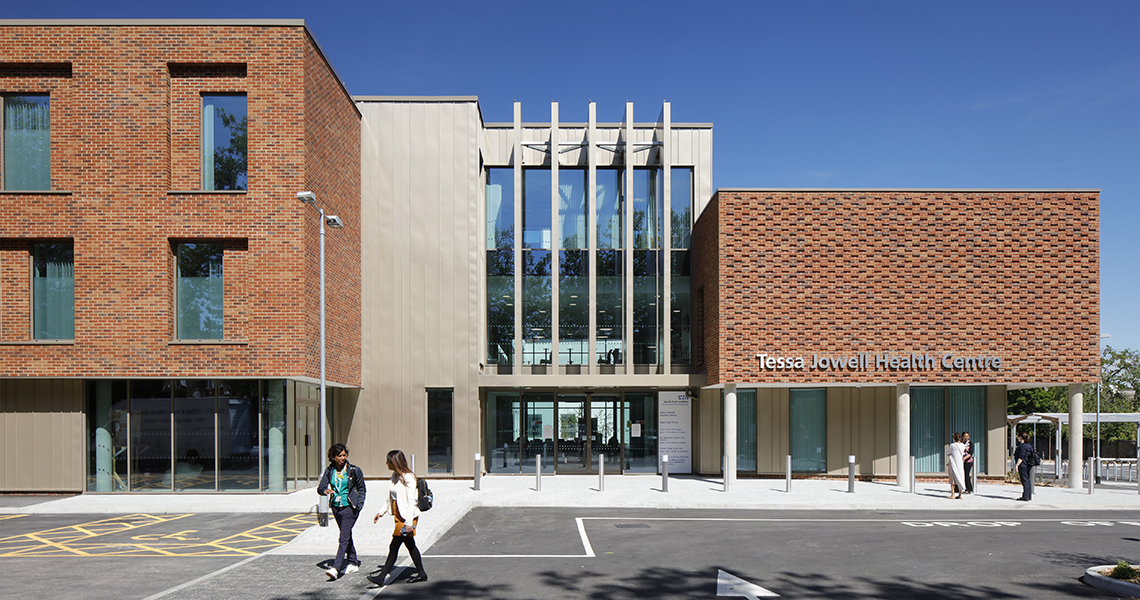 UPDATE - the shortlisted artists announced were:
Carolyn Defrin and Paul Burgess
Martin Jones and Dhruv Kumar
Sian Bliss and Jenny Cox
The winning design has been awarded to Carolyn Defrin and Paul Burgess. Find out more
Dulwich Picture Gallery and Tessa Jowell Health Centre (TJHC) have today announced a new digital art commission to be displayed in the Children's Services area of the centre in East Dulwich.
The second in a new health-led art commission series, it closely follows the unveiling of the inaugural commission, The Health Centre's Quilt, an impressive large-scale artwork by local artist collective Bamidele Awoyemi, Farouk Agoro and Livia Wang, which now adorns the glass balustrade at the heart of the centre's reception area. Now the Gallery and TJHC turn their attention to the field of digital or technology-led art, inviting artists to produce work that will play a vital role in making such an integral space feel welcoming, engaging and safe.
Children's Services, delivered by Evelina London, part of Guy's and St Thomas' NHS Foundation Trust, provide vital support to families and young patients in the Southwark area. Positioned opposite the health centre's impressive garden courtyard, the Children's Services area is a prime location for a piece of art, which will be seen by all of those using the family orientated services at the centre. For this commission, the Gallery and TJHC are looking for an interactive artwork that is designed specifically to be child friendly and engaging for diverse families.
This is the second of four art commissions which invite artists to create and develop site-specific work for the new NHS health centre in East Dulwich. Find out more about the commissions and the partnership between Dulwich Picture Gallery and NHS South East London CCG that brings together art, programming, training and community participation here.
Alexander Moore, Creative Producer at Dulwich Picture Gallery, said:
"No one is too young to experience great art! This new interactive commission will provide positivity and wellbeing for children, parents, carers and the staff at Tessa Jowell Health Centre. By integrating innovative digital art into the spaces at the Health Centre we can support healthier and happier communities through creativity."
Sam Hepplewhite, Place Based Director, Southwark, at NHS South East London CCG, said:
"We're excited to open up application for the second art commission. The centre isn't just somewhere which provides healthcare, we also want it to help support the wellbeing of Southwark people. We hope this artwork, once installed, will help support a healthier and happier community by creating a more creative and accessible space for children to receive care." 
Click here for the second commission brief and how to apply
- Ends
Contact
For press enquiries
Caitlin Collinson, PR Manager
c.collinson@dulwichpicturegallery.org.uk

For queries related to the commission series: tjhcenquire@dulwichpicturegallery.org.uk
Supporters
NHS South East London Clinical Commissioning Group
Prudence Trust
League of Friends of Dulwich Hospital
Healthy London Partnership
About Tessa Jowell Health Centre
The new Centre has been created to improve access to GP and community-based care for the residents of south Southwark and surrounding area, delivering a range of health and wellbeing services at one site. It provides a number of primary care services, children's services, diagnostics, physiotherapy unit, community mental health services, renal dialysis unit and services for patients with long term conditions. The Centre also accommodates non-clinical community-based services and a health hub for voluntary sector activities.
 
About Dulwich Picture Gallery+
Embedding art and health in the local community
Dulwich Picture Gallery+ is our arts and health programme dedicated to reducing health inequality and embedding the arts in our community's health care. We work with clinical partners, local organisations and arts partners to deliver high quality activities that positively impact a person's health and wellbeing. Our work with Tessa Jowell Health Centre is our flagship project, bringing together art commissions, programming, training and community participation. Designed in collaboration with staff and service users it supports the key needs of South Southwark communities including mental health, living with long-term health conditions and social isolation.
 
Regular updates on the commission series will be posted on the Gallery's website at dpg.art/TJHC
Image: Tessa Jowell Health Centre