Digital artwork transforms Children's Services at Tessa Jowell Health Centre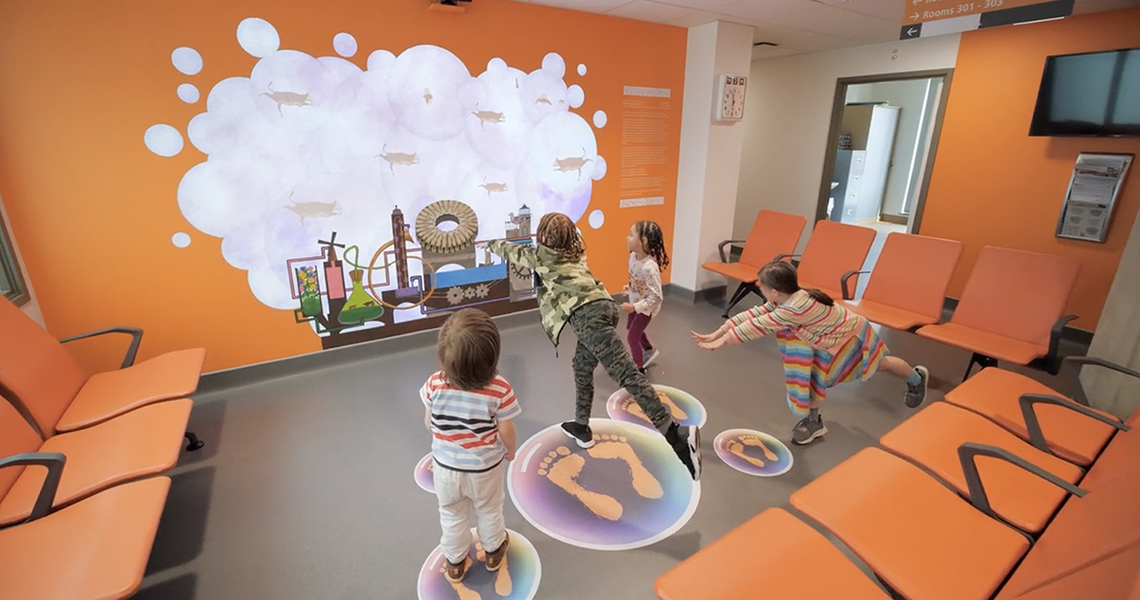 Bubble Dreams, a new digital artwork by artist Carolyn Defrin and set designer Paul Burgess, has been unveiled at Tessa Jowell Health Centre (TJHC) in East Dulwich. The immersive and playful artwork, which is on display in the Children's Services area of the centre, invites service users to interact with a digitally enhanced mural.  
Designed to engage children and families in multiple ways, the installation offers opportunities for choice and control that can sometimes feel out of reach within healthcare settings. The painted mural and 'dream bubbles' are displayed on the wall of the Children's Services waiting room and respond to the natural movements of visitors and staff. Through interactive technology and instructional language, the installation immerses visitors in a range of calming and playful 'bubble dreams' and transforms the space into numerous portals to other worlds.  
Watch the Bubble Dreams film here
This is the second in a series of four art commissions that aim to embed art in healthcare and to enhance the healing environment at TJHC. It follows the inaugural commission, The Health Centre's Quilt, a large-scale artwork by local artist collective Bamidele Awoyemi, Farouk Agoro and Livia Wang which was unveiled at the centre in summer 2021. Find out more about the commission series and the partnership between Dulwich Picture Gallery and NHS South East London CCG here. 
Carolyn Defrin and Paul Burgess said:  
"We were thrilled to have the unique opportunity to collaborate with Tessa Jowell Health Centre, the Gallery and local families to transform the children's services area into a playfully creative and interactive environment. Our piece centres on a mural that's brought to life though projections, and celebrates the dreamlike freedom of children's imaginations." 
Jane Findlay, Head of Programme and Engagement at Dulwich Picture Gallery, said:  
"We loved that Carolyn and Paul's concept was fun, intuitive and centred the stories of the children and families who use Tessa Jowell Health Centre. We've enjoyed seeing the installation come to life, bringing much joy and exploratory play to all." 
Martin Wilkinson, Chief Operating Officer (Southwark) NHS South East London, said:  
"We're delighted to see this new installation coming into Tessa Jowell Health Centre. A key aim of the centre is for it to be a space for the whole community and it's fantastic that this interactive artwork allows people to choose and develop what they want to see displayed; helping to make the Children's Services area comfortable and entertaining for everyone." 
 - Ends
Notes to editors 
Contact 
For press enquiries: Caitlin Collinson, PR Manager c.collinson@dulwichpicturegallery.org.uk 
For queries related to the commission series: tjhcenquire@dulwichpicturegallery.org.uk 
Supporters 
NHS South East London Clinical Commissioning Group 
Prudence Trust 
League of Friends of Dulwich Hospital 
Healthy London Partnership 
About Carolyn Defrin and Paul Burgess 
Together Defrin and Burgess have over 40 years of experience creating work across theatre, video installation, storytelling and design. They have created several projects together over the last decade with a focus on how complex community issues can be humanised and expressed through storytelling in playful and poetic environments. 
About Tessa Jowell Health Centre 
The new centre has been created to improve access to GP and community-based care for the residents of south Southwark and surrounding area, delivering a range of health and wellbeing services at one site. It provides a number of primary care services, children's services, community mental health services, renal dialysis unit and services for patients with long term conditions. The centre also accommodates non-clinical community-based services and a health hub for voluntary sector activities.  
About Dulwich Picture Gallery+ 
Embedding art and health in the local community 
Dulwich Picture Gallery+ is our arts and health programme dedicated to reducing health inequality and embedding the arts in our community's health care. We work with clinical partners, local organisations and arts partners to deliver high quality activities that positively impact a person's health and wellbeing. Our work with Tessa Jowell Health Centre is our flagship project, bringing together art commissions, programming, training and community participation. Designed in collaboration with staff and service users it supports the key needs of South Southwark communities including mental health, living with long-term health conditions and social isolation. 
Regular updates on the commission series will be posted on the Gallery's website at dpg.art/TJHC