Creative Companions: 5 times art and music inspired one another
It's all about music at Dulwich Picture Gallery this week, with viola da gamba player Liam Byrne performing a series of concerts to tie in with our musically themed Dou in Harmony display.
Showing off some impressive multitasking skills, the leading ladies in these two paintings look out at the viewer while playing tunes on the clavichord (no relation to the clarinet; more a kind of piano) and the virginal (not what you're thinking – also a kind of piano).
The link between music and art in these works will be explored even further in this week's concerts, which will include the world premiere of a brand spanking new piece of music from composer Josephine Stephenson, written – and this is the clincher – as a musical response to Dou's paintings.
Music and art are creative sisters: they copy each other's trends, influence each other's movements and display a healthy level of sibling rivalry. So to celebrate the two art forms joining forces in this week's event, here's a list of some of the most interesting examples of art and music inspiring one another.


1. Parklife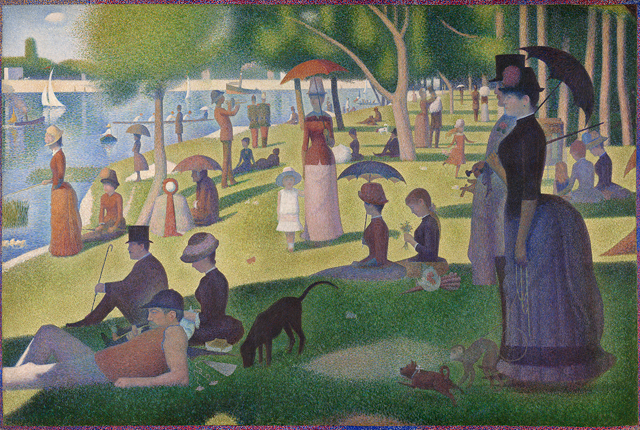 It was George Seurat's famous pointillist painting A Sunday Afternoon on the Isle of Grand Jatte (1884) that gave Stephen Sondheim the idea for his hit Broadway musical A Sunday in the Park with George. In fact, it was because of this stroke of inspiration that he changed his mind about quitting the world of showbiz altogether, as he had been planning to do after the failure of his previous musical. The show tells a fictionalised tale of the painting's creation and and went on to win several awards. 


2. Getting Wavey 
 
Europe's increasing trade with the Far East over the 19th Century led to an obsession with all things Japanese. Claude Debussy, the Romantic composer, was no different. He would rummage through antique shops collecting Japanese artefacts to add to his collection, not unlike your modern-day hipster in a record store. Hanging in his studio was The Great Wave (1829) by Hokusai, and it seems that this iconic image prompted him to compose his own maritime-themed piece, La Mer (1903). Debussy even chose this image to go on the cover of the first published edition of the piece.


3. Sonic or Yonic?
Famous for the suggestive nature of her flower paintings, Georgia O'Keeffe was desperate to dispel the notion that her works were solely concerned with sex. An early abstract series (and an attempt to put a stop to all the irritating psychoanalysis) focused on her fascination with synaesthesia – the experience of 'crossed senses'. O'Keeffe wanted to see if she could put into practice "the idea that music could be translated into something for the eye", as she put it. Taking a look at Blue and Green Music (1919) and Music, Pink and Blue, No.1 (1918), it's definitely possible to detect a certain musicality to the paintings, although whether or not they've succeeded in moving away from sexual interpretation is perhaps still open for debate.


4. Bach to Basics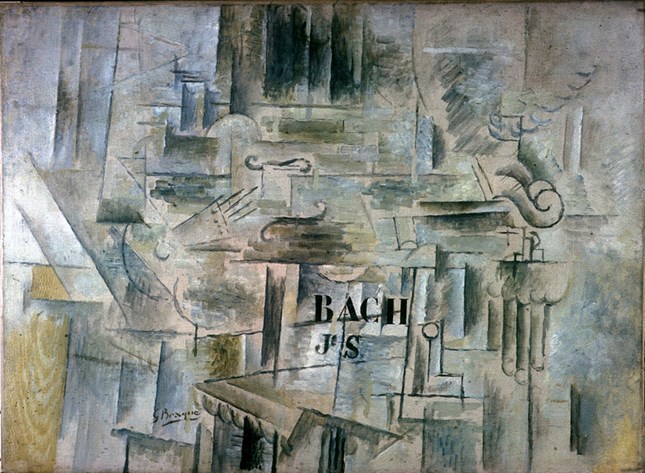 As well as helping to invent Cubism, Georges Braque was a talented musician. He was obsessed with the idea of musical instruments as objects that "come alive at the touch". So when he and Picasso started working on a new style called Analytic Cubism, he used the painted motif of a violin to build up shifting planes and multiple perspectives that in some way mimic musical polyphony. He called the work Homage to JS Bach (1912) in a nod to his favourite composer.


5. Pop Art
And last but not least, children's drawings aren't usually considered high art but that doesn't mean they can't inspire great artists – as John Lennon proved when he wrote pop hit 'Lucy in the Sky with Diamonds' (1967) for The Beatles. It's a song that's forever been associated with recreational drug use – and admittedly the case for this interpretation is pretty strong. However, Lennon claimed that the inspiration for the song actually came from a drawing by his young son, Julian of his friend Lucy. She was surrounded by stars and Julian, with the romantic imagination of a true artiste, had titled it 'Lucy in the Sky with Diamonds'. You can choose which version of events you find more likely…
Credit Lines:
Georges Seurat,
A Sunday on La Grande Jatte
, 1884, Oil on canvas, 81 3/4 x 121 1/4 in. Art Institute of Chicago, Helen Birch Bartlett Memorial Collection, Bequest of Sam A. Lewisohn, 1951
Katsushika Hokusai, The Great Wave

, from the series

Thirty-six Views of Mount Fuji

, 1830-32, 10 1/8 x 14 15/16 in. The Metropolitan Museum of Art, New York, H. O. Havemeyer Collection, Bequest of Mrs H. O. Havemeyer, 1929
Blue and Green Music

, 1919/1921. Oil on canvas, 23 x 19 in. Art Institute of Chicago, Alfred Stieglitz Collection, Gift of Georgia O'Keeffe and 

Music, Pink and Blue No. II

, 1918, Oil on canvas, 35 × 29 15/16 in.

 

Whitney Museum of American Art, New York; Gift of Emily Fisher Landau in honour of Tom Armstrong
Georges Braques, Homage to J. S. Bach

, 1911-12, Oil on canvas, 21 1/4 x 28 3/4 in. Museum of Modern Art, New York, The Sidney and Harriet Janis Collection