Helen Frankenthaler's Madame Butterfly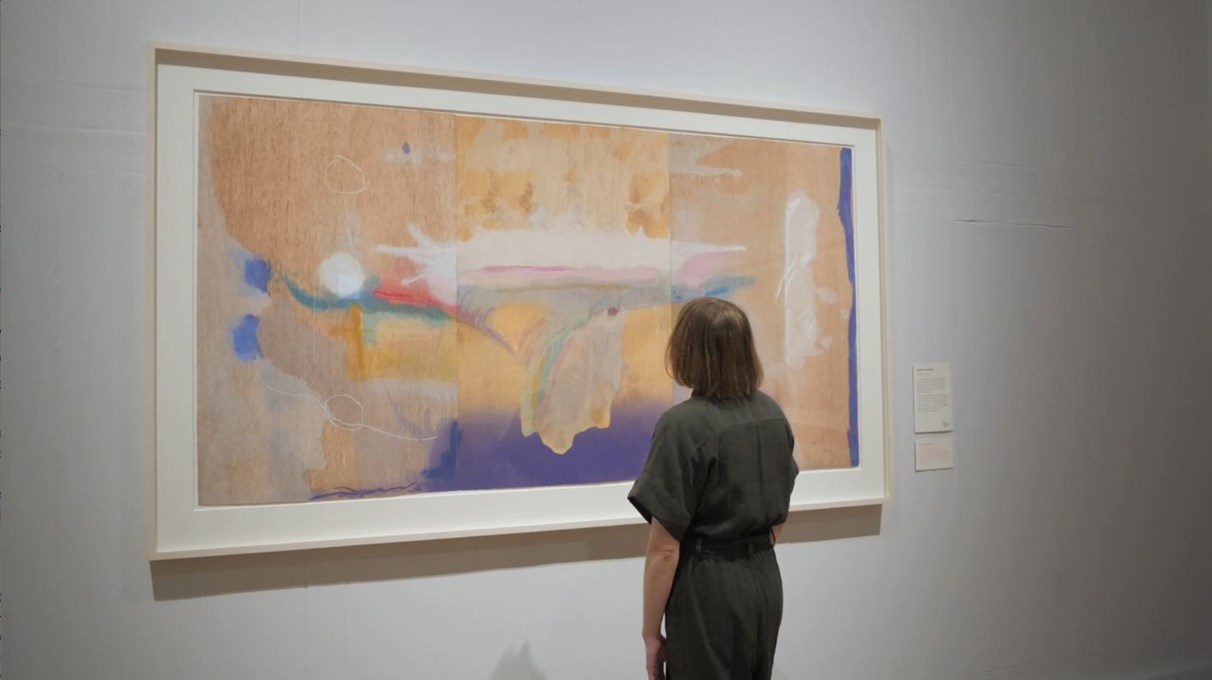 Madame Butterfly is Helen Frankenthaler's woodcut print masterpiece. It's her in full flow, confident, owning the medium that she had transformed. While we typically think of woodcut printmaking as ridged surface, harsh lines and static shape, Madame Butterfly with its soft, delicate forms is far from this. It's a radical work of dizzying beauty that can take your breath away.  
Frankenthaler was continually striving to make art that felt like it happened in the moment. But for all this appearance of spontaneity in Madame Butterfly it was a multistep, collaborative and risky work to create that took two years to complete working alongside Master Printmaker Ken Tyler and Woodcarver Yasuaki Shibata.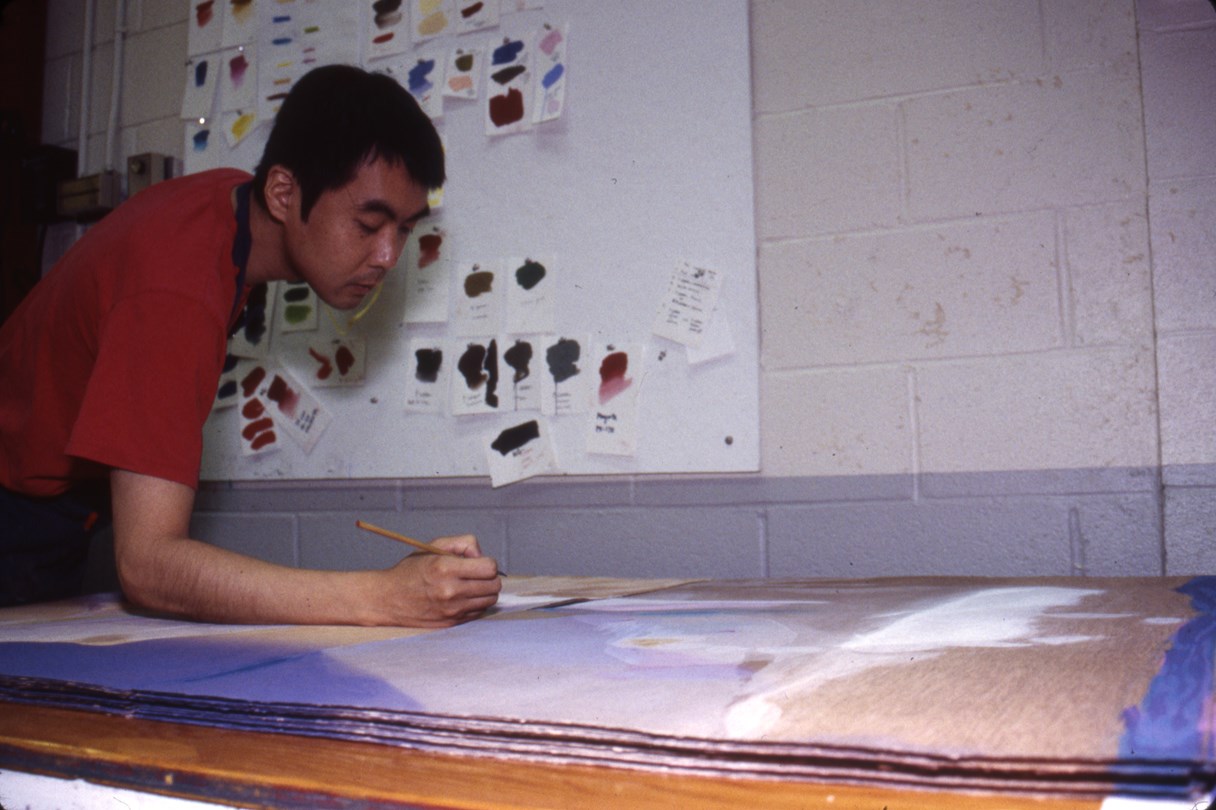 Yasuaki Shibata inspecting printing proofs.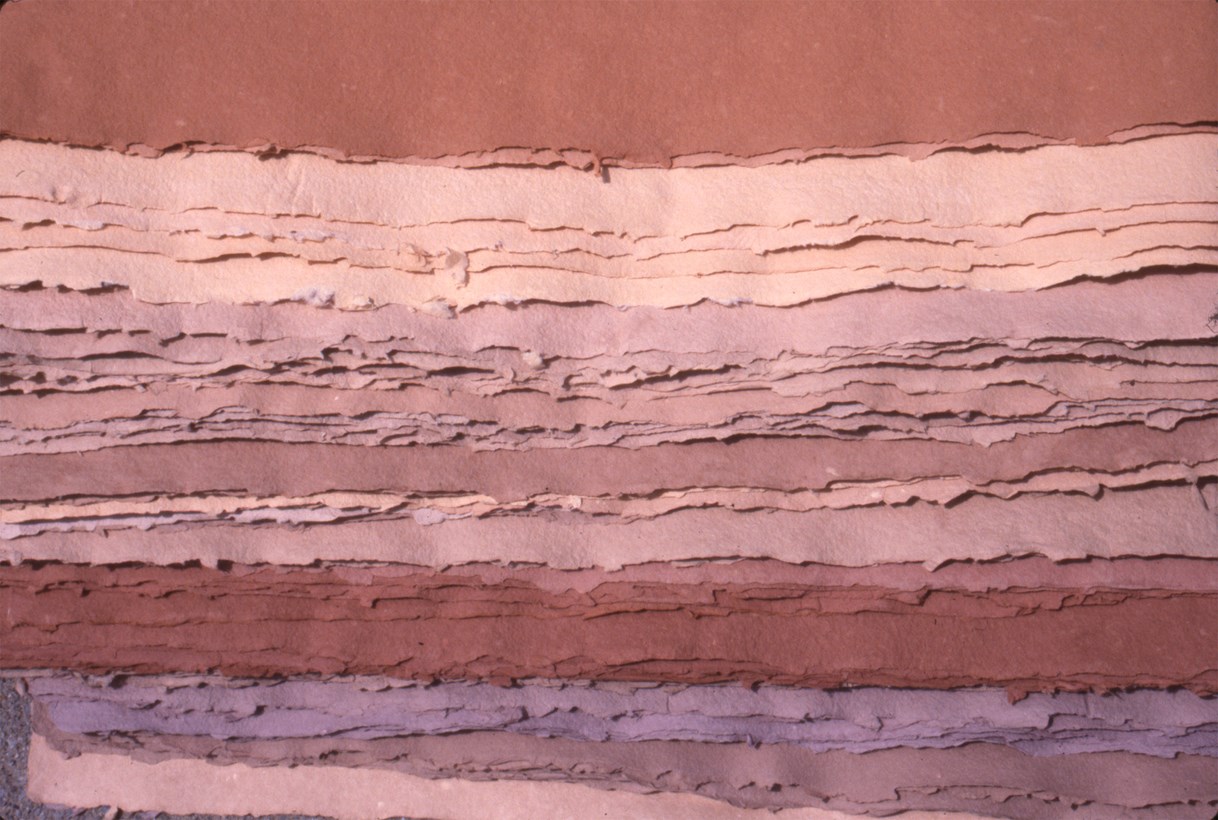 The coloured handmade papers used to make Madame Butterfly.
Inspired by a Japanese screen she'd bought in Kyoto, its starting point was these wonderful painted wood panels that Frankenthaler created. These were used as the guide for making the woodcut on coloured handmade papers. Shibata traced the design onto many wood blocks and carved them, closely collaborating with Frankenthaler on every nuance. She even carved some blocks herself and used her "guzzying" technique to add depth to the image. 
Speed was crucial in the printing process. Both ink and paper had to be kept wet so that the colour would run and blend. Many different proofs were made in a trial and error process. As we can see here in this working proof Frankenthaler would cut proofs apart and stick them back together in new ways – like a collage - to create the final image she wanted to achieve.  
Watch our short film about Madame Butterfly.

The final work made up of  42 woodblocks, 3 handmade papers and 102 colours, transcends the possibilities of woodcut print. Floating wistfully in time and space, Madame Butterfly hides the incredible technical innovation behind it. 
For me, it's a work that demands your time – I find I see, hear and feel something different each time I look at it. The sense of ambiguity, a key part of Frankenthaler's creative practice, offers us, as viewers, space to create our own meaning.  
This exhibition is the first time UK audiences can encounter 36 of Frankenthaler's woodcut prints together. It reveals her as a trailblazer of the printmaking movement, who broke countless boundaries through her experimentation. 
Jane Findlay, curator of Helen Frankenthaler: Radical Beauty