Abstracting from the past: A visit to Anthony Daley's studio


A visit to Anthony Daley's studio to see the preparations for his current exhibition at Dulwich reveals the deep love this Abstract Expressionist artist has for the works of the Old Masters and Rubens in particular. By Malcom Cossons for the Autumn / Winter 2022 issue of In View magazine.

Anthony Daley: Son of Rubens is on display in the Gallery until 2 April 2023. Admission is included in the price of a Gallery ticket. 
Anthony Daley's studio is testament to a life-long infatuation with painting. Overlooking Deptford Creek, the small space is filled with work spanning many decades, and, in late spring, the walls are adorned with the abstract canvases being prepared for an exhibition that opened at Dulwich Picture Gallery this August. Entitled Anthony Daley: Son of Rubens, the show is Daley's response to a work with which he has an enduring fascination: Venus, Mars and Cupid, c.1635, by Sir Peter Paul Rubens, one of the gallery's most famous works. The disordered studio is something of a cliché. While Daley's workspace is certainly packed to the ceiling with canvases, sketches and photographs, it does not feel chaotic, but more a creative cornucopia, filled by this prolific artist.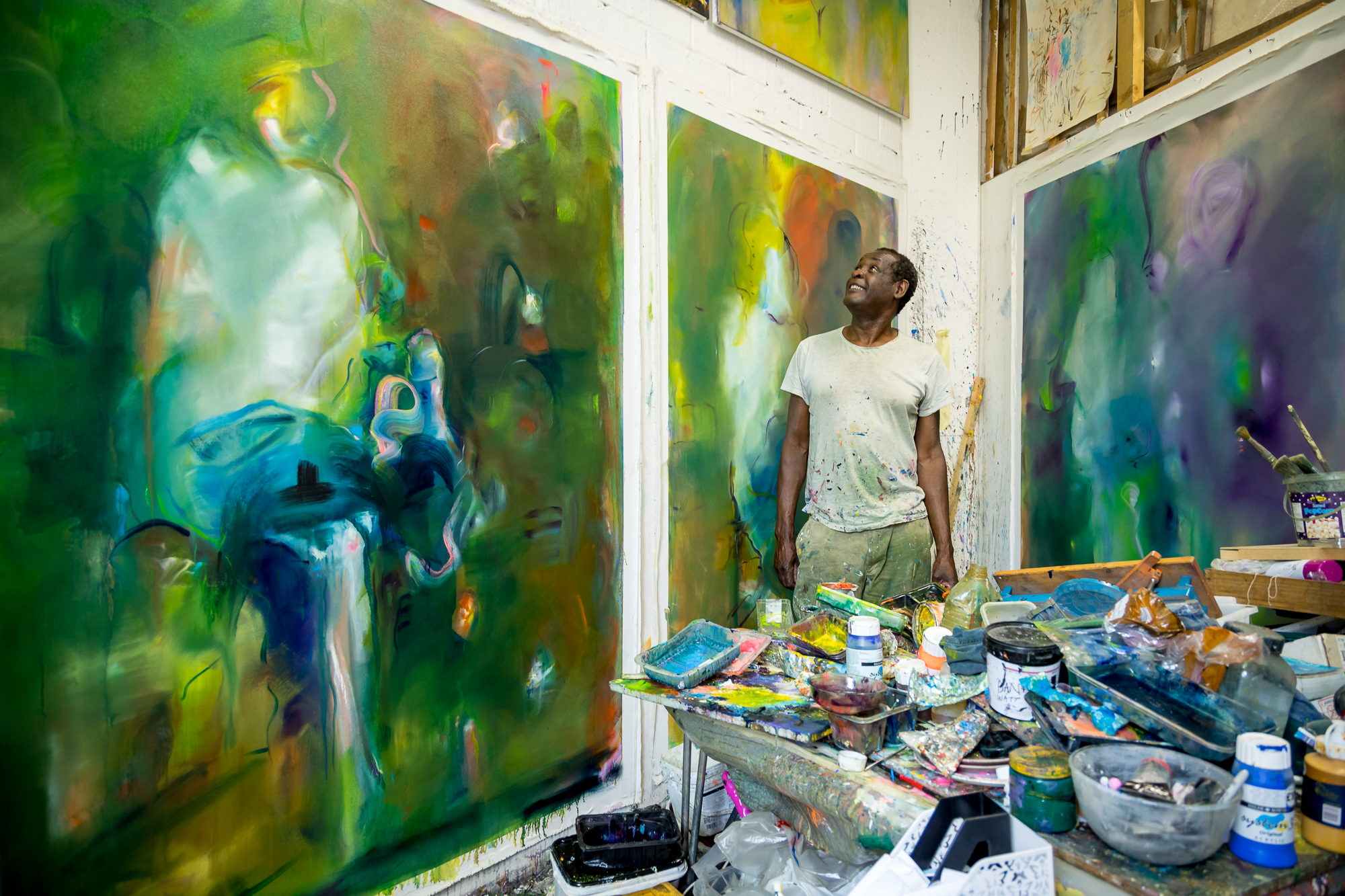 He first experienced the need to make art as a child in Jamaica in the 1960s: "My strongest memory of wanting to paint the world was when I was four. I was in the bushes across the river from where I lived. It had rained and I looked up to the sky with the light coming through. It was the start of a love affair. I just wanted to paint it, to draw it. The sheer blueness of that sky – I had to do it justice."
At the time, Daley was living apart from his parents, who had come to the United Kingdom to find work. His grandparents cared for him, after a fashion: "They made some bad decisions about me and my sister. They wouldn't let me attend school, so I was completely self-taught. I learned maths and English from books borrowed from the church."
 Art was also something he learned himself: "I painted when I could get paint. I drew every day on everything, on the pavement, walls." He has continued to work almost daily since he was six. Those borrowed books were in fact his first meeting with Rubens: "I remember the sheer gloriousness of his work, it just opened the world up for me."
He also recalls an early encounter with the Abstract Expressionism that would prove so influential to him. The local shop got one of the first colour televisions on the island in the late 1960s: "I remember running to see it, but it was just bands of yellow, red and blue tape stuck over the screen. I was disappointed, but there was a show on about Jackson Pollock. It just blew my mind." That love of art travelled with Daley when he finally moved to Leeds in 1971 to be with his parents. He finally received the formal schooling for which he had yearned: "I was desperate to catch up, to learn. The other kids felt they were there as a punishment, but I drank it in." That same thirst continued as he left school for art college in the city: "The idea you could actually go somewhere and paint every day was something I'd never really contemplated." This was followed by a move to London, studying first at Wimbledon and then Chelsea College of Art. While there Daley was picked up by Flowers Gallery, becoming the first person to take their prestigious Artist of the Day programme and exhibiting with them for a number of years. Art college was also where he translated his compulsion to paint into a formal working routine: "I remembered Picasso's phenomenal output and thought if I could stick to a nine-to-five day, just like everybody else who works, that might be sufficient. Once you get into the studio, though, it's nine to nine or nine to ten, seven days a week."
On the journey from his home in Camberwell to his first studio in Greenwich in the early 1980s, Daley would make the detour to Dulwich. As he recalls: "To have Tiepolo and Rubens and Rembrandt so close, what more could I ask for?" It was on these visits that he was first drawn to Venus, Mars and Cupid, and the influence was profound: "Over all those years, I became attached to that painting, and challenged by it on many levels – politically, psychologically, technically. I was making Abstract Expressionist pictures by then, but seeking to maintain qualities of the Old Masters. That painting spoke to me and said, 'stop painting figuratively'. I aggressively went more abstract because of that painting."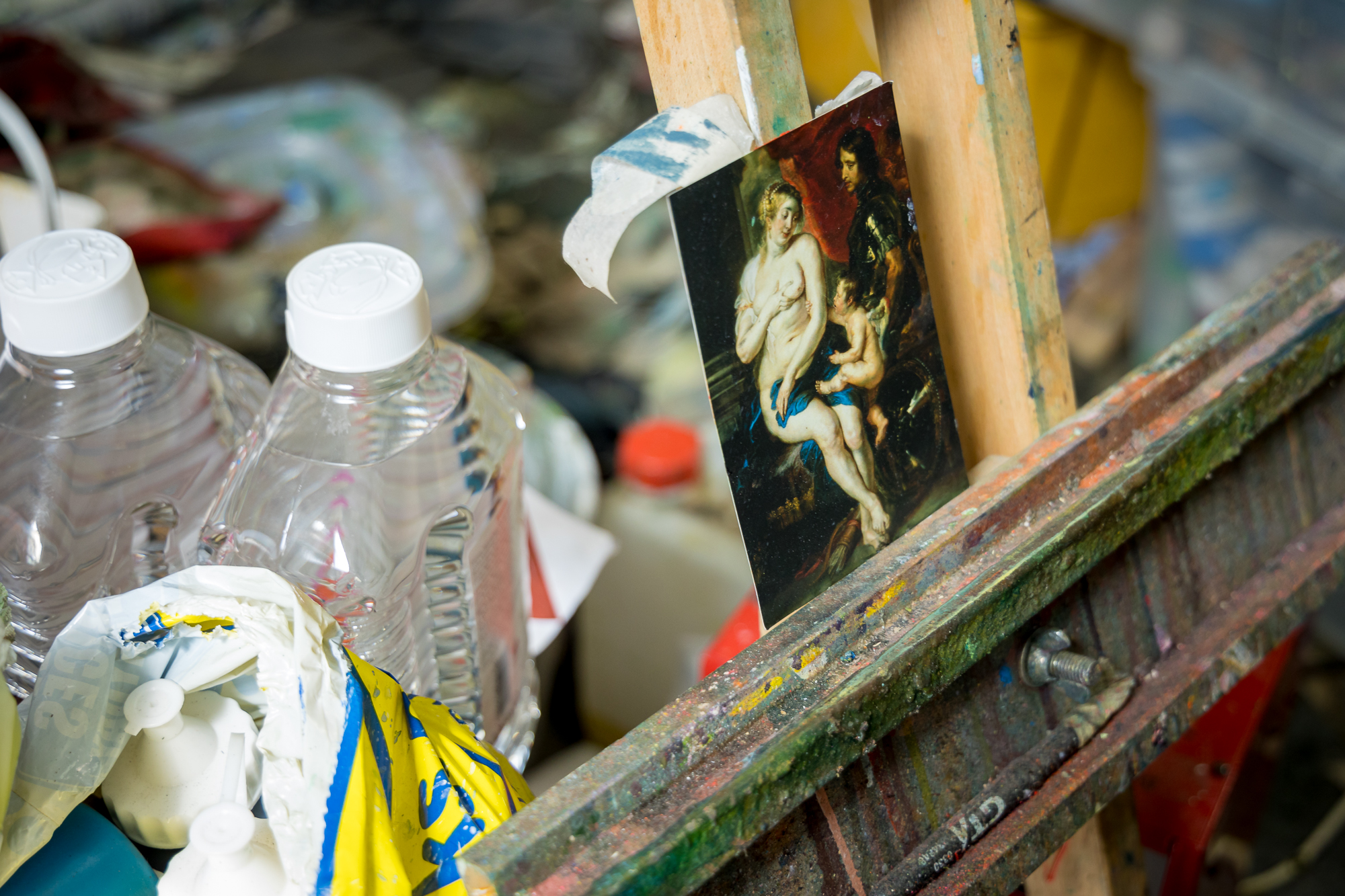 When Daley's Greenwich studio was sold in the mid-1990s, he took his only break from painting, travelling in the US and Europe and seeking a more secure financial footing for his life. On his return to London, however, he took this space in Deptford, where he has worked ever since. It was always an idea, however, to revisit Venus, Mars and Cupid one day: "It was in the back of my mind to use it in my paintings again, even if I was 60 or 80. When the opportunity came for this exhibition at Dulwich Picture Gallery, my decision was automatic." Such an existing knowledge of the work created an interesting approach to the commission: "When I saw the painting for the first time, I didn't even read the title. It was just a pure, visceral response. Loving and hating it, and, as a young man, trying to better it. Going back to it now, I deliberately didn't do any small drawings. I literally took a postcard from the gallery shop, stuck it on the wall and she [Venus] worked with me." Created on large canvases, the results are compelling. The size of the images is important, as Daley says: "I wanted to challenge the works in the gallery and thought it would be interesting to have something awkward – that didn't quite fit."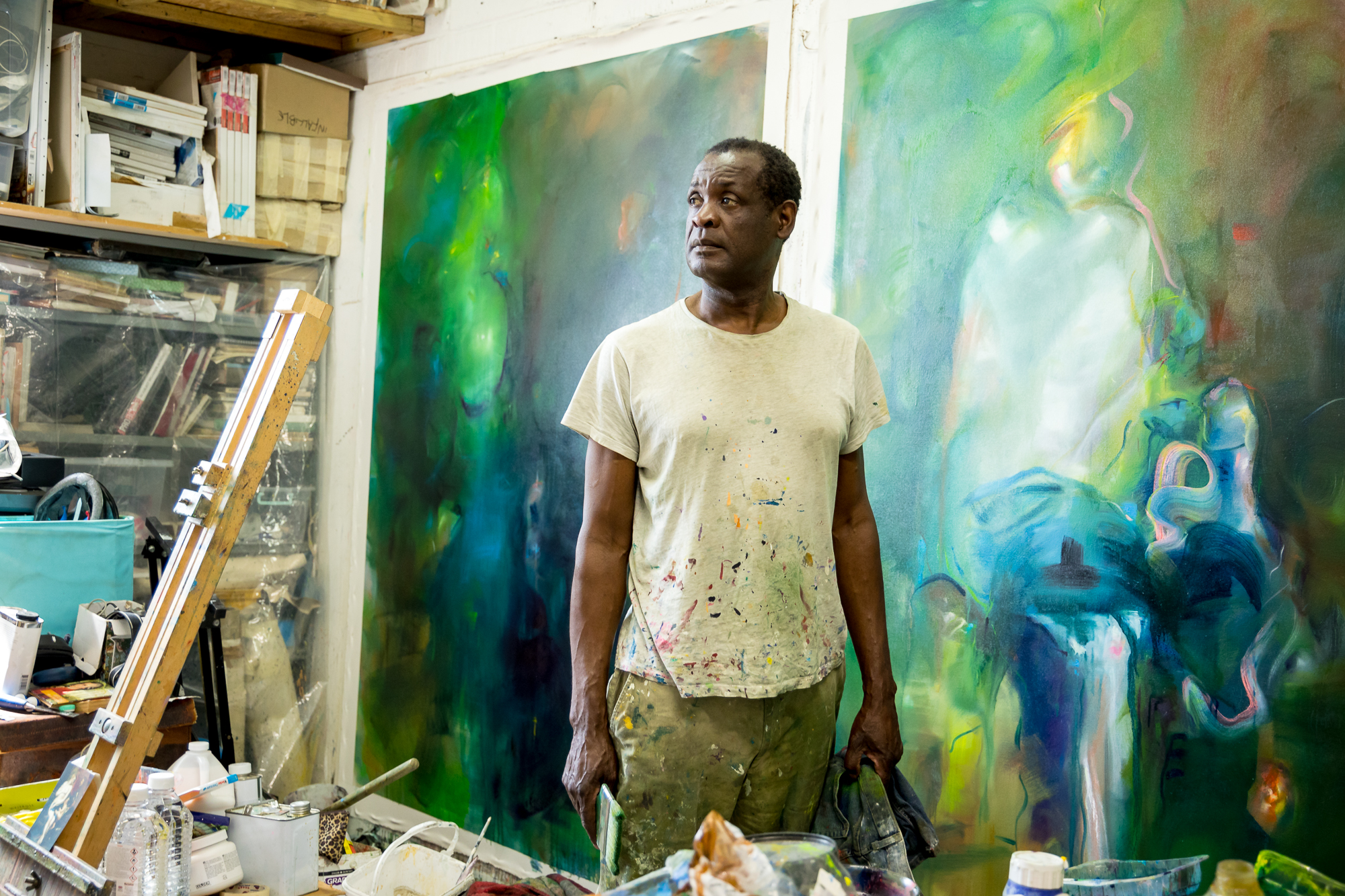 Through the prism of abstraction, there are echoes of Rubens in the shades and shapes used, for example in the tones of white and pink: "It's left over from the process. I deliberately didn't want a Rubenesque woman, but wanted a response to that glorious sort of voluptuous warmth and humanity in the picture. It's also not only her, of course, there's Mars just returned from war, his weapons are all around the painting, but I didn't want to make anything too figurative."
There are other colours in the pictures that recur, reflecting Daley's preoccupations as he worked: "I had in my mind 'Power and Glory' and wanted to achieve this with blues, purples and greens. Obviously, I was restricted by the tones of the Rubens, but the picture develops and it's controlling me as much as I'm controlling it." This need to respond to the direction the picture takes relates to the apparent disarray of Daley's studio. It is important to have the materials to hand, hence the piles of brushes, open tubes and other materials.
As he puts it: "One of the ways I lose control is by not having a set palette. I love to have the paint around and pull up what I need. It's like a conversation or music. You just have to hear a colour, then pick it out from the table. The paints are left around, so I can bounce off them." What occurs in these works is the revelation of Daley's intimate connection with Rubens, and specifically Venus, Mars and Cupid, over many years. The exhibition title, Son of Rubens, is peculiarly apt – as Daley observes: "I've been tortured and driven, educated, fathered by Rubens."