Part human form, part tamarisk tree: our new commission invites mindfulness and wellbeing 

We are delighted to present Rafael Klein's newly commissioned sculptural work Osiris. Osiris, the Egyptian God of resurrection, life and vegetation, now accompanies visitors as they explore Tessa Jowell Health Centre's garden courtyard and embodies the collaborative nature of the local community. The garden is open to the public and a pleasant 20 minute walk from the Gallery through Dulwich village. Follow this map for directions.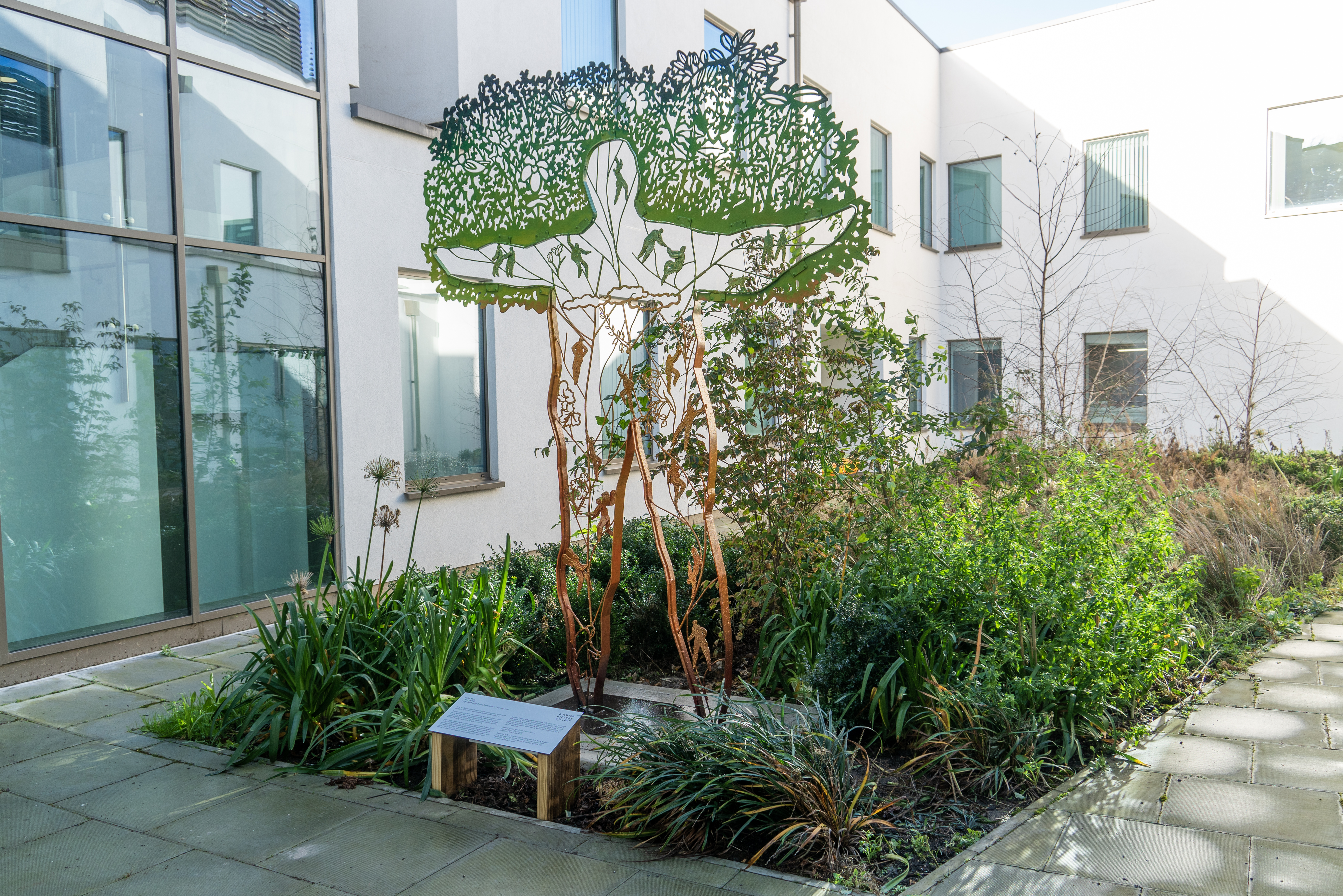 Artwork credit: Rafael Klein, Osiris, 2022, Forged and welded steel, laser cut aluminium and steel

Commissioned as part of the creative partnership between Dulwich Picture Gallery and NHS South East London Integrated Care Board, Osiris is the vision of sculptor and mixed media artist Rafael Klein. Part human form, part tamarisk tree, the sculpture is populated with miniature scenes that have been inspired by the rich collection of artworks at the Gallery, and hand drawn by members of the local community.  
The artwork is the third in a series of commissions and follows The Health Centre's Quilt by Bamidele Awoyemi, Farouk Agoro and Livia Wang, a collective of artists from South London, and Bubble Dreams by artist Carolyn Defrin and set designer Paul Burgess. Read about our past commissions here.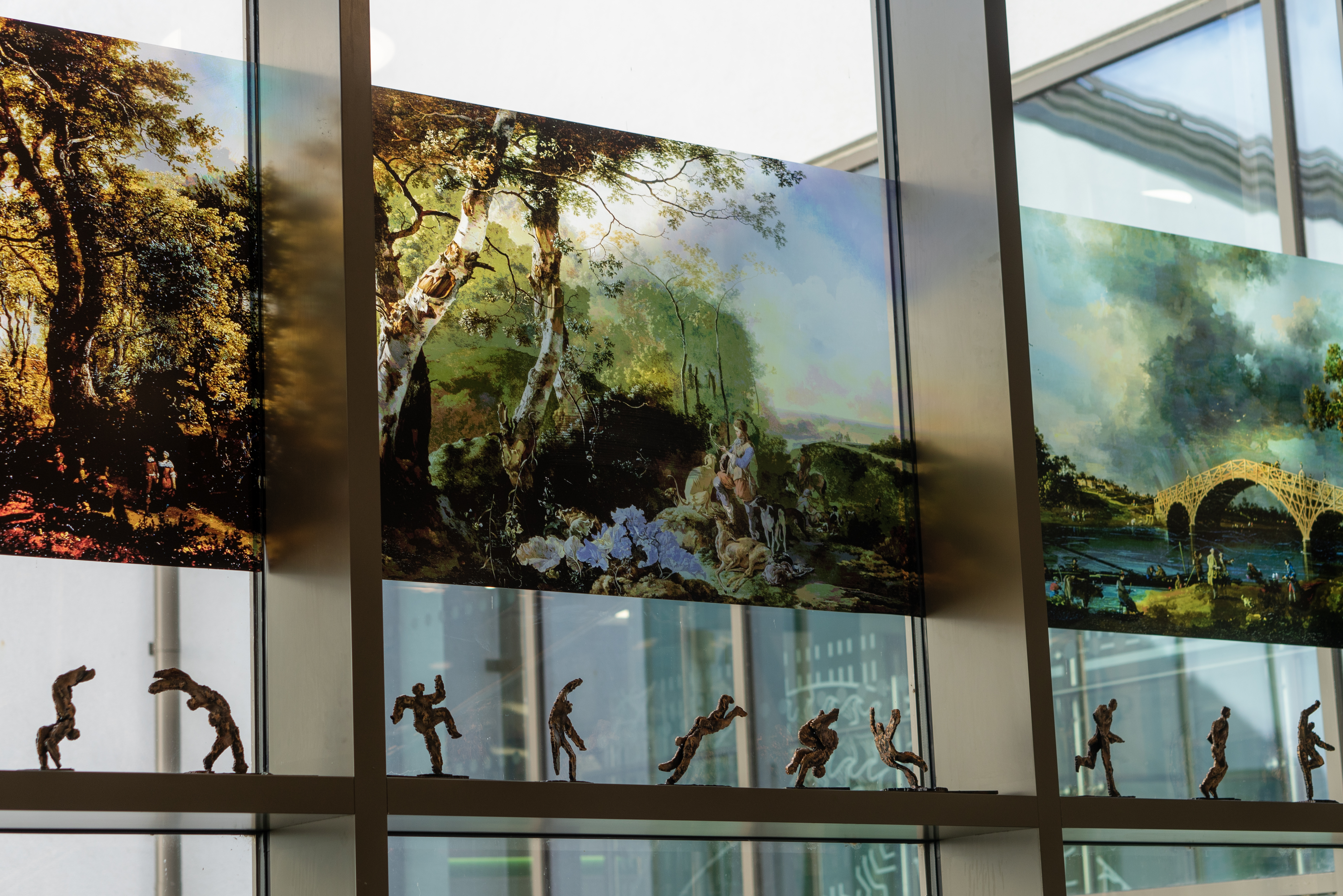 Osiris invites staff, patients and visitors at the health centre to connect with nature and find a space for mindfulness and wellbeing. The artwork is accompanied by eighteen smaller sculptures which live above the health centre's main staircase, presented against a backdrop of landscapes from some of the gallery's best-known paintings. Human figures proceed in front of these landscapes, once again echoing our place in the natural world.  
The paintings in the windows are semi-transparent, allowing us to see through them to a living garden. Look carefully, and within the sculpture Osiris you will see miniature people, surrounded by leaves, fruit and animals. See if you can spot them. 
About Rafael Klein 
Klein is a prolific British American artist mostly concerned with metal work and has produced a number of public sculptures, working with local communities to inform his work. 
Born in Brooklyn, Klein now lives and works in London. His art spans across media – from sculpture to painting graphics and artists' books, but it consistently explores a narrative. This narrative often is carried out in a modularity of work – many small works which lead to one large story. Moment to Moment, a touring exhibition of 120 sculptures travelled to three venues in Italy, before touring cathedrals across the UK. 
Klein's sculpture carries its physical weight lightly, forming a dialogue between the plastic nature of 3 dimensional work and a flowing spirituality. rafaelklein.com 
 
Steel Fabrication: Rafael Klein / Jamie Samuels 
Graphics: Hexio / BAF Graphics 
Installation: Joss Smith  


Supported by NHS South East London Integrated Care Board, Prudence Trust, The League of Friends of Dulwich Hospital, Healthy London Partnership and South London Health Partnership, working with Community Health Partnerships.