Dulwich Pavilion 2019: Meet the winners
We catch up with Pricegore's lead architects, Dingle Price and Alex Gore, to discuss 'Colour Palace', their winning design for the Dulwich Pavilion 2019, created with artist Yinka Ilori.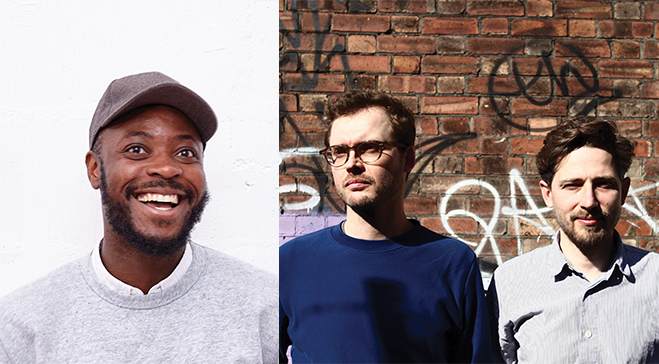 Where did the inspiration for the 'colour palace' come from? What was your design process?
Our design process with Yinka involved many conversations, generally structured around images. We visited the site together and in the early stages we sat around a big table in our office discussing ideas and  a wide range of references. At some point we began to focus on a number of  parallels between examples of west African, and European architecture, and another key factor was Yinka's photographs of fabric markets in Lagos. We did many sketches, and tested these with 1:200 scale models. When we had found a strategy that could hold a number of the most important ideas we refined the design with larger scale models. Yinka designed a collection of patterns specific to the project, and together we translated the patterns and formal ideas into the overall design.
Can you tell us about Yinka Ilori's work and how you met?
We first met Yinka in his studio last autumn. He was one of the first residents in a new studio complex we designed in north London, and we were visiting to take photographs of the completed project. We weren't familiar with his work at this point, but his studio was full of completed furniture pieces and other works in progress. At first we were just impressed with the visual quality and craft of his work, and we then began to learn of the narrative element, and how the work draws on his Nigerian heritage. Within ten minutes of meeting each other we were talking about a possible collaboration, but we had no particular project in mind at that time. 
There is a viewing gallery within your design. How high up will this be? How do you see this being used?
The floor level of the viewing gallery is around 2.5-3m above ground level. It runs around all four sides of the interior to create an interior that is similar to a theatre, and we hope it could be used in that way, with performers surrounded an all sides by the audience on two levels.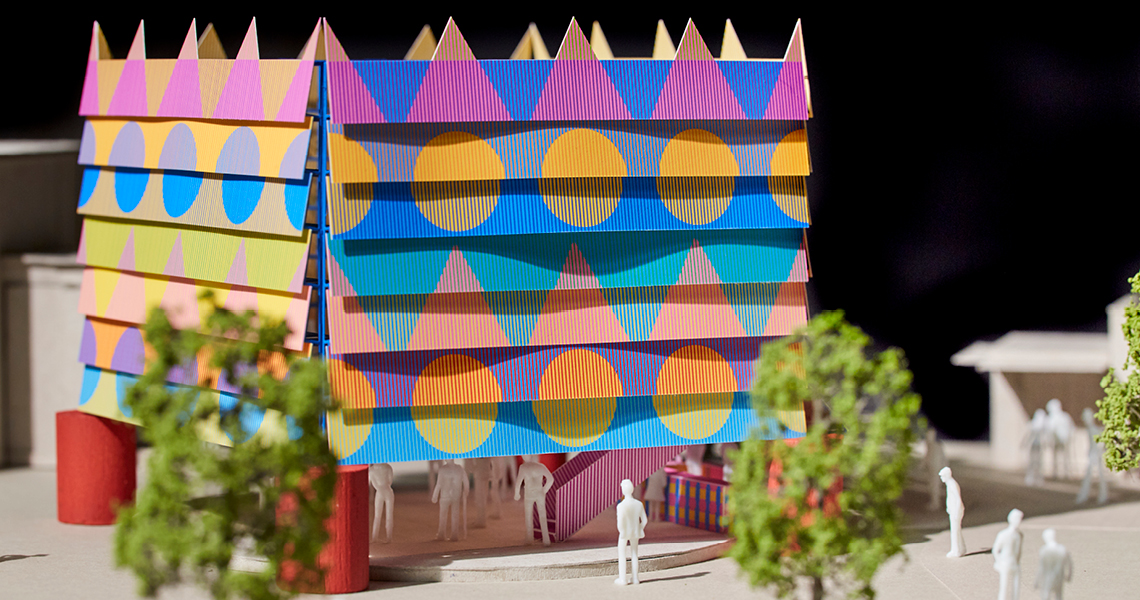 Your model has been on display here as part of the Dulwich Pavilion: The Shortlist throughout June. Did anything surprise you about the public's reaction?
There were some fabulous comments. The responses ranged from visual to cultural associations such as a medieval theatre tent, a party hat and even a character from a computer game (The llama in Fortnite). 
What do you think the biggest construction challenge is going to be? 
During the design process we discussed the design with a structural engineer, as well as a contractor and suppliers, so we have a good plan for how the pavilion can be built. We anticipate the most challenging aspect will be managing the painting of different colours to each surface of the prefabricated timber louvres.
Your Pavilion has a very different feeling to the nineteenth century Gallery building. What do you think Sir John Soane would think about your design?
We think he would enjoy it! Soane was a radical and a pioneer. We don't think he would be in the least bit offended. In particular we like to think he would relate to the range of sources that the design is drawn from - cultural, architectural and vernacular.
The Pavilion project is part of the annual London Festival of Architecture each June. What sort of architecture inspires you? Do you have a favourite London building?
We are big fans of James Stirling's projects at Tate Britain and No.1 Poultry. They are  buildings of incredible formal and spatial rigour and invention, drawn from a depth of historic knowledge. But they are also light-hearted and pleasure-seeking. Balancing those qualities in the design of a building is not so easy!
You have 140 characters – tell us why people should visit the Dulwich Pavilion next summer?
Saturated hues, vibrating pattern, dappled sunlight, a sense of theatre: The Colour Palace!
Learn more about the Dulwich Pavilion 2019
You can help support the 2019 Dulwich Pavilion by making a donation:

Image captions:
Yinka Ilori, Dingle Price, Alex Gore
Model of the Colour Palace