A Stitch in Time: Our Historical Fashion Guide
For many of us, fashion is central to how we project our identity to the world. It's easy to forget that men and women of the past would have considered their clothes in the same way, especially when they were sitting for a portrait.
Commissioning a painting was expensive, and you certainly wouldn't have wanted your picture to become a haunting reminder of a fashion disaster. We're exploring some of the iconic looks sported in portraits from our collection - ruffs, petticoats and feathers galore.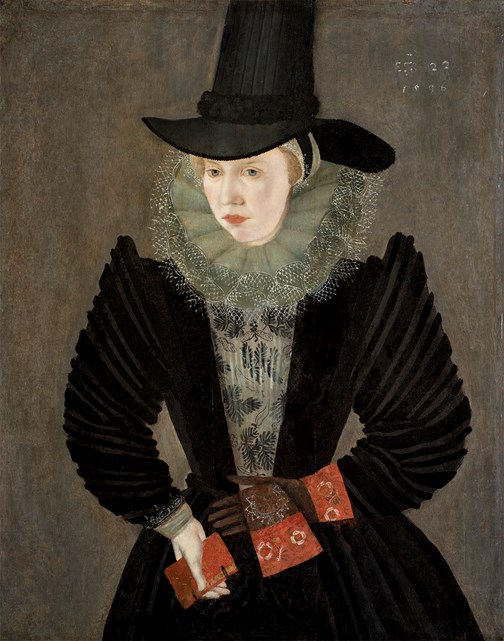 British School, Joan Alleyn, 1596 
This is one of the earliest portraits in our collection. Joan was the wife of Edward Alleyn, actor and founder of Dulwich College. She would have been comfortably wealthy, a fact demonstrated through her clothes. The lace ruff, bodice decorated with blackwork embroidery, and embroidered gloves would all have been expensive items. Joan's choice of hat is particularly striking nowadays. Hats of this type were very popular in England, and would have been made from felt and beaver or rabbit fur.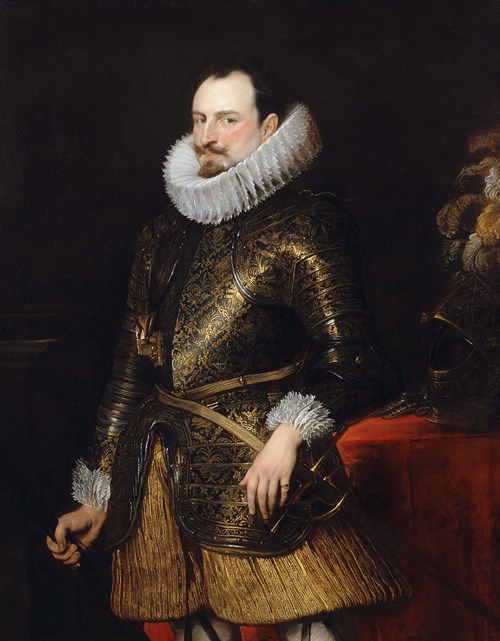 Anthony van Dyck, Emmanuel Philibert of Savoy, Prince of Oneglia, 1624 
As the grandson of a haberdasher, Van Dyck was amongst the most fashion-conscious of 17th century painters. Traditionally armour was worn during warfare. However, during the sixteenth century, designs for plated armour became more decorative, and the metal gilded, etched or engraved - these were works of art made to be displayed on the human body. Emmanuel Philibert's armour is decorated with emblems of the House of Savoy, an ambitious royal dynasty which grew from governing a small realm in the Alps to rule over Italy, and briefly, Spain. The armour depicted here still survives in the collection of the Royal Armouries at Madrid. Philibert's outfit easily communicates his position as a figure of both power and refinement.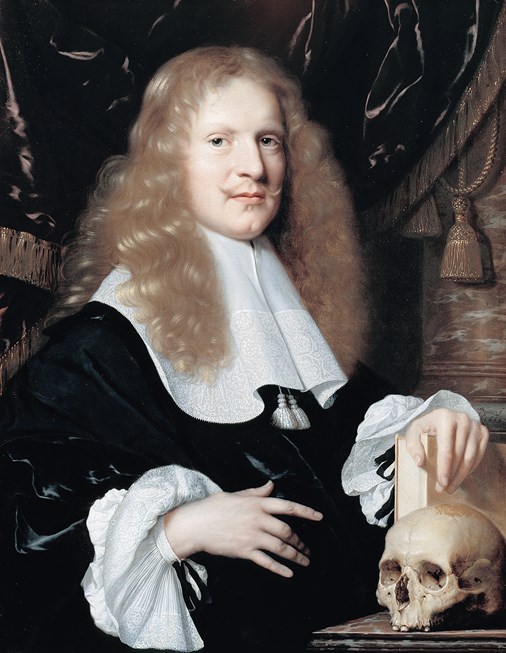 Pieter Nason, Portrait of a Man, 1663 
The identity of the man in this portrait is unknown, however, the year (1663) is given on the bottom of the column to the right. This date fits completely with the fashions worn by Dutch men at this time. The man's lace cuff is exquisite, and shows the increasing influence of French fashion trends in the Low Countries. The textiles used also indicate that this was a man of status. Black fabric would have been made with indigo dye, and was very costly.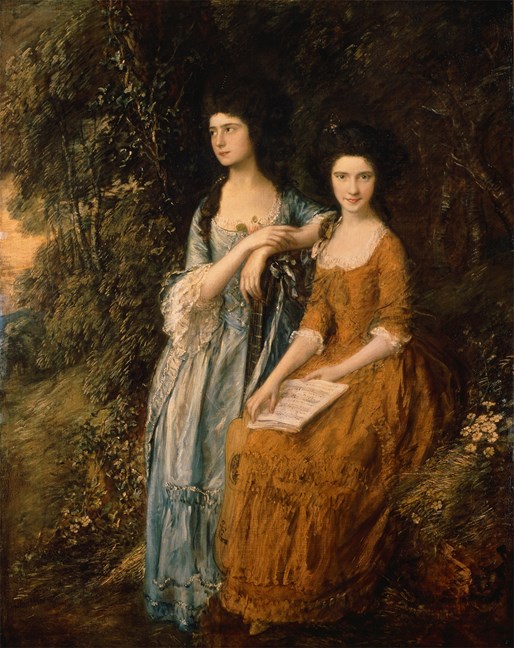 Thomas Gainsborough, The Linley Sisters, c.1772, retouched 1785 
Elizabeth, the eldest of the Linley Sisters, wears a pale blue dress, while Mary is in golden brown, both gowns were likely made from silk. The type of outfit worn by both women was known as a Robe l'anglaise (or close-bodied gown). This consisted of a fitted bodice with a wide rectangular skirt, their matching underdresses are also visible. We know that the sisters were aware of contemporary fashion trends, since they asked Gainsborough to retouch the painting in 1785 to ensure their clothes and hairstyling were up-to-date.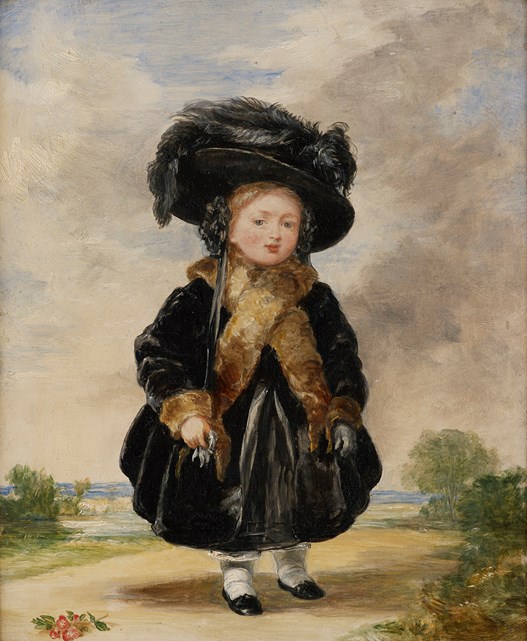 Stephen Poyntz Denning, Princess Victoria aged four, 1823 
The future Queen Victoria is shown dressed in a black fur-trimmed coat, with a fox fur scarf, accompanied by a black hat decorated with feathers, black shoes, white stockings and grey gloves. Typically for children's fashion in this period, Victoria's outfit mimics adult clothing – the only difference being that it was fitted for a small girl. In 1823 Victoria's large brimmed hat would have been on the cutting-edge of style, showing that even toddlers could be on the cutting edge of fashion.
Helen Hillyard, Assistant Curator
You can explore all the works in our collection on our website, with free audio guides available on the Bloomberg Connects app.