Unearthing the world's first female photographers
When thinking of the world's first photographers, you may often hear the names of William Henry Fox Talbot and Louis Daguerre – but lesser known were their female counterparts, who made extraordinary bounds in the field of photography in the middle part of the 19th century. Featured in Unearthed: Photography's Roots, artists Sarah Anne Bright, Anna Atkins and Cecilia Glaisher were pioneering women working in the field, who built upon the photogenic drawing techniques championed by Fox Talbot. New discoveries about their artistic inventions are still coming to light today.

Sarah Anne Bright (1793–1866)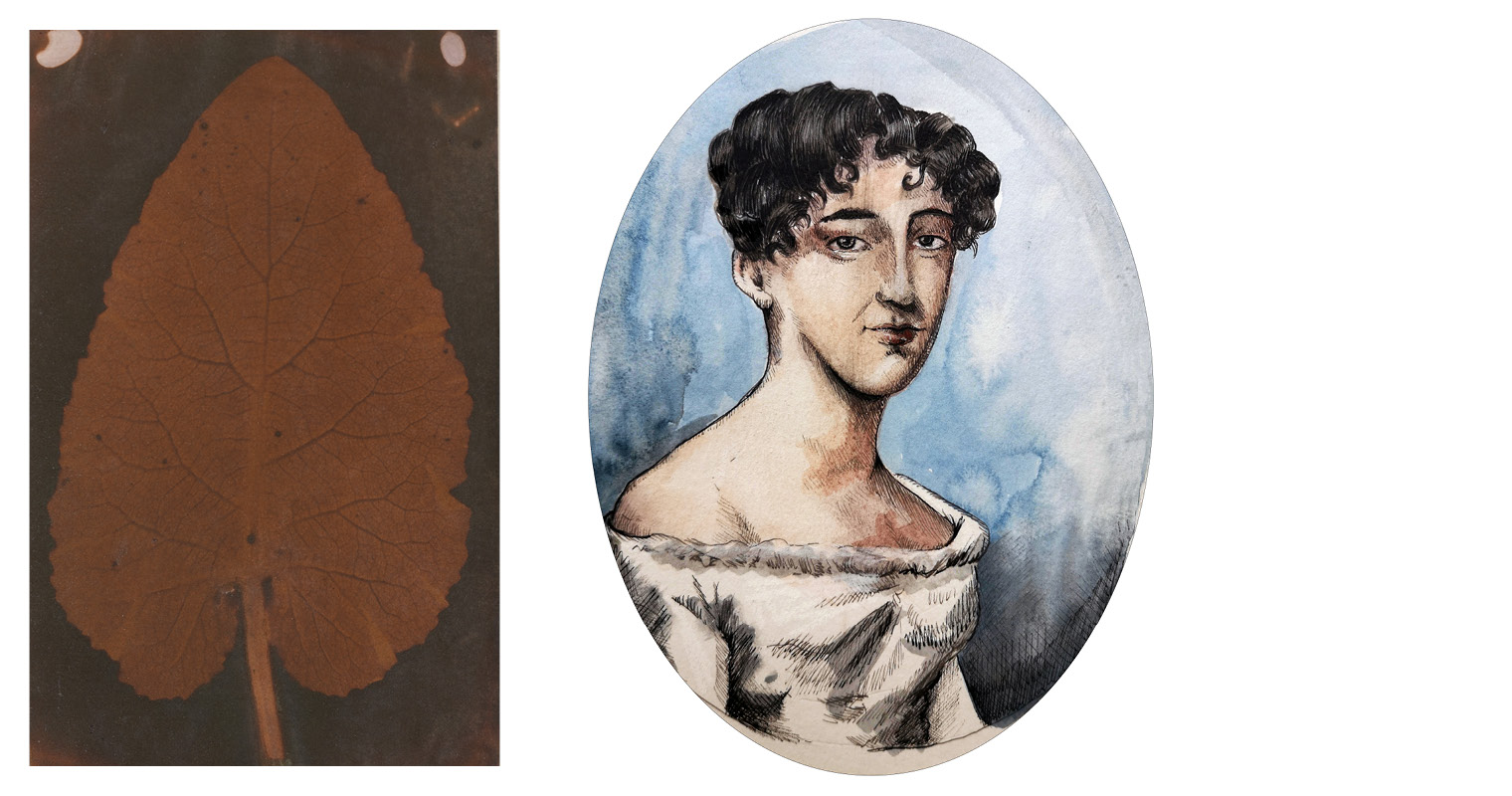 First thought to be the work of Talbot, then Thomas Wedgewood, it is thanks to the research of early photography expert Larry Schaaf that we now know The Quillan Leaf (pictured above) was created by Bristol based artist Sarah Anne Bright in 1839 – the world's first known photograph by a woman. It is a photogenic drawing of a real leaf made using silver nitrate coated paper and is incredibly sensitive to light, making it difficult to display publicly. The print on display in Unearthed is a reproduction of the original, which now lives in the collection of The Quillan Company, New York. Little else is known of Sarah Anne Bright, though she was an avid watercolour artist as well as an early photography experimenter. Her father established the Bristol Institution for the Advancement of Science, Literature and the Arts in 1823.
Anna Atkins (1799–1871)
Perhaps the most well-known early female photographer, Anna Atkins created a prolific number of botanical photographs, documenting the various species of algae she encountered on the south coast. Through her botanical interests, Atkins became friends with the well-known natural philosopher Sir John Herschel, who invented his own photographic process in 1842; the cyanotype, so named for the use of potassium ferricyanide in the process. Just one year after its invention, Atkins set about utilising Herschel's cyanotype process. Over the course of ten years, she produced twelve volumes of her book Photographs of British Algae, compiled from nearly 400 original plates – the first ever photographs to be published as an illustrated book. These algae specimens, which had until then been scarcely studied, were rendered for the first time with ground-breaking accuracy and vivid blue tones. Atkins is crucial to the story of photography - though Talbot recognised its potential to revolutionise book publishing, it was Herschel's process in the hands of Anna Atkins that first achieved this vision.
Cecilia Glaisher (1828–1892)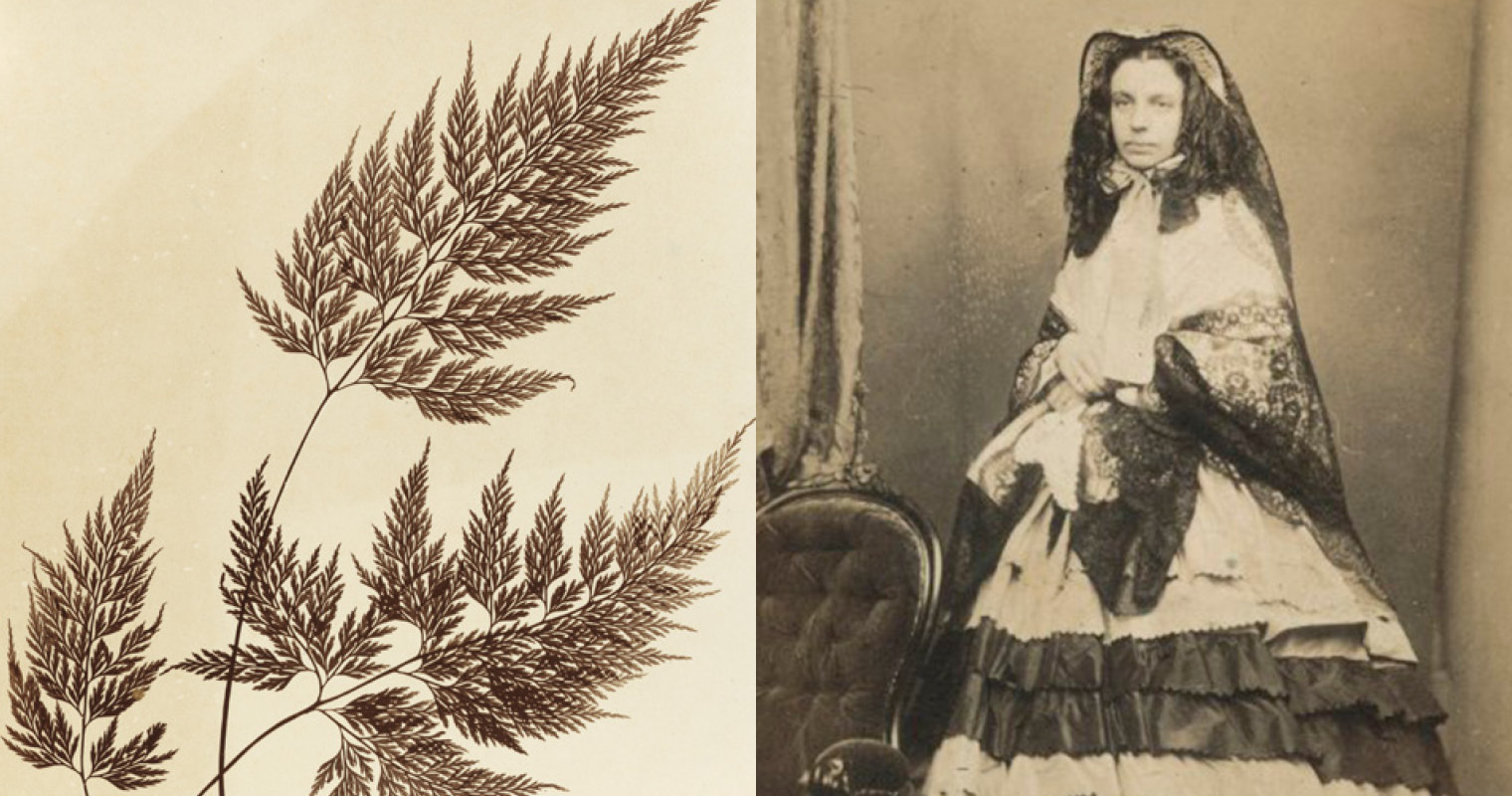 During the 1850s many women were excluded from scientific research, and were instead only allowed to attend social meetings or 'scientific conversazione' on selected topics – botany was one such 'allowed' topic. It was in this landscape, and in the shadows of her father and husband who were both respected scientists, that illustrator Cecilia Glaisher became one of the world's first female photographers. Working with the entomologist and botanist Edward Newman, Glaisher created 182 photogenic fern drawings, at a time when Victorian society was obsessed with these plants, known as the 'fern craze'. Sadly, the works were never published, and only 100 survive to this day, but thanks to the efforts of the Fitzwilliam Museum in Cambridge, many have been digitised. You can see a rare selection of these beautiful original photographs in Unearthed, with selected prints available to purchase.
"The reattribution of 'Talbot's leaf' to Sarah Anne Bright and the very recent publicising of such a large volume of Cecilia Glaisher's work both hint at the possibility of more discoveries yet to come, and the rebalancing of an otherwise male dominated history of early photography."
Alexander Moore, curator of Unearthed
Find out more about the story of still life photography, and the many artists and works featured in Unearthed: Photography's Roots in our special exhibition catalogue, available to buy online.

Images: Sarah Anne Bright, The Quillian Leaf, 1839, photogenic drawing. Photograph courtesy of Sotheby's, 2008 / The Quillan Company, courtesy Jill Quasha, New York , Contemporary illustration of Sarah Anne Bright; Portrait of Anna Atkins, albumen print, 1861 from the Wikipedia Commons; Anna Atkins, Plate 55 (detail) – Dictyota dichotoma, in the young state and in fruit, Photographs of British Algae: Cyanotype Impressions, 1853. Photo copyright Horniman Museum and Gardens; Cecillia Glaisher, Irish Spleenwort Fern (Bory's Spleenwort), ca. 1850-58, Albumen print © Fitzwilliam Museum, Cambridge; Cecilia Louisa Glaisher - Photograph taken by Negretti & Zambra. Craddock, Gerald Rainsford, 1910-1990. Courtesy of Alexander Turnbull Library, Wellington, New Zealand.