Ten things you might not know about Tove Jansson and her work
1.  The first Moomin drawing was meant as a caricature of philosopher Immanuel Kant.

2. The earliest printed 'Moomin' was a small intrepid creature, which often appeared in Jansson's cover illustrations for the Swedish satirical magazine Garm. Snork, the taller of two long-snouted trolls introduced in April 1943, later became the much more famous Moomintroll.

3. Kant wasn't the only real-life inspiration behind Jansson's Moomin characters. She often said that Moomintroll was her alter-ego, while Moominmamma is modelled after Jansson's mother. Too-Ticki was inspired by Jansson's life partner Tuulikki Pietilä and Thingummy and Bob by herself and her once-lover Vivica Bandler.
The inspiration behind Snufkin was Atos Wirtanen, Jansson's close friend, a left-wing intellectual and editor-in-chief of Swedish-language socialist newspaper Ny Tid ('New Time') – who also wore a green hat!

4. Jansson wrote a comic strip for the left-wing Ny Tid, but was asked to wrap it up abruptly after readers complained about Moominpappa being shown reading a royalist newspaper.

5. Politics was also a sensitive issue when Jansson produced a Moomin comic strip for The Evening News. The newspaper stipulated that her comic strip should have happy endings, no fatalities among her cast, and avoid politics, sex, death and the Royal Family.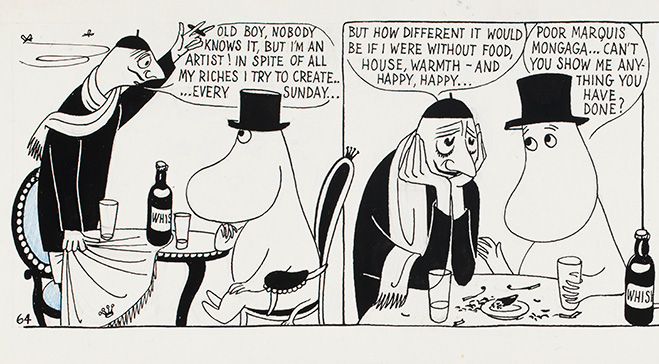 6. Jansson's skills as a storyteller and illustrator developed while producing this daily comic strip for The Evening News – the biggest-selling evening paper in the world. Her strip ran from September 1954 until 1960, when her brother Lars carried it on until 1975.

7. As a teenager Jansson had already embarked on her career as an illustrator, and at 15 had her first comic strip serialised on the back covers of seven issues of Lunkentus, a Swedish-language children's magazine (to which her mother also contributed).

8. The Moomin books have been translated into more than forty different languages, and the stories have been told in many different forms. As well as an opera and several plays, the Moomin tales have been dramatised in international television and film productions.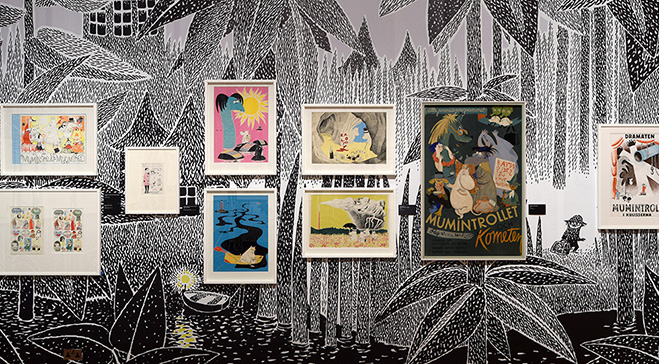 9. The characters have appeared on tableware, figures, posters and cards, and were often used by Jansson to reflect her own humanitarian values, including on posters and cards for the 'Keep Sweden Clean' campaign, the Red Cross, UNICEF and Amnesty International.

10. Jansson received thousands of letters from children and replied to every single letter personally.

Discover more in Tove Jansson (1914-2001), open until 28 January. You can also read more in the accompanying catalogue, available to buy in our online store  >>

Image credits: Tove Jansson, Illustration for the book Moominland Midwinter (detail), c. 1956, scrape drawing on cardboard, 13 x 18.5 cm, Private Collection. Photo: Finnish National Gallery / Ainur Nasretdin. © Moomin Characters™; Illustration, © Moomin Characters™; Tove Jansson, Comic strip Moomin on the Riviera (detail), 1955, British Cartoon Archive, University of Kent. Photo: Finnish National Gallery / Jenni Nurminen; Photo of 'Tove Jansson (1914-2001)' exhibition.