Carer discovers passion for poetry and sufferer delights in singing in dementia project at Dulwich Picture Gallery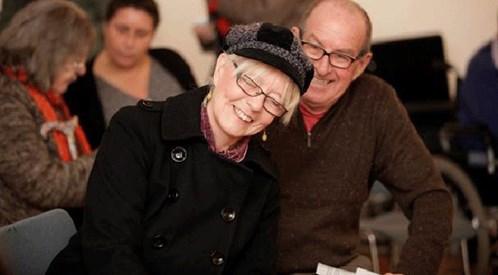 A man who cares for his wife with early stage dementia has discovered an invigorating interest in poetry and observed positive improvements in the quality of life for his spouse after being inspired by old master paintings at Dulwich Picture Gallery.
John Wade (71) from Shirley, Surrey, began writing poetry after attending Visual to Vocal with his wife Brenda Wade (70) who was diagnosed with Alzheimers in 2011. The couple are part of a group of 20 participants who, led by a composer and lyricist from English Touring Opera, have been writing music inspired by different paintings at Dulwich Picture Gallery over the course of eight weeks. John, who has never written poetry before, has now written four poems inspired by paintings such as Nymphs by a Fountain (read John's poetry here).
'Visual to Vocal' is a programme of workshops for people with dementia and those who care for them. It does not focus on memory loss, but rather what can be gained through looking at paintings, interpreting them through creative writing and forming the words into songs. The project is intergenerational – bringing together young musicians from Dulwich College and the Royal College of Music. It concludes with a live performance at the Gallery on 12 December 2013.
The project, which is now in its second year, confronts stigma and misconceptions associated with dementia; including the myth that people with dementia cannot be creative. It gives people like Brenda and her carer and husband, John, the opportunity to meet others and be involved in a professional creative process.
The project has had great benefit for Brenda's quality of life. She said:
"The group is so easy to be with because everyone's heart is in it. It helps us open up. John and I have very different interests so it's been great coming to something that we can both enjoy.­­ When you first hear that you have Alzheimer's, it's a terrible thing.  I felt very down, but music makes me feel better. I've always been part of a choir and I love to sing so I look forward to coming to the workshops at Dulwich Picture Gallery."
John said:
"The accumulation of viewing a painting, then extracting elements and formulating lyrics unleashes creativity. I started writing poetry which I have never done before after we were thinking of words to put to music in one of the earlier sessions- I just took the words further at home!"
There is currently no formal research into the benefits of combining both art and music for the wellbeing of people with dementia. Professor Paul Camic from Canterbury Christ Church University is conducting an evaluation of the project this year and said:
"People with dementia are often expected not to learn new things. One thing we are noticing whilst observing Visual to Vocal, is that the participants are actually able to recall melodies and words, and be engaged in a very complex process. We know that art and music has a big impact on the quality of life for people with dementia, but combining both has potential for even bigger impact. Visual to Vocal is challenging isolation, by providing a welcoming environment for social engagement."
Visual to Vocal forms part of Dulwich's esteemed Good Times: Art for Older People programme, which has a reputation for excellence in ground-breaking initiatives that push the boundaries of what galleries and museums can achieve. In 2011 the Royal Society of Public Health presented Dulwich Picture Gallery with an Arts and Health Award for achievement in this work of enhancing lives through art.
 - Ends
John and Brenda Wade are available for interview.
Professor Paul Camic is available for comment.
For further information and interview requests, please contact Louisa Bee, Press Officer
l.bee@dulwichpicturegallery.org.uk / 020 8299 8710
Notes to Editors:
•Good Times: Art for Older People at Dulwich Picture Gallery addresses the needs of older people, combating loneliness, isolation and inertia through involvement in the arts.
•Good Times offers an enriching menu of art activities at the Gallery. Good Times also Reaches Out to people in care homes, hospitals and community centres
•Sessions are run by dedicated coordinators and led by professional artists, storytellers, actors and trained guides.
•Strands of the Good Times programme include Reach Out Creative Workshops, Intergenerational Workshops and Prescription for Art; an extremely successful partnership with local GP Surgeries.
•The programme is uniquely, free of charge to participants and is at no cost to the tax payer.
•Good Times is a core Education programme and is now in its seventh year at Dulwich Picture Gallery.
•Good Times: Art for Older People has recently won a number of awards for its contribution to Wellbeing and Health and most recently, a Royal Society for Public Health: Arts and Health Practice Award 2011.
•The Good Times programme, evaluated by the Oxford Institute of Ageing in the publication 'This is Living', also received an Arts and Health Research Award.
•The programme was also highly commended at this year's Museums & Heritage Awards in the Education Initiative category.
Professor Paul Camic
Dr Paul M Camic, a consultant clinical health psychologist, is professor of psychology and public health at Canterbury Christ Church University and research director in the Centre for Applied Psychology (Tunbridge Wells campus). He is founding co-executive editor of Arts & Health: An International Journal for Research, Policy and Practice published by Routledge Press. Paul's current research includes exploring the use of material objects in human development along with investigating museums and galleries as community-based places for wellbeing and health. He is a Fellow of the RSPH and RSA.
Dulwich Picture Gallery
Dulwich Picture Gallery is England's first purpose-built public art gallery, founded in 1811 and designed by Regency architect Sir John Soane. It houses one of the finest collections of Old Masters in the country, especially rich in French, Italian and Spanish Baroque paintings and in British portraits from the Tudor period to the 19th century. The Gallery's permanent collection is complemented by its diverse and critically acclaimed year round temporary exhibitions.
For over a quarter of a century Dulwich Picture Gallery's award-winning learning and community engagement programmes have reached beyond the Gallery's exhibition programme to bring art to the South London community through outreach initiatives including 'Youth Engagement Programme', 'Good Times: Art for Older People' and 'Prescription for Art'.
Picture Our Future 
The Trustees of Dulwich Picture Gallery have announced an ambitious campaign – Picture Our Future – with a target of £20 million to secure the future of the Gallery. £16.5 million has already been raised.
Last year the Gallery was one of only 16 organisations to be granted £2 million in matched endowment funding by the Heritage Lottery Fund and the Department for Culture, Media and Sport Catalyst Endowments scheme.